Post by ferrari512s on Feb 17, 2014 19:00:35 GMT -5

Lamborghini Aventador
Buying a Lamborghini puts you in fairly exclusive club of ownership, but if even that small group seems a little big, the Italian automaker makes it possible to customize a vehicle just the way you want it.
Case in point: this Aventador as shown above from Lambo's Ad Personam personalization program dubbed the Nazionale edition.

Now we have the classic Italian sports color "Rosso" as you can see below...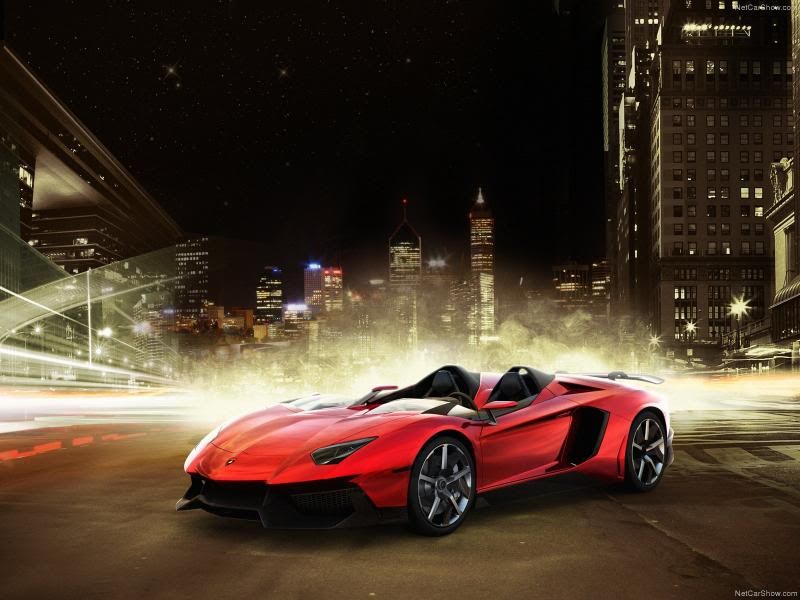 The Lamborghini Aventador is a two-door, two-seater sports car publicly introduced by Lamborghini at the Geneva Motor Show on 28 February 2011, five months after its initial unveiling in Sant'Agata Bolognese.



Internally codenamed LB834, the Aventador was designed to replace the ten-year-old Murciélago as the new flagship model in the Lamborghini lineup starting in 2011. Quite a stunning beauty!



Soon after the Aventador unveiling, Lamborghini announced that it had already sold over 12 months of the production vehicles, with deliveries starting in the second half of 2011.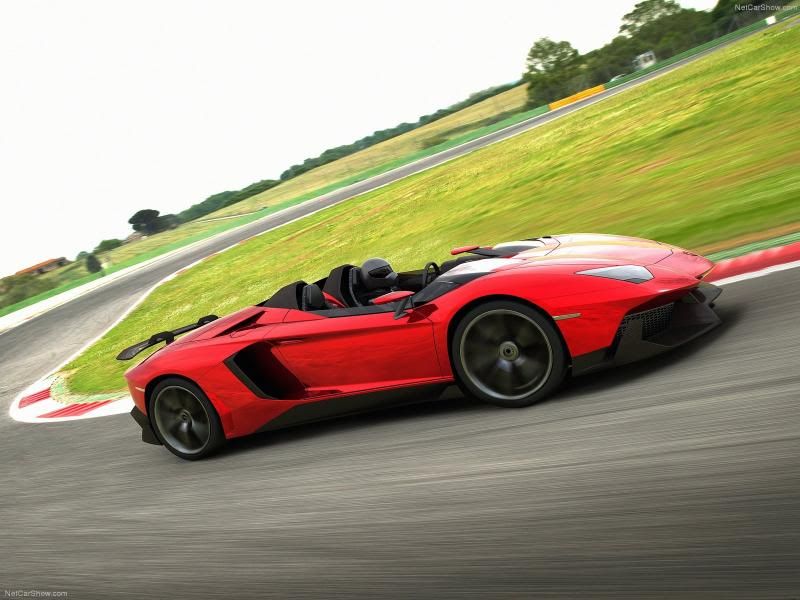 Name: Lamborghini Aventador

In keeping with Lamborghini tradition, the Aventador is named after a bull. The Aventador was a bull that fought particularly valiantly in the bull ring of Saragossa, Spain in 1993.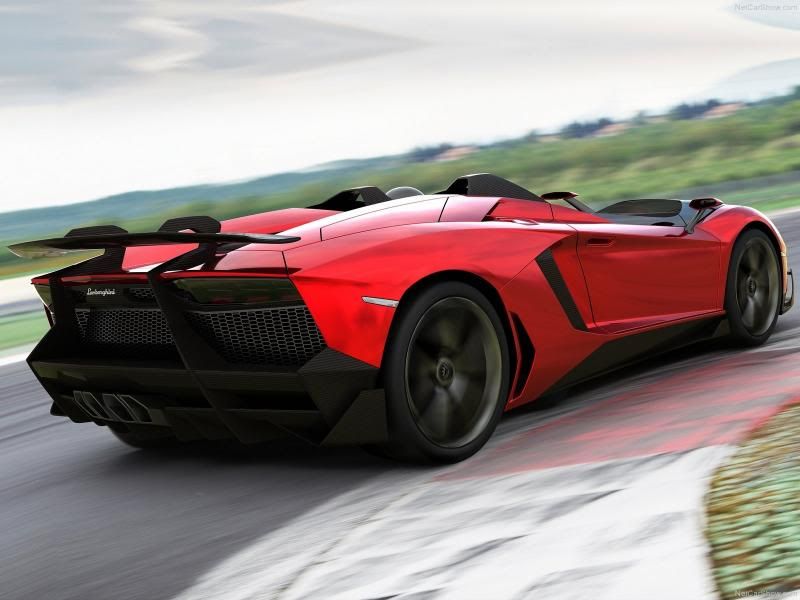 Production will be limited to 4,000 units (4,099 Murciélagos were built). The molds used to make the carbon-fibre monocoque are expected to last 500 units each and only 8 have been made.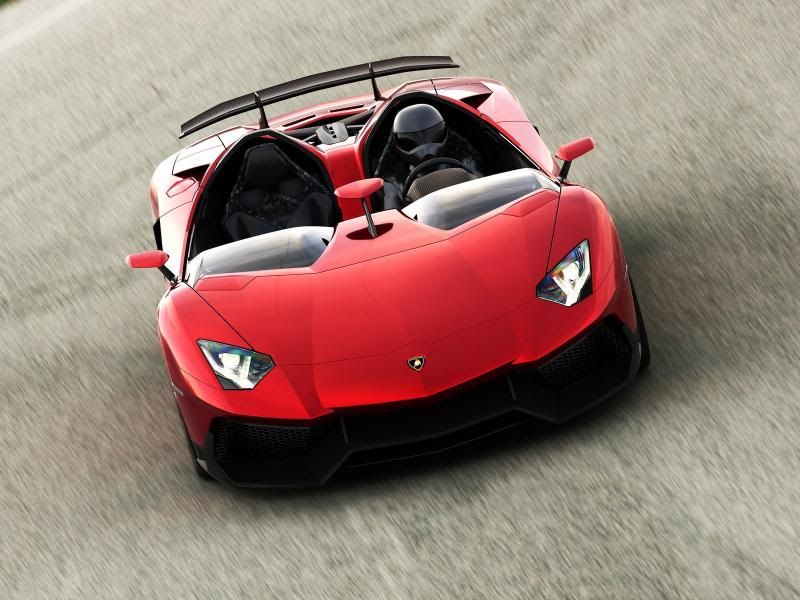 The car's shape also borrows heavily from Lamborghini's limited-edition Reventón and their Estoque concept car.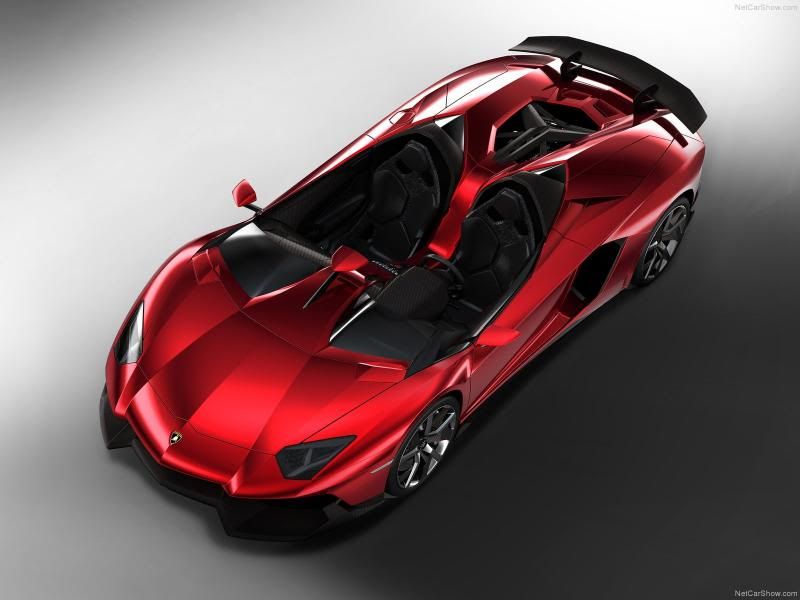 The vehicle was unveiled at Lummus Park, Miami, followed by Miami International Airport.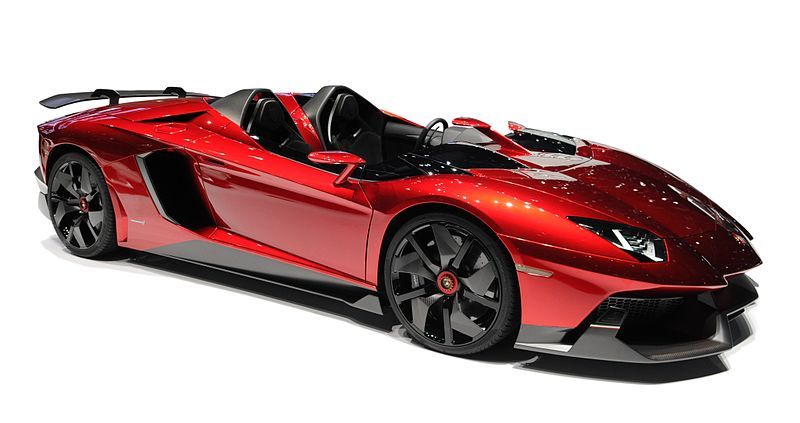 This specific model will be used as the vehicle mode for the Deception bounty hunter Lockdown in the upcoming film, Transformers: Age of Extinction.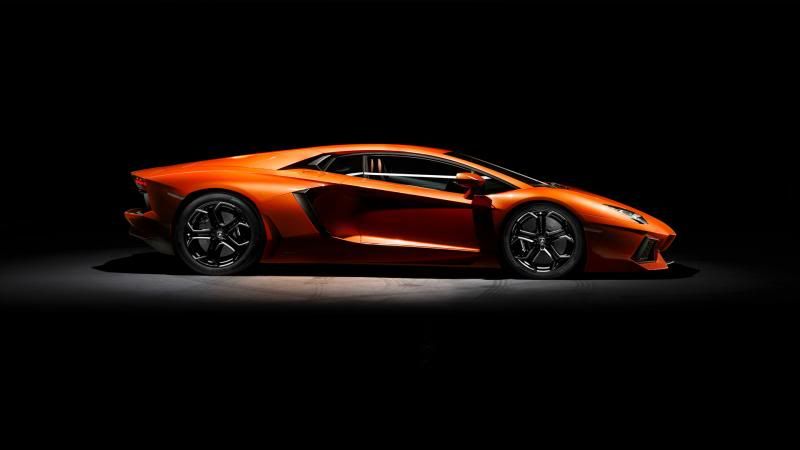 Specifications


Lamborghini Aventador 6.5 liter 60° V12 engine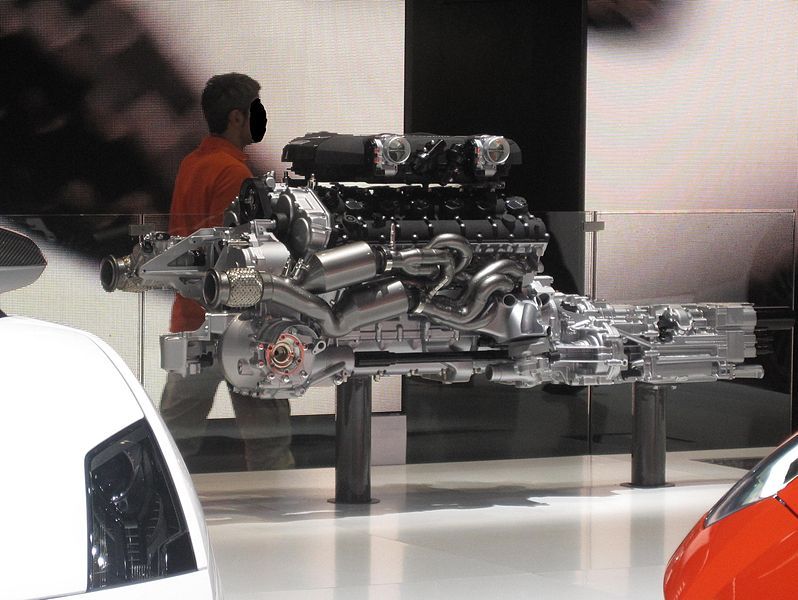 The Aventador LP 700–4 uses Lamborghini's new 700 PS (510 kW; 690 bhp) 6.5 litre 60° V12 engine weighing 235 kg. Known internally as the L539,[3] the new engine is Lamborghini's fourth in-house engine and second V12. It is the first all-new V12 since the 3.5 litre powerplant found in the 350GT.[12]
Displacement 6,498 cc (396.5 cu in)
Max. power 700 PS (510 kW; 690 bhp) @ 8,250 rpm
Power to weight 432 PS (318 kW; 426 bhp) per tonne
Max. torque 690 N·m (510 lb·ft) @ 5,500 rpm
CO2 emissions 398 g/km
Combined fuel consumption 17.2 L/100 km (16.4 mpg-imp; 13.7 mpg-US) [13]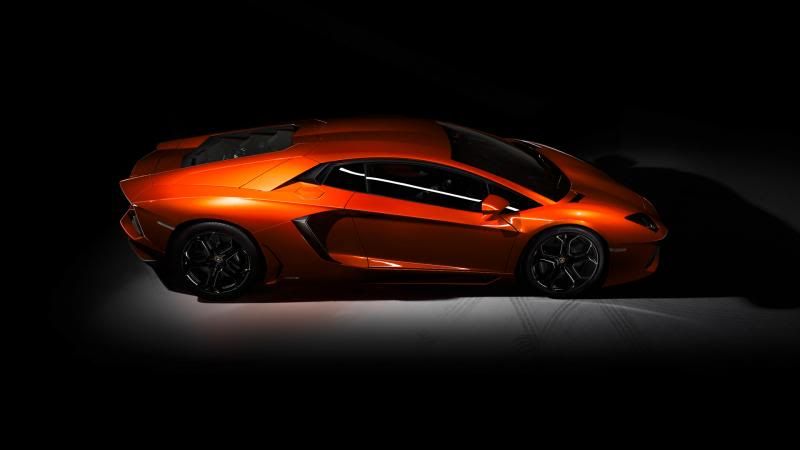 Performance

0–97 km/h (0–60 mph): 2.9 s [14]
400 m (1⁄4 mi): 10.6 s @ 220 km/h (137 mph)
Top speed: Official: 350 km/h (217 mph),[14][15] measured by Sport Auto magazine: 370 km/h (230 mph)[16]
97–0 km/h (60–0 mph): 30 m (100 ft)[citation needed]


Its transmission, a single-clutch seven-speed semi-automatic, is built by Graziano Trasmissioni.[17][18] Despite being single-clutch, gear-shifts are accomplished in 50 milliseconds.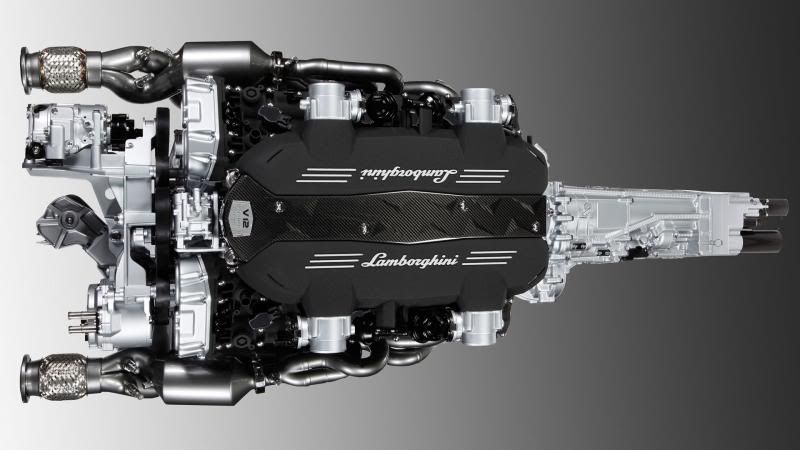 The new, electronically controlled, all-wheel drive system is developed and supplied by the Swedish company Haldex Traction, offering traction and handling capabilities based on their 4th generation technology.




Aventador LP 700-4 Roadster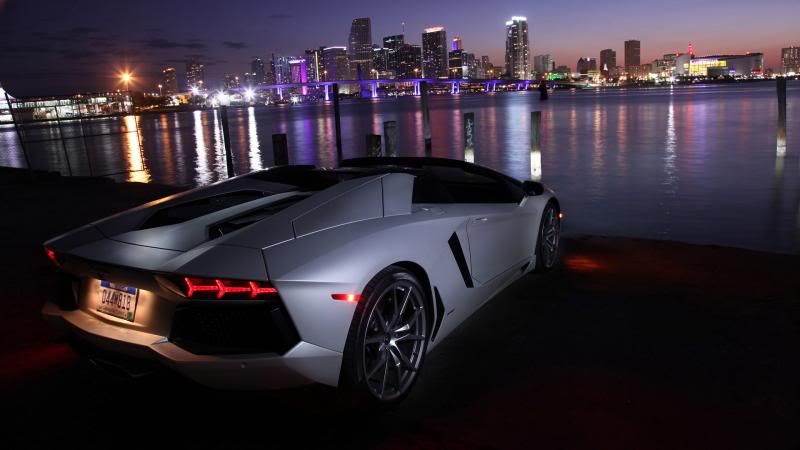 The 2013 Aventador LP 700-4 Roadster was announced for production in November 2012, equipped with the same V12 engine as the coupé version, Lamborghini claims again that it can reach 100 km/h (62 mph) in 2.9 seconds and a top speed equaling that of the coupe, at 349 km/h (217 mph).



The removable roof consists of two carbon fiber panels, weighing 6 kg (13 lb) each, which required the reinforcement of the rear pillar to compensate for the loss of structural integrity as well as to accommodate the rollover protection and ventilations systems for the engine.


The panels are of easy removal and are stored in the front luggage compartment.


The Aventador Roadster has a unique engine cover design and an attachable wind deflector to improve cabin airflow at high speed as well as a gloss black finish in the A-pillars, windshield header, roof panels, and rear window area.



The car has a US$441,600 base price. With a total weight of 1,625 kg (3,583 lb) it's only 50 kg (110 lb) heavier than the coupé (the weight of the roof, plus additional stiffening in the sills and A-pillars).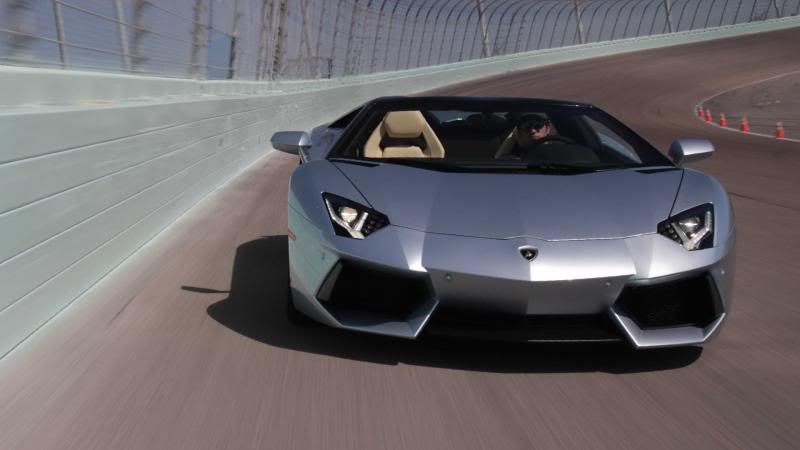 Special editions: Lamborghini Aventador J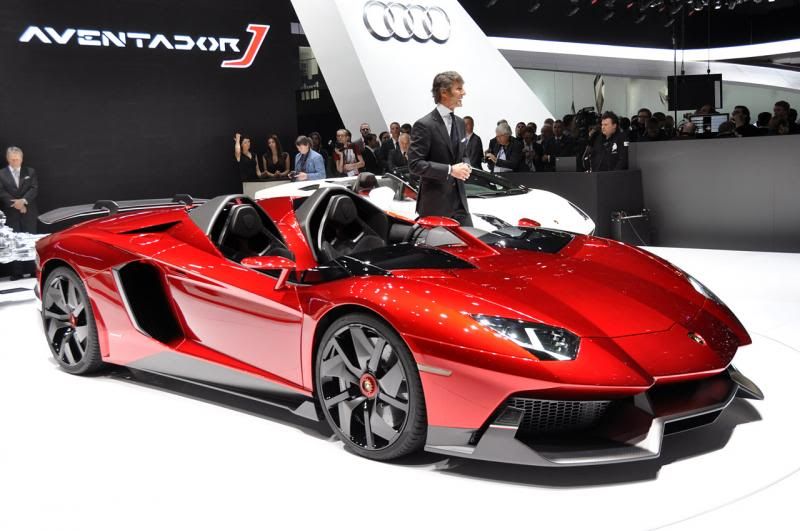 Six months after unveiling the Aventador, plans for a roadster version were leaked by the U.S. EPA after it included the model on a data sheet on its website.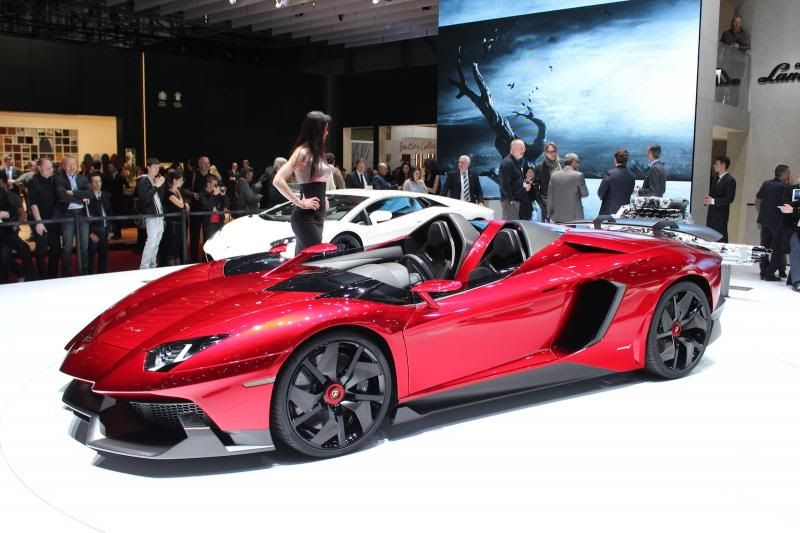 Lamborghini officially unveiled the Aventador J to the world at the 2012 Geneva Motor Show.

The roofless and windowless concept car uses the same V12 engine as the standard Aventador, producing 700 hp through a lightweight seven-speed automated transmission.

The car does not have air conditioning or radio to save further weight for a total of 3,472 pounds (1,575 kg).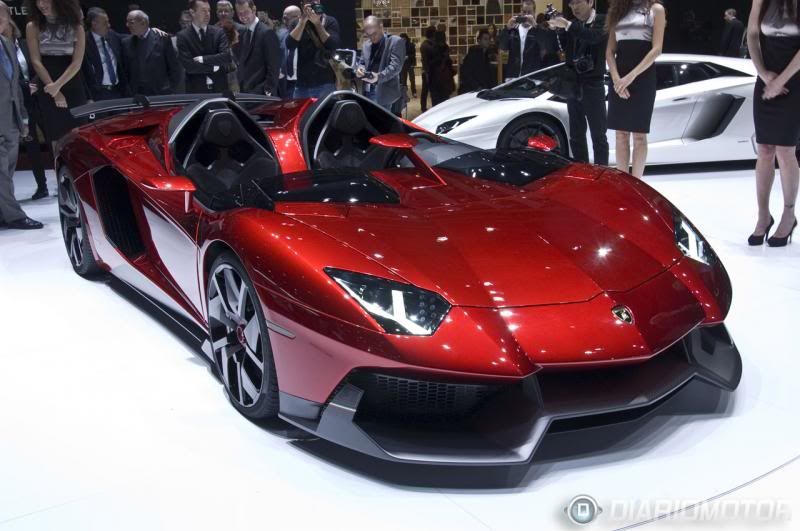 The car presented at the Geneva show was the only unit to be produced, and was sold for US$2.8 million.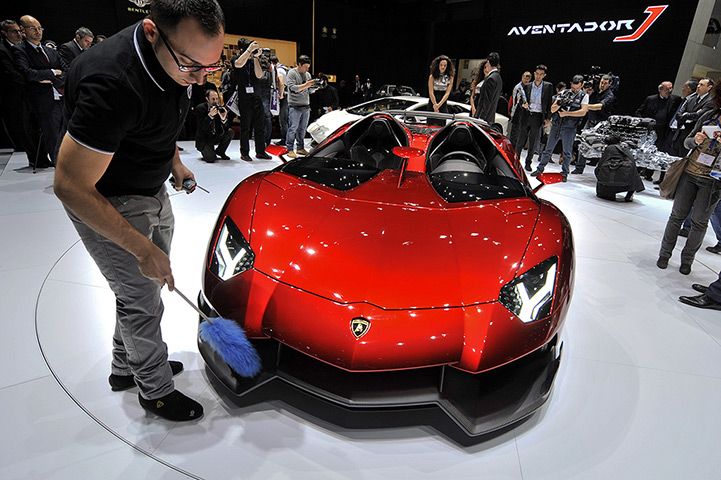 Another Limited Edition model was made for Shaikh Al Yahyaa and was sold at an unknown price.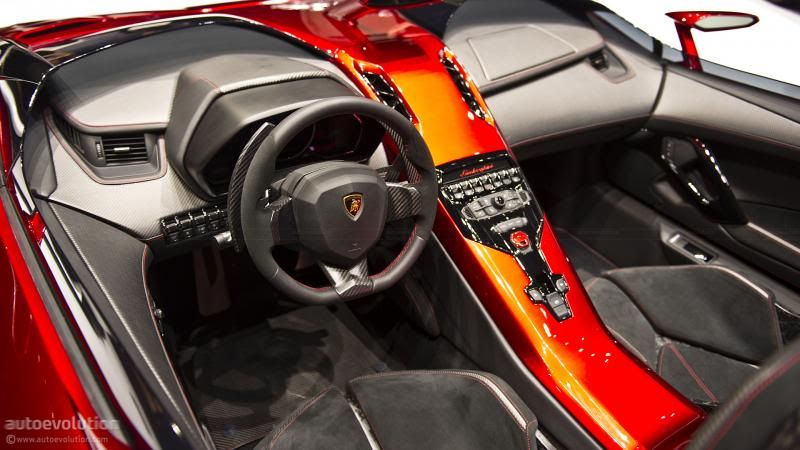 The car was specially made for a close relation.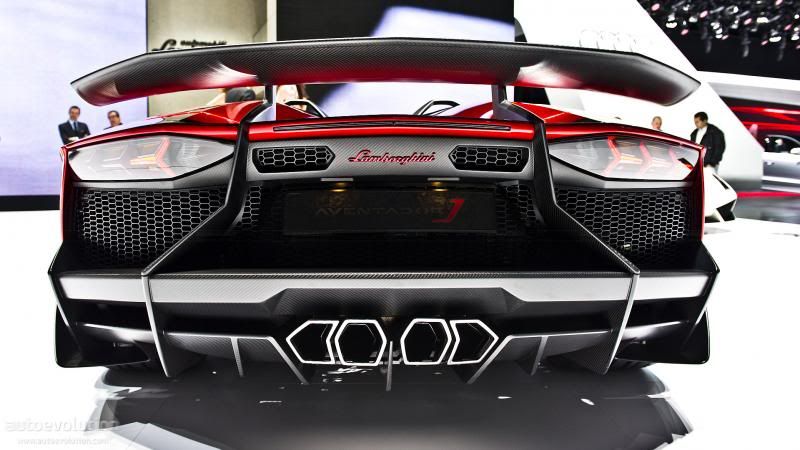 The J designation was thought to have come from Appendix J in the FIA rulebook that describes the technical specifications of race cars.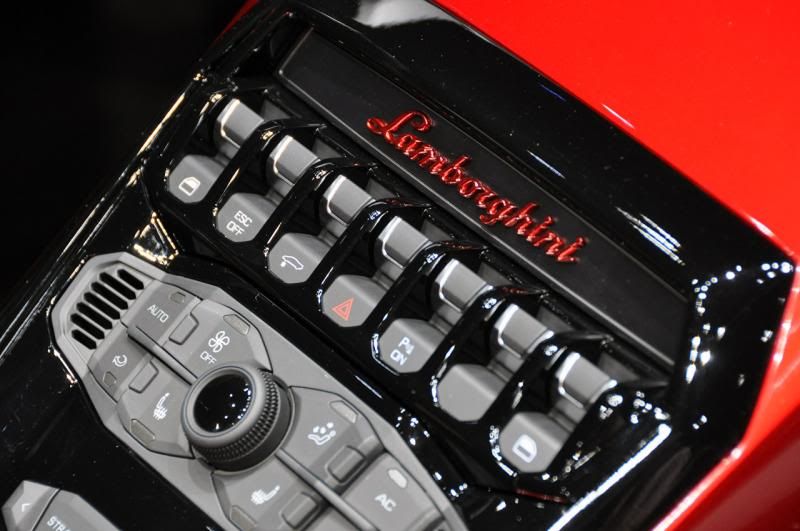 However, during an interview with designer Filippo Perini, it was revealed that the 'J' actually stands for Jota, in reference to a 1970s one off Lamborghini Miura Jota, which also conformed to the FIA's Appendix J regulations.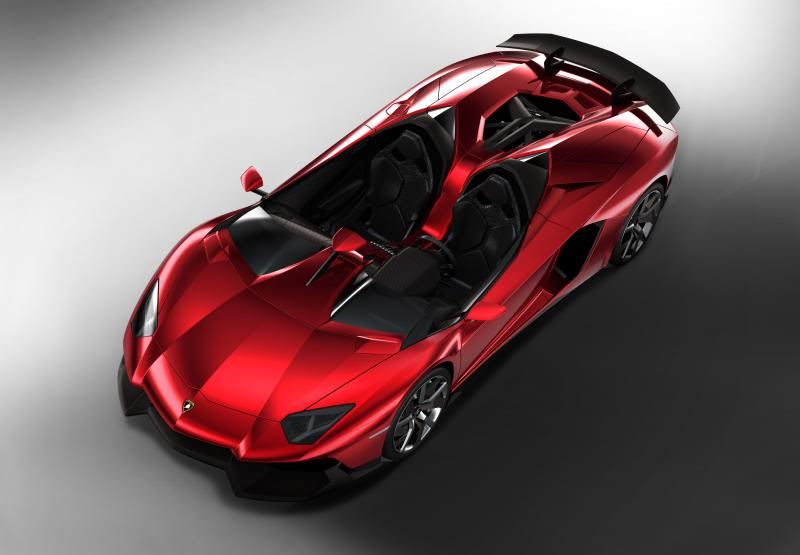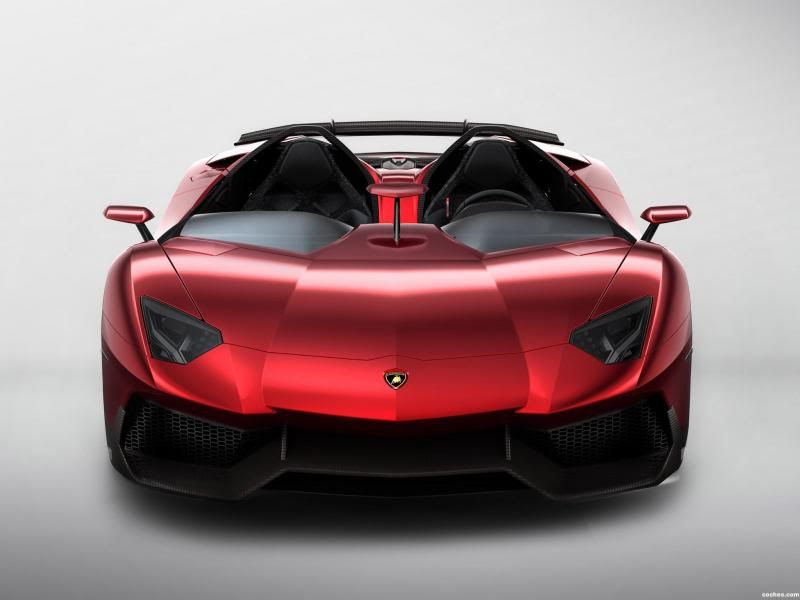 Dreamliner Edition (2012)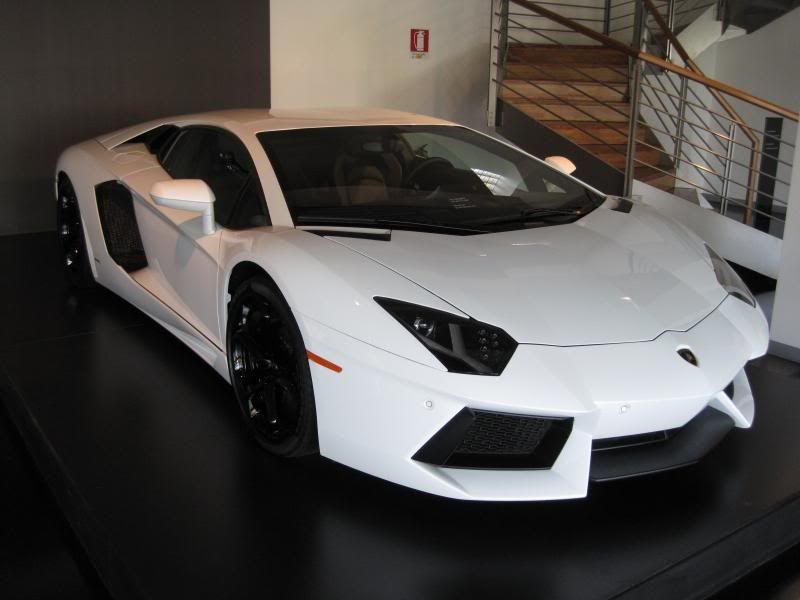 It is a version of Aventador LP 700-4 coupe with blue and white body colour scheme from Boeing 787 Dreamliner, pitch-black wheels.

The vehicle was unveiled in 2012 Aerospace & Defense Supplier Summit.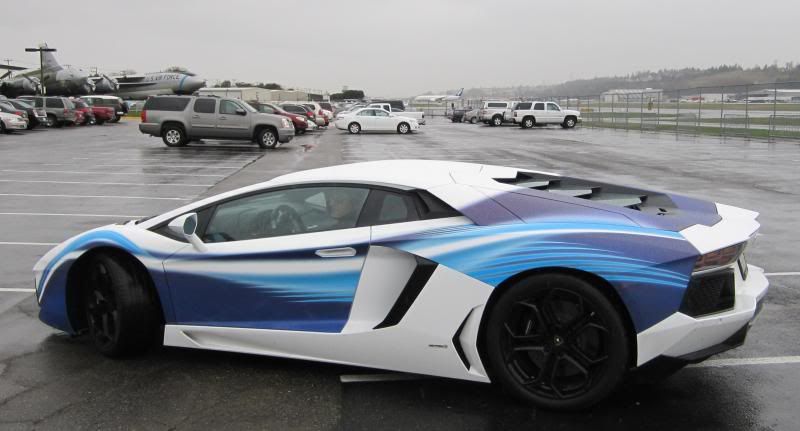 Aventador LP 720-4 50° Anniversario (2013)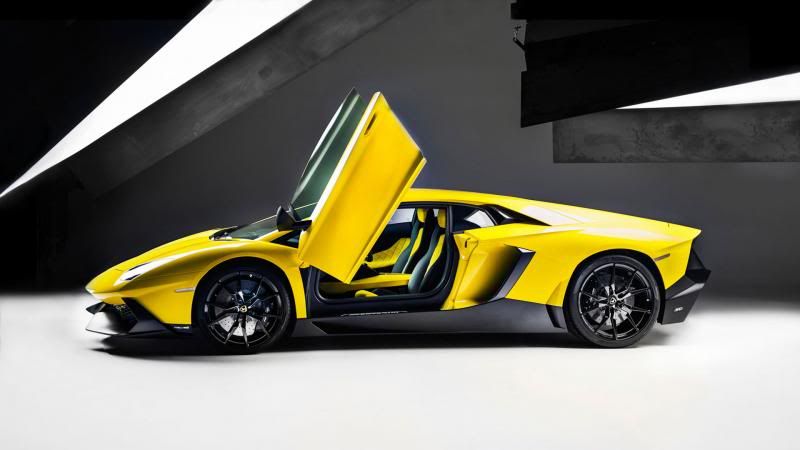 The Aventador LP 720-4 50° Anniversario is a limited (200 units - 100 Coupe and 100 Roadster) version of the Aventador LP 700-4 commemorating the 50th anniversary of Automobili Lamborghini.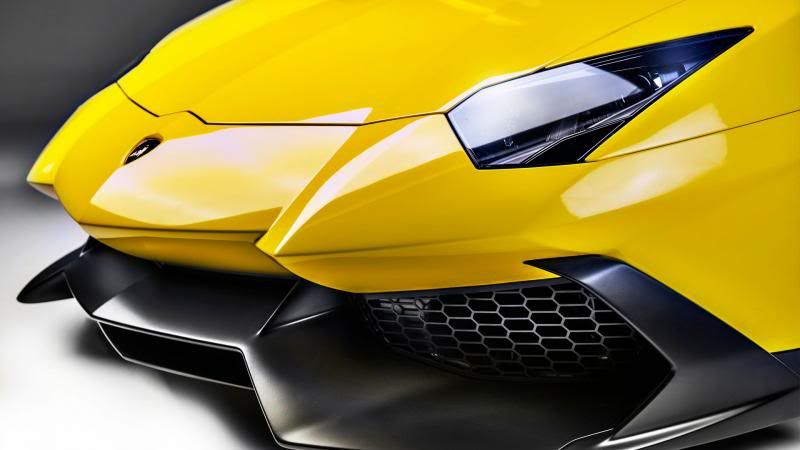 It included increased engine power to 720 PS (530 kW; 710 bhp) via a new specific engine calibration.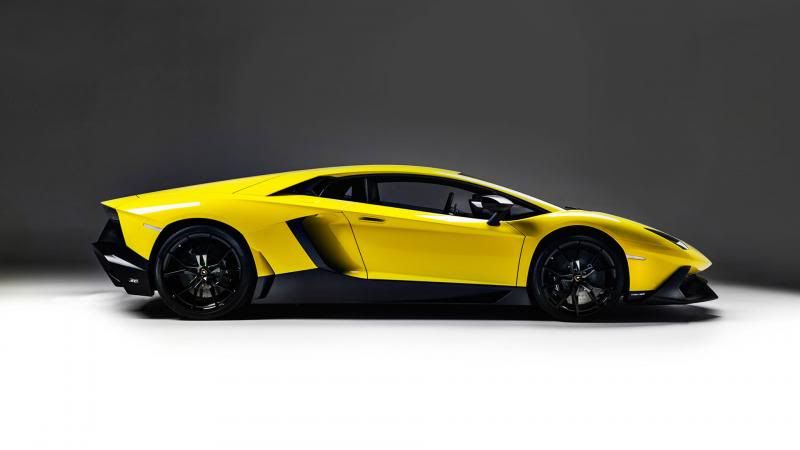 Enlarged and extended front air intakes and the aerodynamic splitter.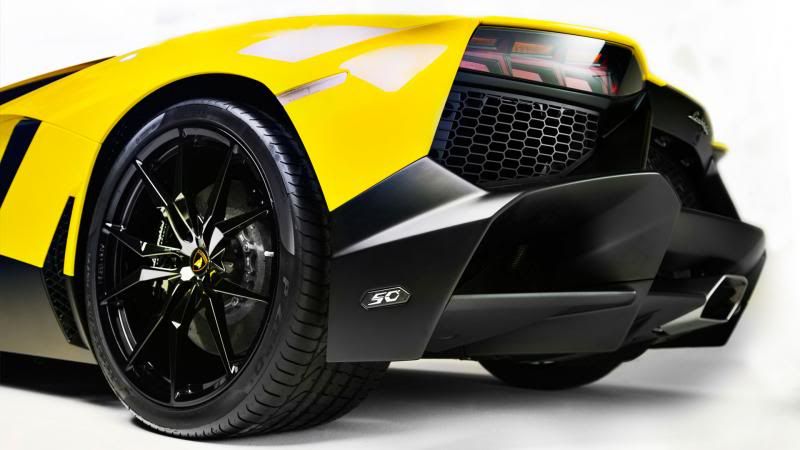 Small flaps set into the sides, new rear end featuring an enlarged diffuser and expansive meshwork that further improves engine-compartment ventilation.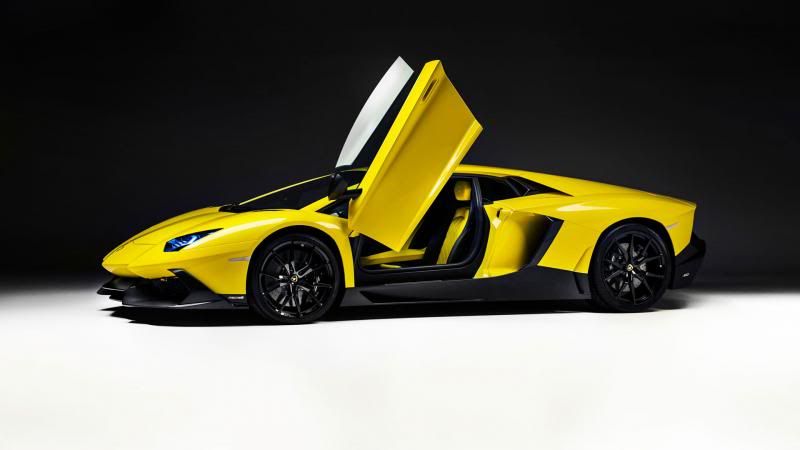 Model-exclusive Giallo Maggio (Italian for "yellow May") body colour featuring sparkling yellow paintwork with a layer of transparent and highly reflective particles.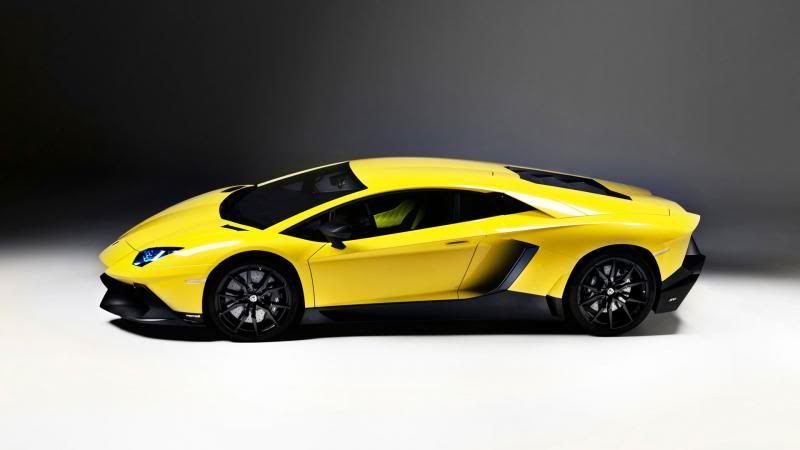 Front and rear and sills in two-tone (Giallo Maggio and matte black) design, semi-aniline leather interior upholstery in Nero Ade (black) with Terra Emilia (optional Giallo Quercus (yellow)) with Q-Citura stitch diamond pattern, 50th anniversary emblem in forged composite carbon-fiber.




The vehicle was unveiled in 2013 Shanghai Motor Show.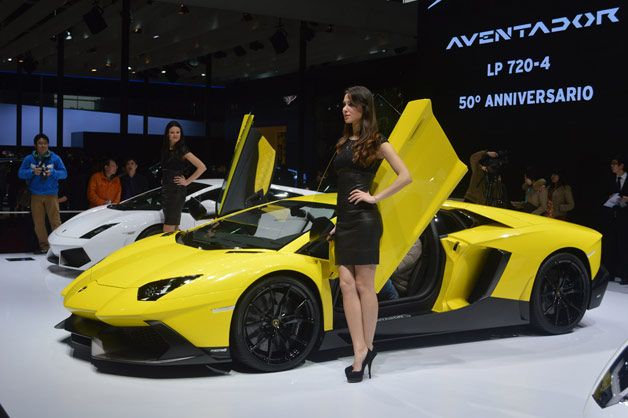 Reception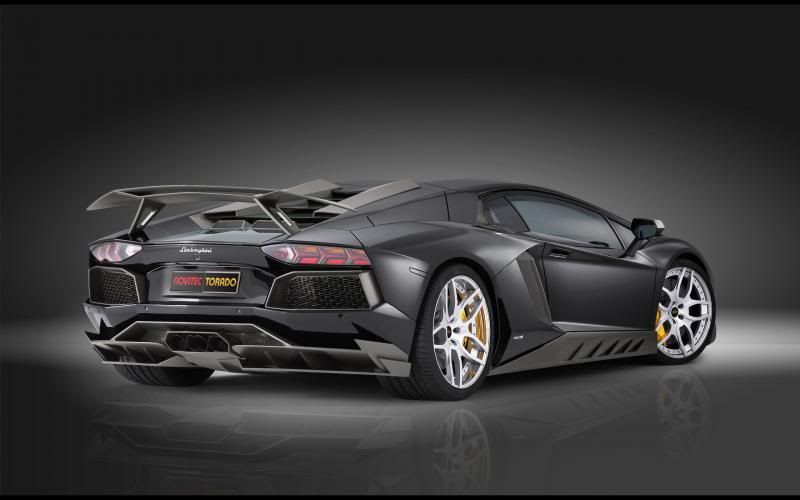 Automotive magazines such as Car and Driver and Motor Trend reviewed the Aventador. Car and Driver titled their article "The best Lamborghini ever." Motor Trend described it as "the friendliest V-12 supercar in the world." Praise for Lamborghini's all-new V-12 powerplant centered on the engine's responsiveness, torque, and smooth power output. Criticism centered mainly around the Aventador's unrefined single-disc clutch.[33][34]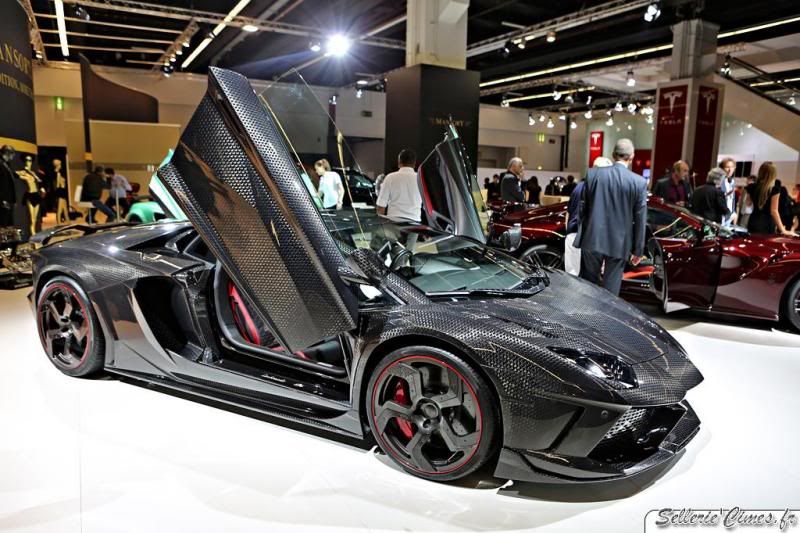 On 31 July 2011, the Aventador was reviewed by the motorsport show Top Gear. Host Richard Hammond was impressed with the performance and handling of the car. His biggest complaint was a nostalgic poke at the Aventador's accessible temperament, implying that it left him longing for the "danger" associated with driving previous Lamborghini supercars.[35] The Aventador posted the third fastest time ever recorded on the Top Gear test track with a time of 1:16.5, beating the $2,000,000 Bugatti Veyron Super Sport, the Enzo Ferrari, the Porsche 911 GT3, and other supercars from around the world. In season 18 of the program, cohost Jeremy Clarkson said that the Aventador is better than the Ferrari 458 Italia (which they had previously called the best super car ever), describing it as being "£200,000 worth of dreams."[36] The Aventador won the "Supercar of the Year 2011" from Top Gear.
Marketing
Robert Gülpen of RGE Robert Gülpen Engineering GmbH produced a 1/8-scale model Aventador LP 700-4 that was sold through an auction December 2011 with starting bid price of US$4.7 million (€3.5 million).[37] A second model, featuring gold wrapping at body, was set to go for sale at auction with a starting bid price of US$7.5 million.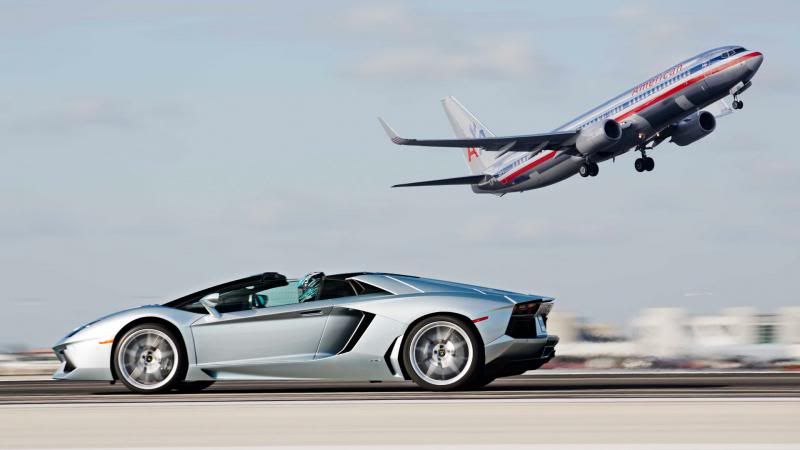 Reference
Images courtesy of
www.lamborghini.com/en/models/aventador-lp-700-4-roadster/overview/#
!slide/809
www.turbosquid.com/3d-models/3d-model-lamborghini-aventador-2012-sport/623651
en.wikipedia.org/wiki/Lamborghini_Aventador
www.hothdwallpaper.net/wallpapers/hd/19626/de-lamborghini-aventador-j
blog.seattletimes.nwsource.com/brierdudley/2012/03/05/photos_lamborghini_aventador_j.html
Hot Wheels Lamborghini Aventador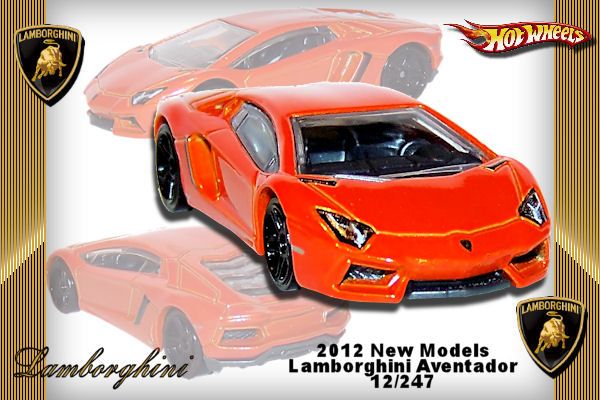 The Lamborghini Aventador LP700-4 is a two-door, two-seater sports car that was finally unveiled as a Hot Wheels 2012 new models car! Only one year after was shown at the Geneva Motor Show on 28 February 2011.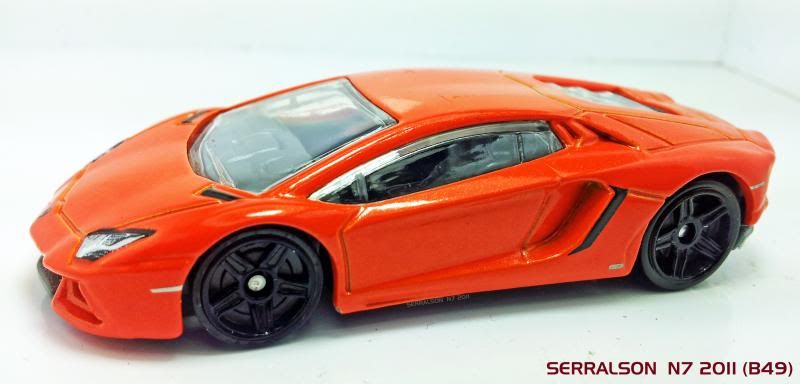 In 2012 the Lamborghini Aventador was released in the colors enamel red, silver and yellow.
For 2013 another two colors were introduced, enamel black and white.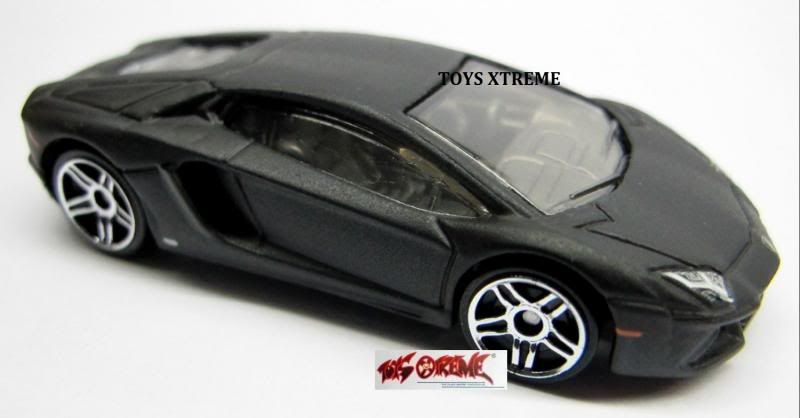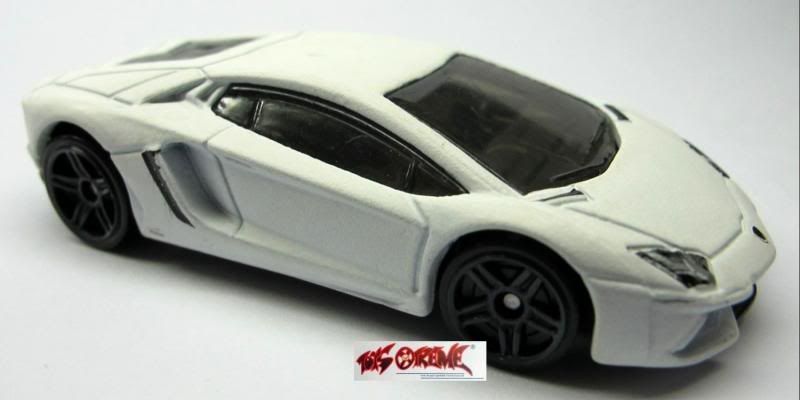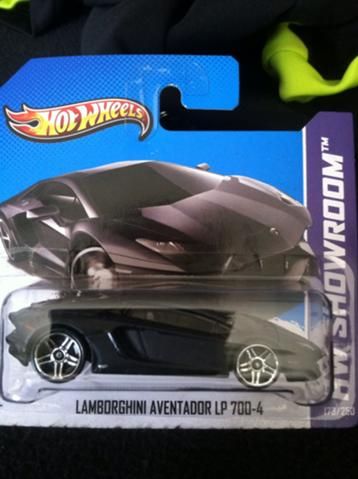 Hot Wheels Lamborghini Aventador J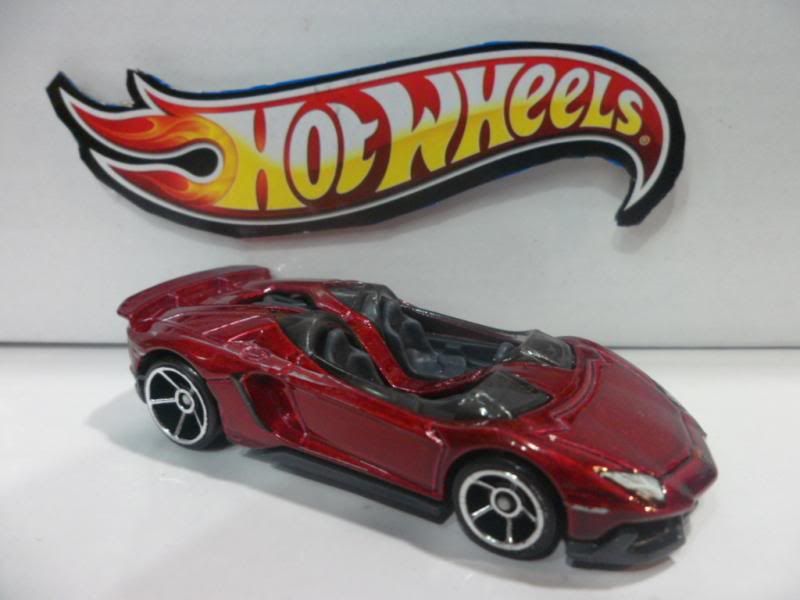 This is the roadster version of the Lamborghini Aventador and was released in the Hot Wheels line in 2013!
It turned out to be a very nice addition indeed and welcomed by kids and collectors alike!
This car is powered by a rear engined V12, this car has no windows and roofs.
It also has it's radio and air conditioning system removed to save the weight of the car.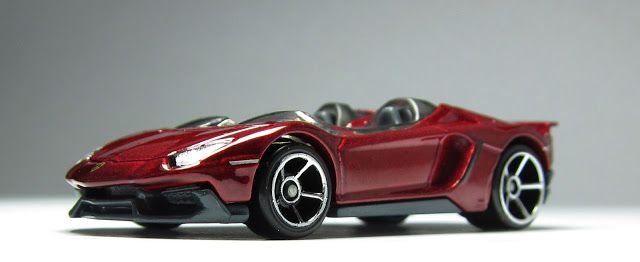 First introduced on the 2012 Geneva Motor Show, this car is considered as one of the rarest cars.
Perhaps a total of two will be made...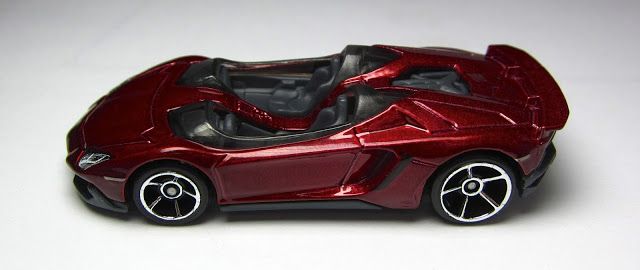 It has also been released in color silver.
The Hot Wheels Lamborghini Aventador J set free from the blistercard!
Another image of this stunning car!
When was yellow released? It appears just recently...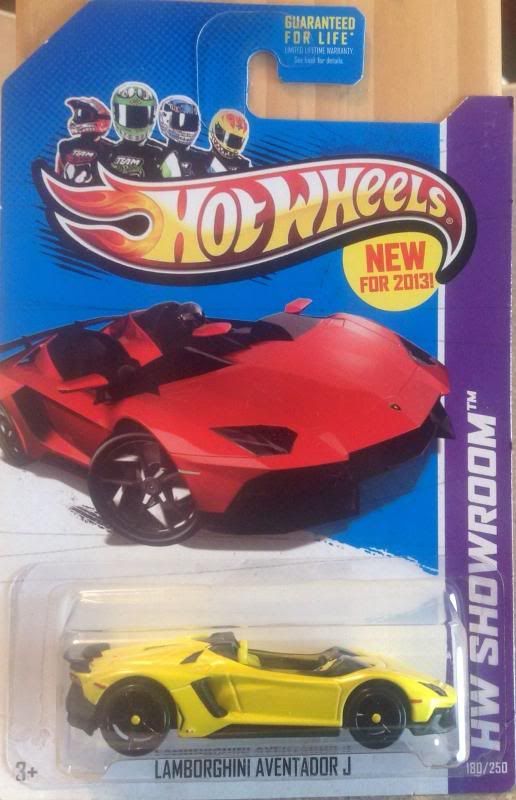 Quite a beauty when set free...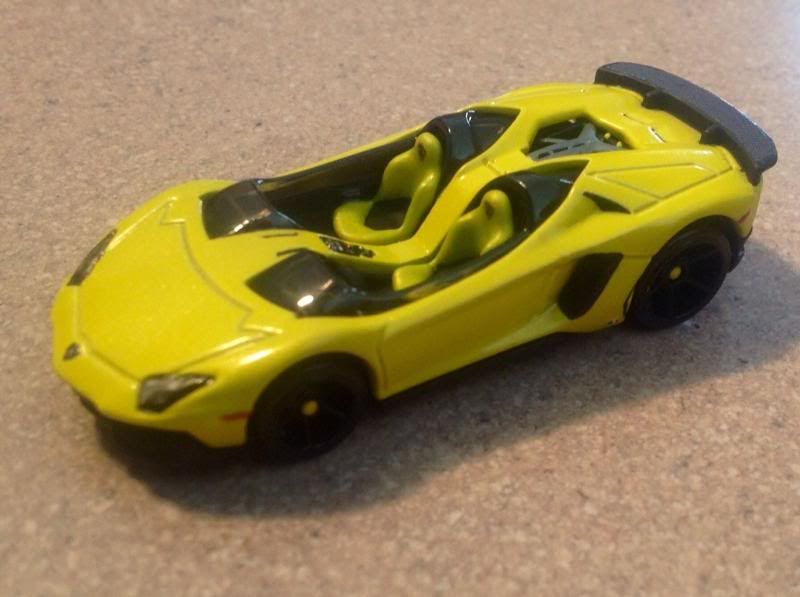 More angles of the Lamborghini Aventador J...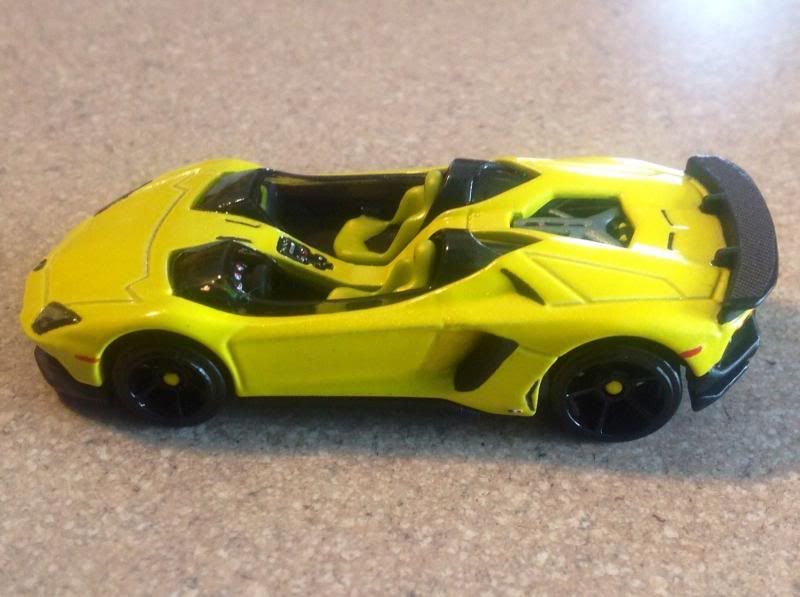 Lamborghini Aventador J undercarriage view...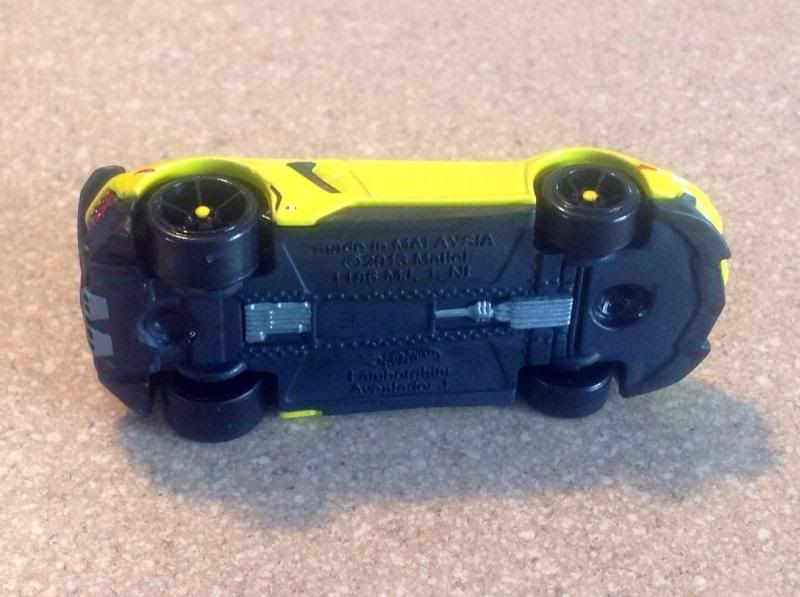 Information and images courtesy of
hotwheels.wikia.com
and
lamleydlm.blogspot.ca/
More details and reviews...
hotwheels.wikia.com/wiki/Lamborghini_Aventador_J
lamleydlm.blogspot.ca/2013/08/first-look-hot-wheels-lamborghini.html
References
hotwheels.wikia.com/wiki/Lamborghini_Aventador_J
lamleydlm.blogspot.ca/2013/08/first-look-hot-wheels-lamborghini.html