Post by ferrari512s on Mar 14, 2014 21:00:23 GMT -5


Ed Roth's Beatnik Bandit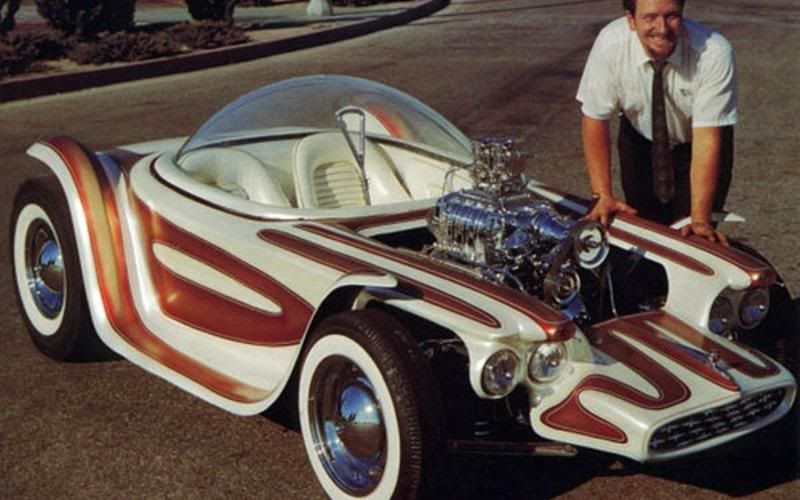 The Beatnik Bandit was designed and built by Ed "Big Daddy" Roth.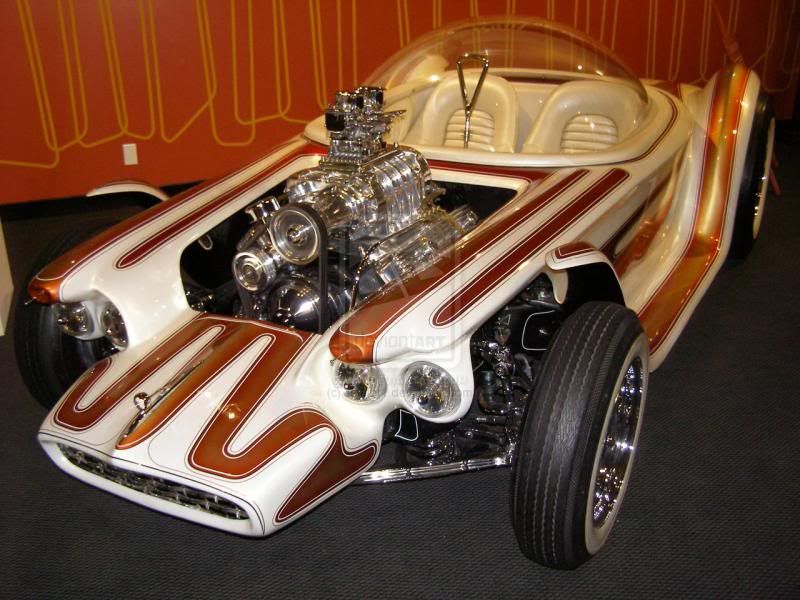 Ed came up with the ideas, and Joe Henning helped him get them down on paper.
During the build, the design of the Beatnik Bandit changed several times.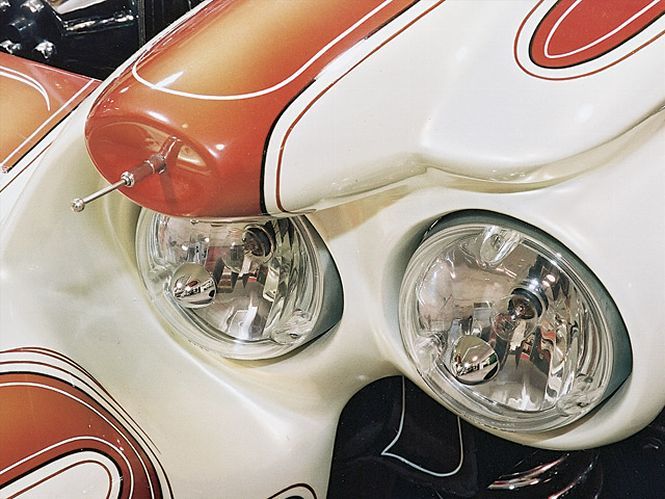 Ed Roth began working on the car in 1960.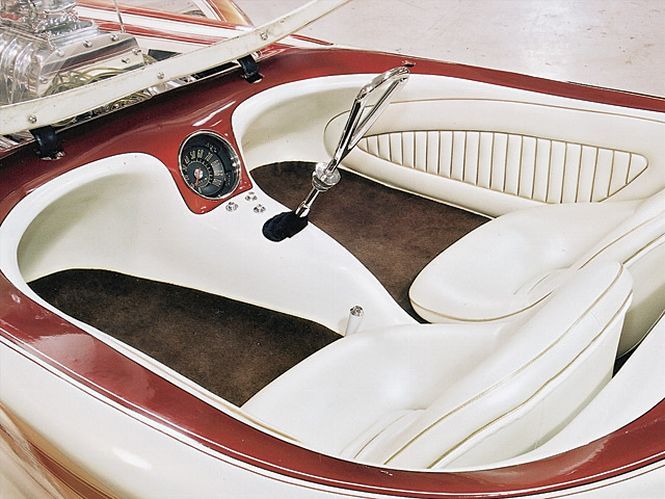 He had originally planned to name his cars after cowboys of the old west and the original name for the Beatnik Bandit was actually the Bandit.
But after reading about a bank robber called the Beatnik Bandit, Ed changed the name on the car.
As a concept, the Beatnik Bandit was first revealed to the public in Rod & Custom June 1960.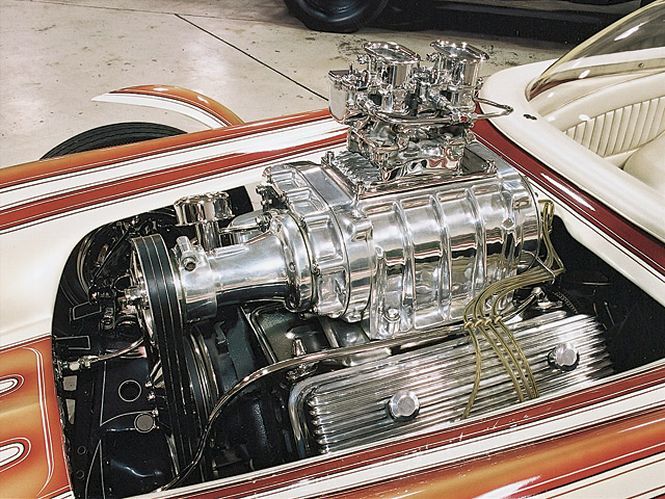 Sketched by Joe Henning the Beatnik Bandit was presented in a story titled "The Graph of Roth".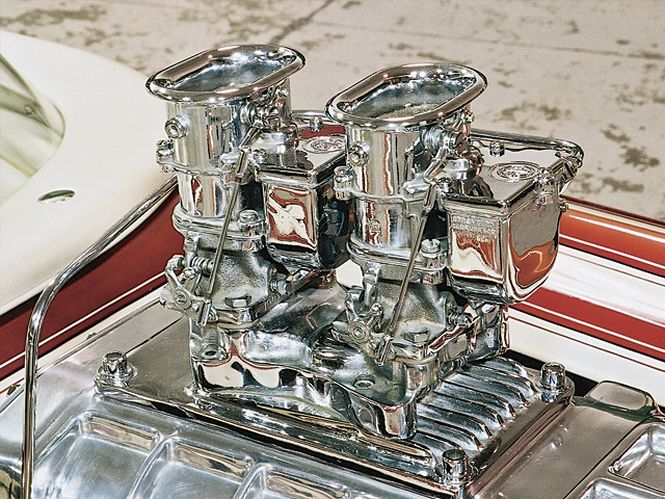 The Beatnik Bandit was based on a 1950 Oldsmobile chassis that Ed shortened down to 85 inches.
The body was built from Fiberglas and sported a 360 degree vision plexiglas canopy.
The idea for the Bubble Top came from Bobby Darrin's Dream Car called the DiDia 150.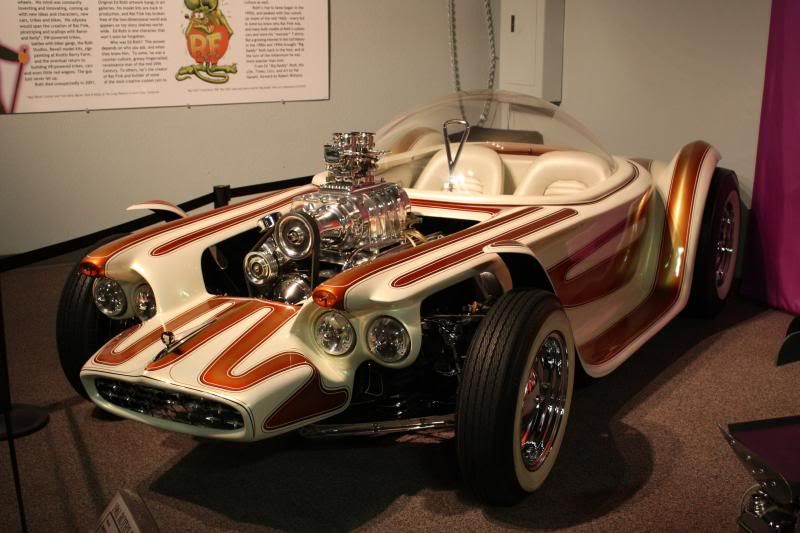 Would you believe that the Bubble Top was made using a pizza oven? Ed Roth explains this further...
Ed put some regular plastic in the oven, and then blew it up like a balloon while it was still hot.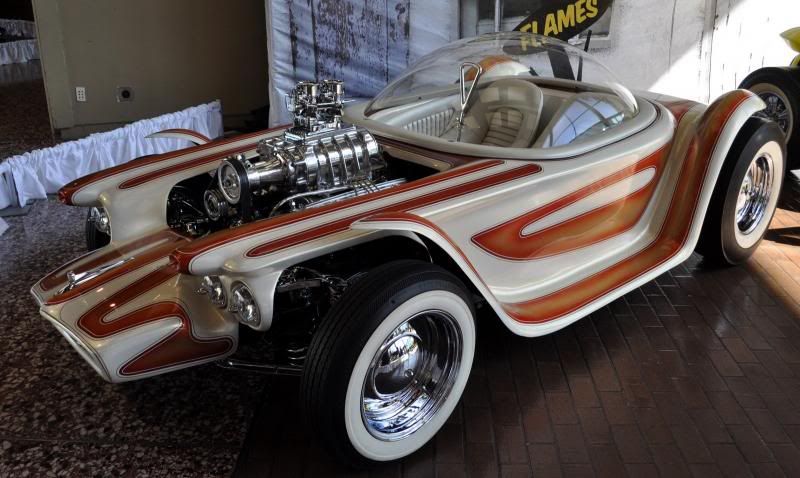 Ed got this idea from Louie Aguirre. The top was operated by the fender mounted antenna.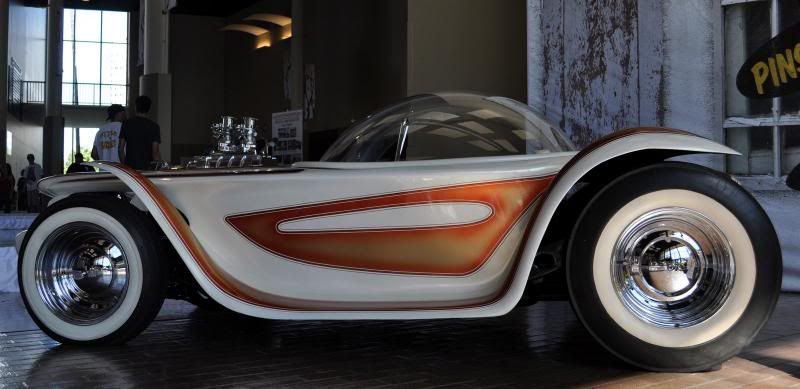 Steering, gas, shifting and gears on the car were operated using a chromed center stick.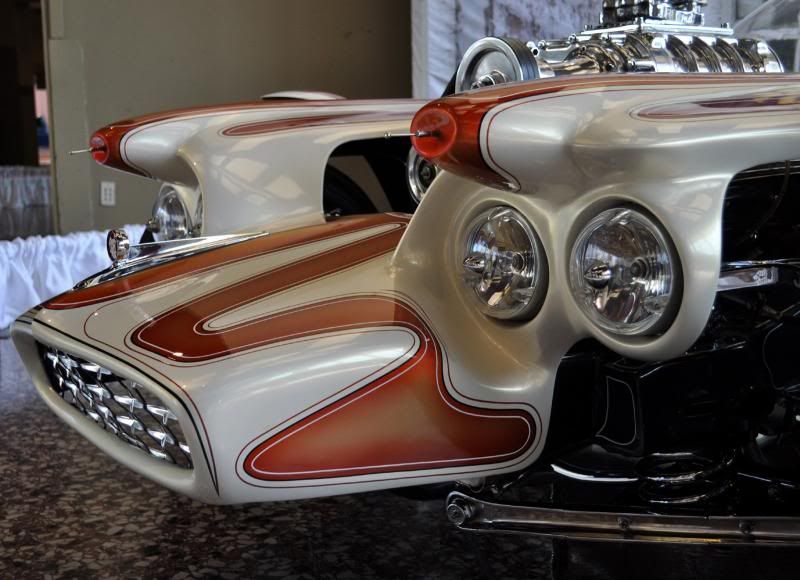 According to Ed Roth the Beatnik Bandit was the first show car that he hauled on a trailer 100 percent of the time.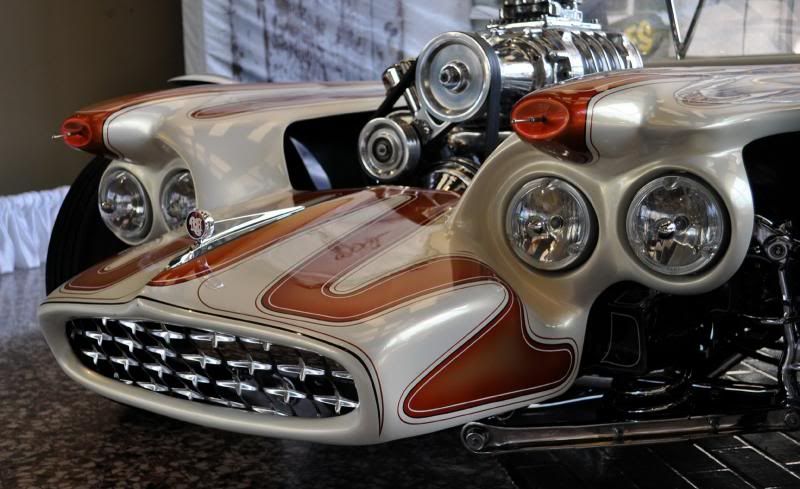 The stick has probably something to do with this. The upholstery in the car was done by Eddie Martinez.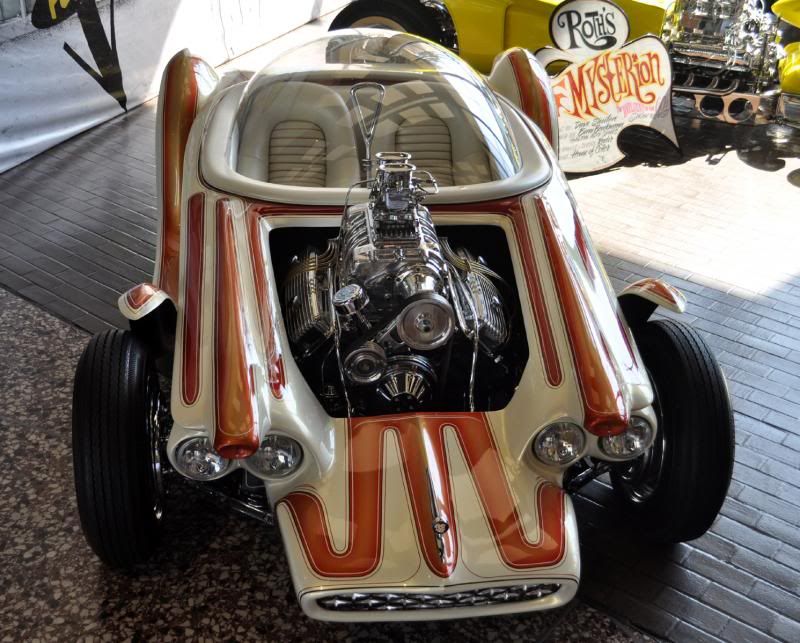 When the bodywork on the car was finished, Ed brought the Beatnik Bandit to Larry Watson's, Watson's House of Style for a paint job.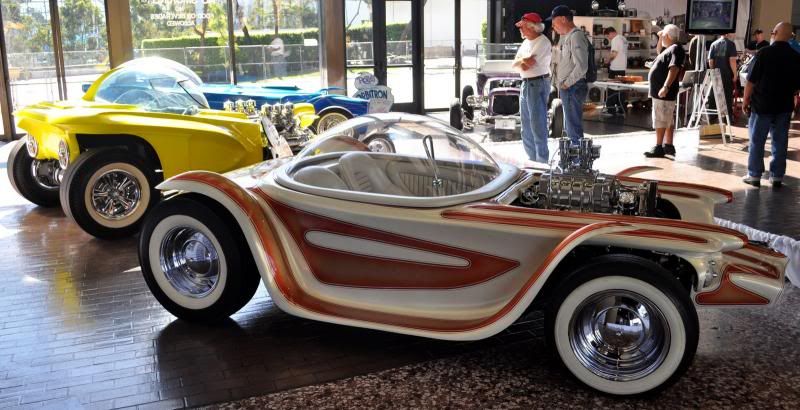 Ed didn't have the money required to paint the car, so he made a deal with Watson that he could take all the time he needed on the car, and that he got paid in Rat Fink T-Shirts.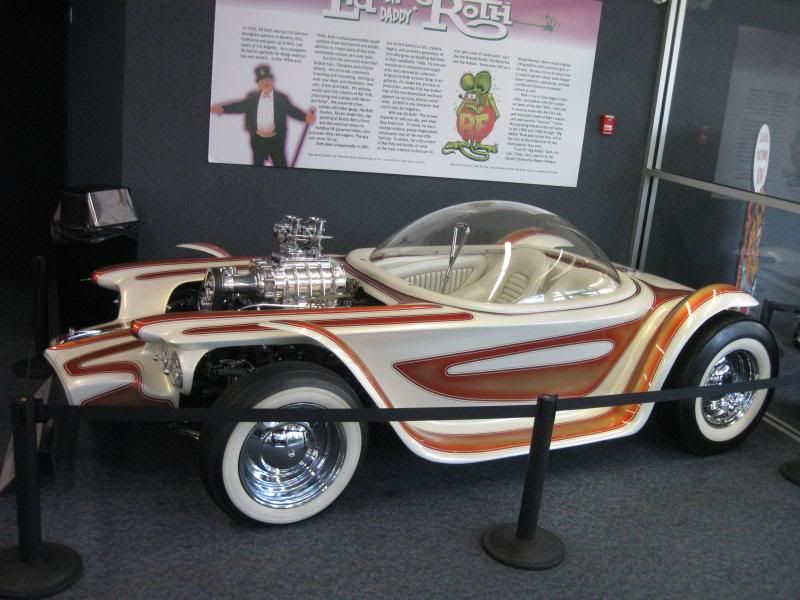 The original Oldsmobile engine was built by Fritz Voight and featured a Bell Auto Parts blower with twin Ford carbs.
After being hauled all over the country to and from different car shows, the car had green paint and a lot of changes had been made to it.
Dirty Doug painted the second version of the car. In 1970 Ed sold the car to Jim Brucker for $50.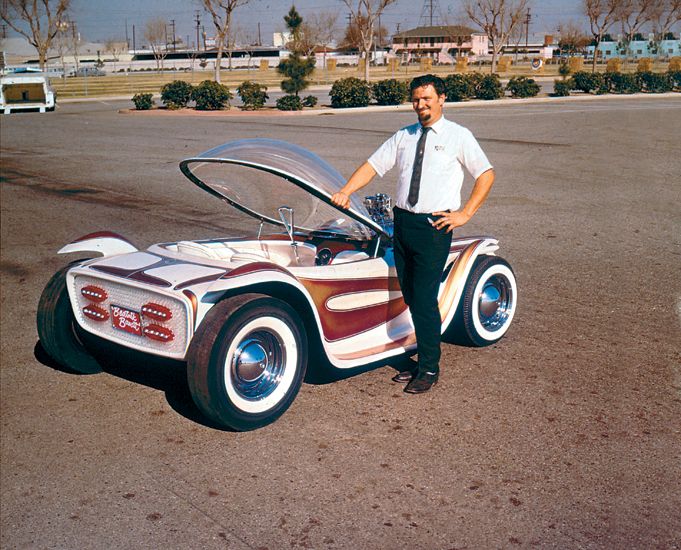 Jim kept the car until 1973 when he traded it to Harrah's in Reno, Nevada.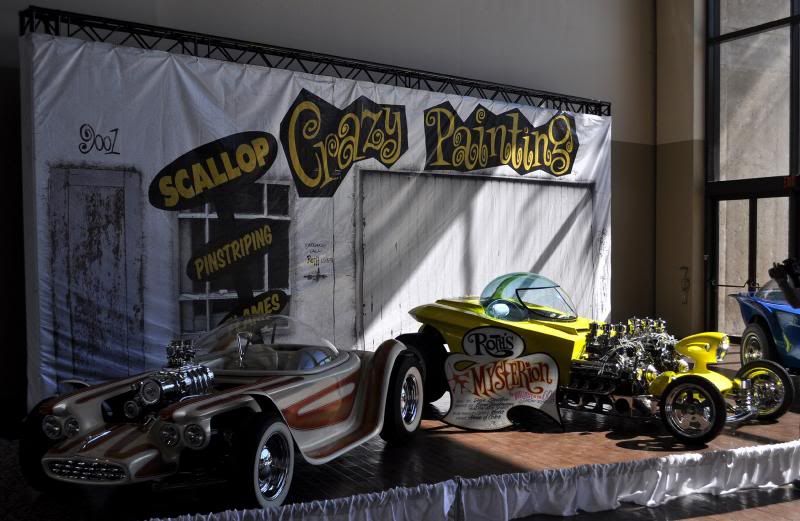 Harrah's restored the car back to its original version in 1985. Today the car is still in Harrah's possession, and the car is on permanent display at the National Automobile Museum in Reno. The Beatnik Bandit was featured in Car Craft's magazine, May 1961.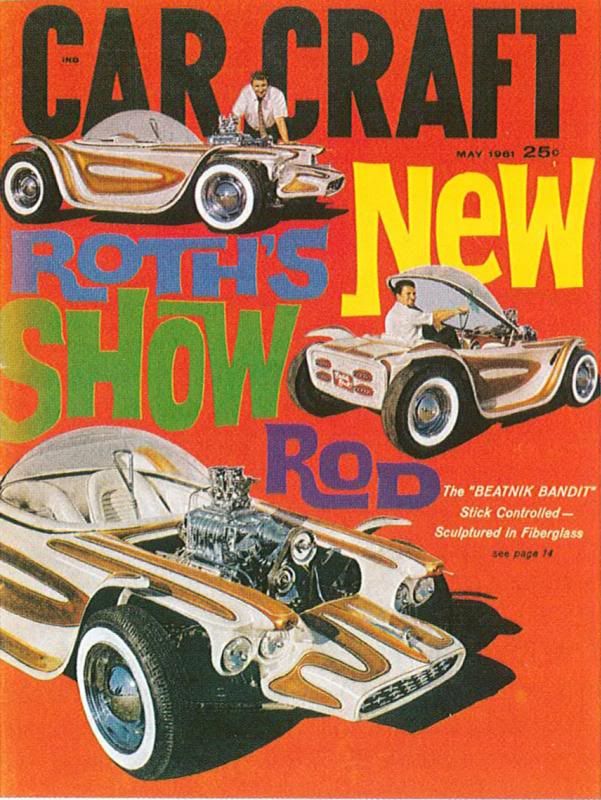 Revell's model of the Bandit was the second in a long series of Roth-based kits, many designed by Jim Keeler. It was part of line of popular kits that made up 16 percent of Revell's total sales for that period.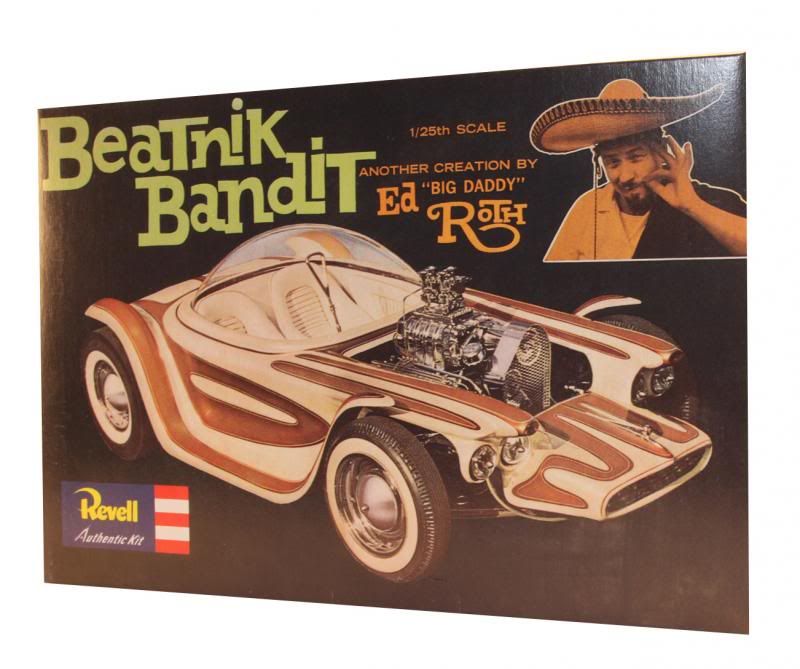 It was also made into a die-cast 1:64 scale car by Mattel and released in 1968. here is the 100% release by Hot Wheels.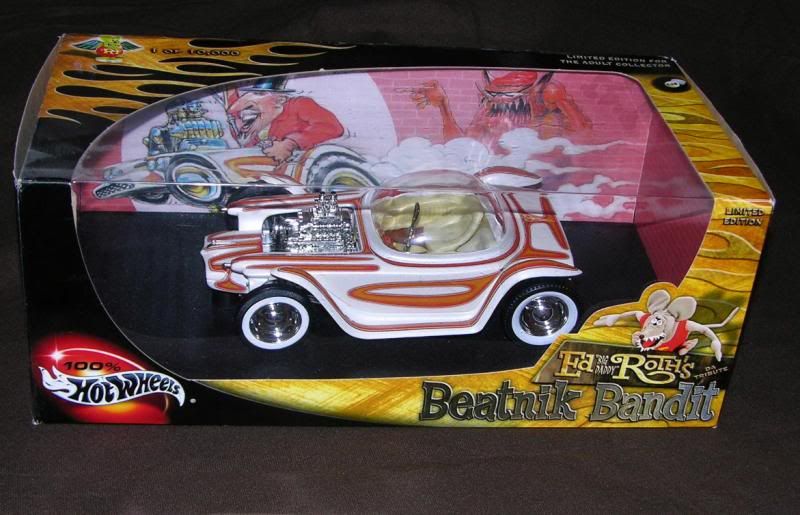 When Mattel decided to make Hot Wheels, they called Ed Roth and asked for permission to use the Beatnik Bandit as part of the original 16 castings in the 1968 Hot Wheels line.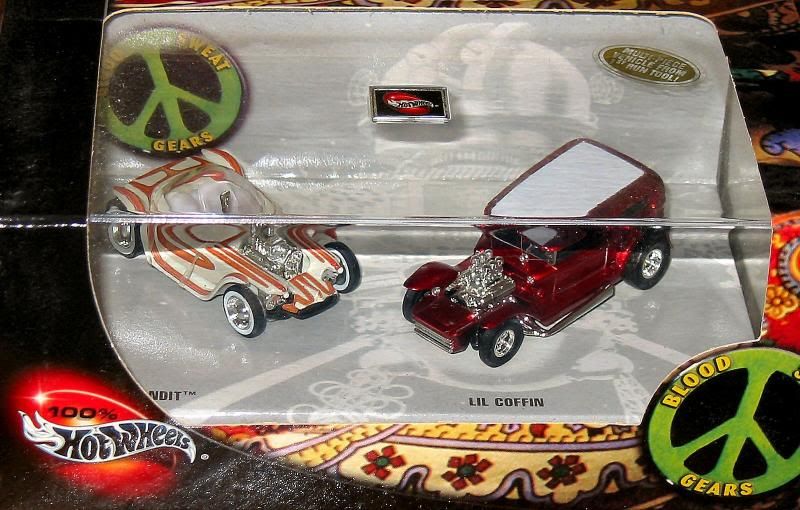 Harry Bradley was the designer that shrunk the Beatnik Bandit down. The original tool was only used from 1968-1971 and then was retired.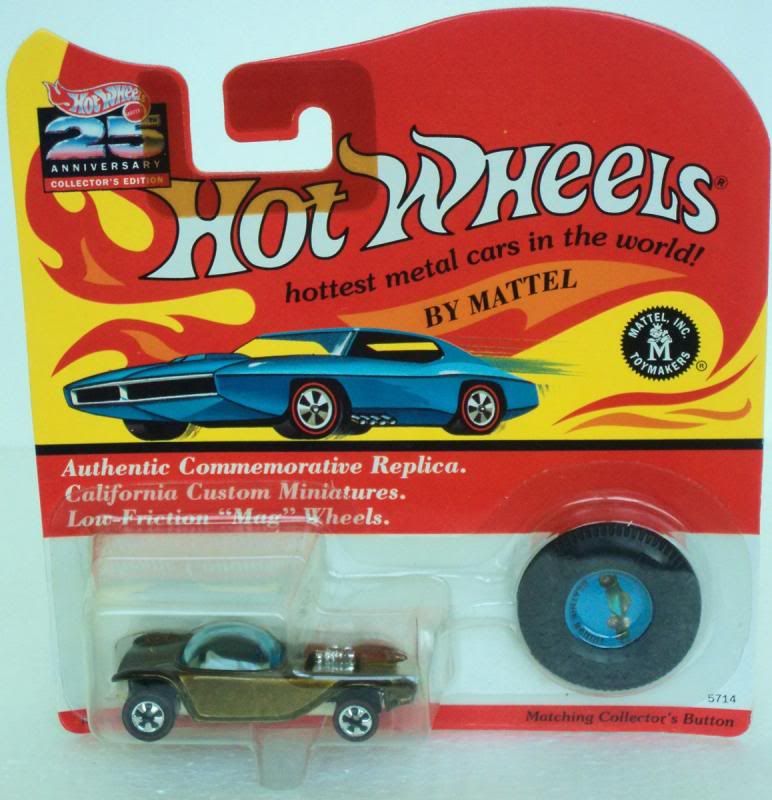 The car was retooled in 1993 as part of Hot Wheels' 25th Anniversary. It was used twice in 1994, as part of the Vintage Series and the FAO Schwarz Gold Series I.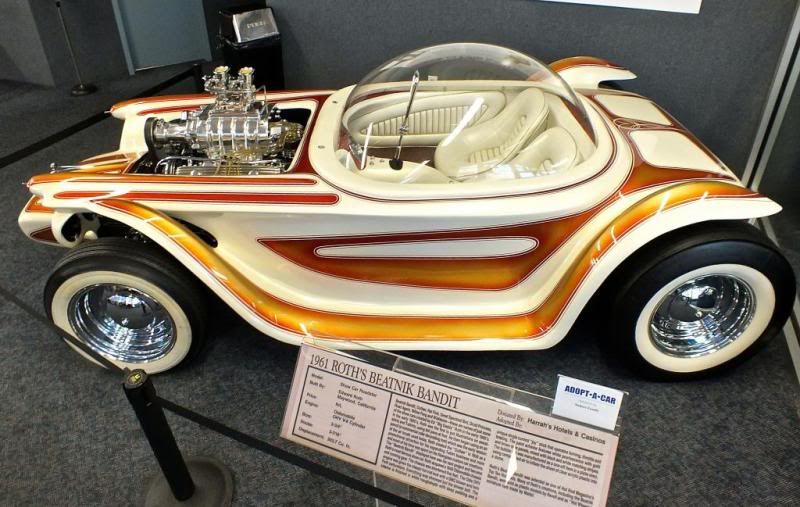 The tool then sat, unused until 2003, when it was dusted off again for the Hall of Fame Series when Hot Wheels honored Ed Roth himself. It hasn't been used since.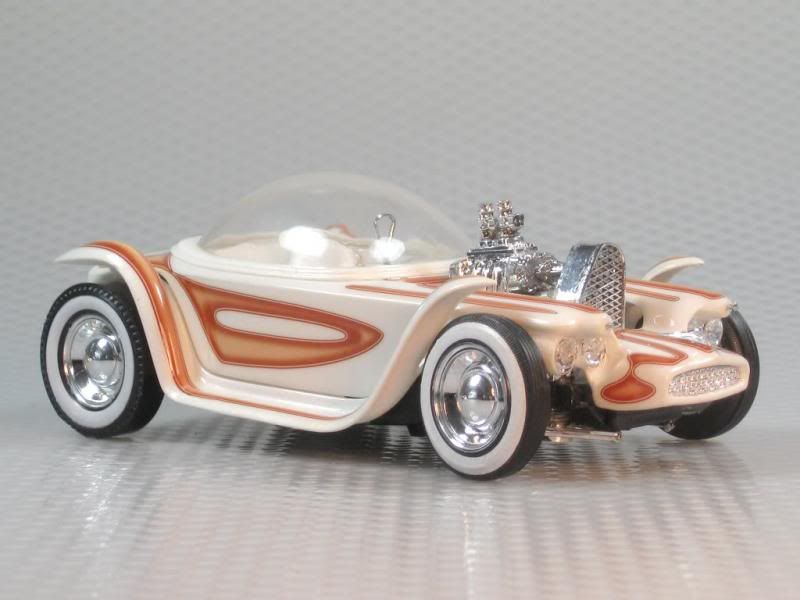 Source
www.kustomrama.com/index.php?title=Ed_Roth%27s_Beatnik_Bandit
---
More history on the Beatnik Bandit...
The "Beatnik Bandit" was first revealed to the public via text and llustrations by artist Joe Henning in the Jun. '60 issue of R&C, in an article titled, "The Grape of Roth."
Roth's concept embodied in Henning's sketches was to evolve from a T-coupe-topped 'glass hot rod into the bubbletopped creation we all know and love. Originally dubbed the "Beatnik Band-it," the title was quickly to change to "Bandit."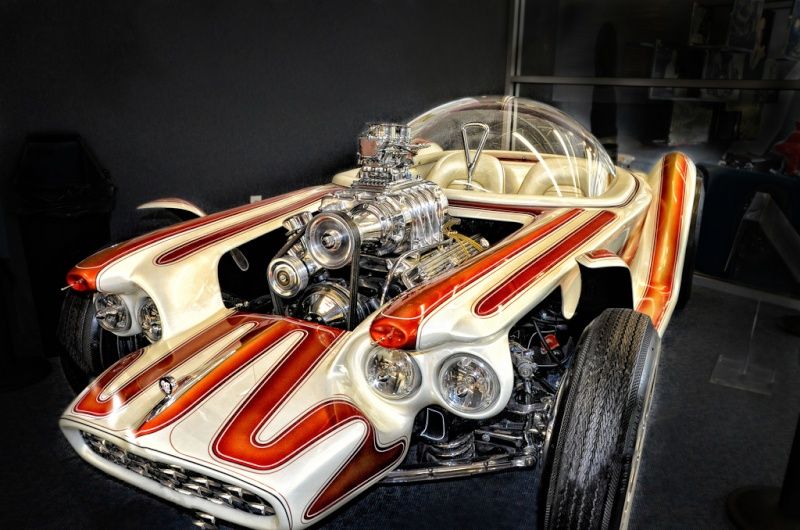 Having toured the Outlaw on the show circuit with Darryl Starbird and his bubbletopped "Predicta," Ed decided to scrap the angular T-roof and conventional doors for a similar transparent, cutting-edge, flip-up lid instead. Aside from that, replacing the sectioned T radiator shell, and detail enhancements, like aerial pods above the headlights, Joe Henning's concept that had started with a hastily sketched idea on a scrap of cardboard (based, in part, on Joe's previous roadster design) while in conversation with Ed at his car show T-shirt booth, remained pretty much intact.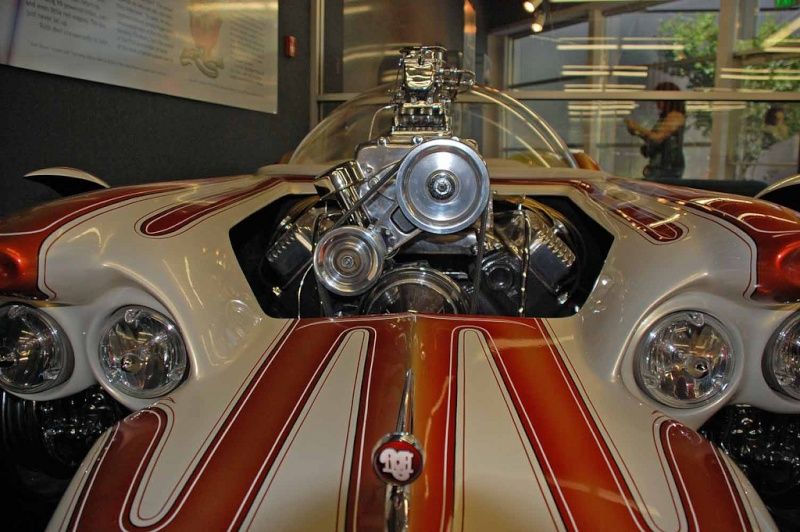 The Bandit's one-piece body and integrated fender form not only harkens back to earlier autos in a thoroughly modern interpretation (even by today's standards), but predates the Meyers Manx dunebuggy (with similar design attributes) by several years as well. The first being deliberate, the latter a coincidence--one has to wonder?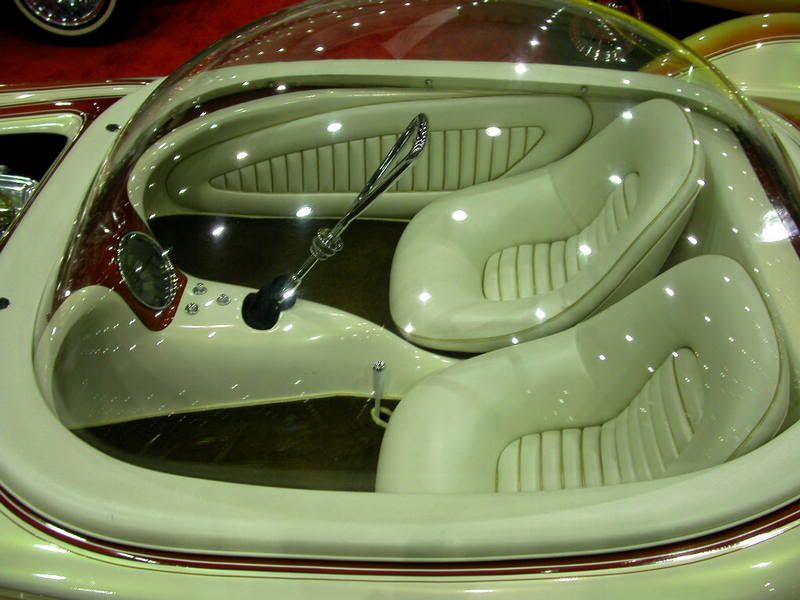 Anyway, when finished, the Beatnik Bandit was captured on film by Bud Lang (who became a pioneer in 'glass T-bucket replicas) to be the cover car for the May '61 issue of Car Craft.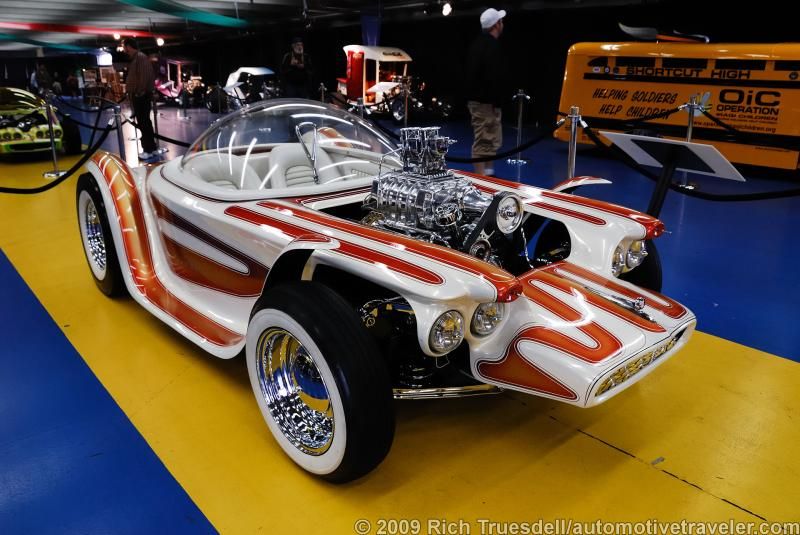 (Note: it must be pointed out that Roth would usually have artist friends commit his concepts to paper, and was always open to design suggestions from those whose work he admired--most of whom were also his employees at one time or another during the turbulent '60s.)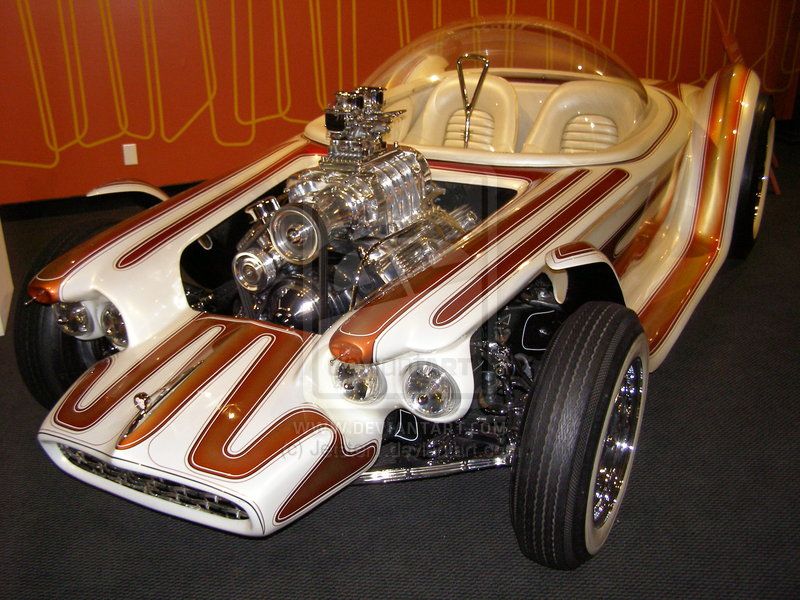 Joe Henning was never an employee, but had input into a couple more of Roth's creations, including the "Road Agent," as well as Ed's ill-fated air car, "Rotar." Ed Newton is another designer who had incredible influence on Roth's concepts, and must be given the credit he so richly deserves in "refining" many of Ed's designs, including: "Orbitron," "Surfite," "Wishbone," "Capt. Pepi," "Druid Princess" (Tom Daniel also collaborated on that one), and others, which included three-wheelers during Roth's "Trike Period."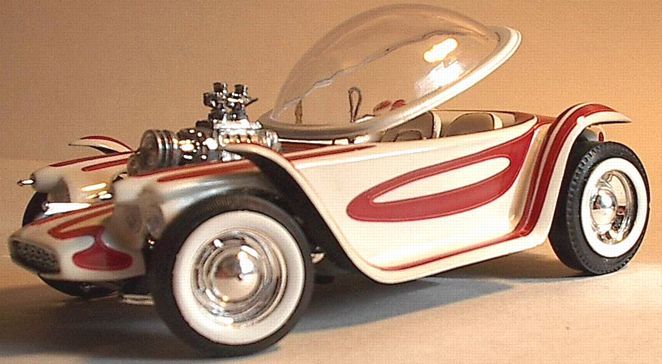 Roth's opus operandi on the Beatnik Bandit was a bit different from his first fiberglass creation, the Outlaw, inasmuch as there was no production mold created-- what would have normally been used as a mold (the first 'glass lay-up) became the body proper instead.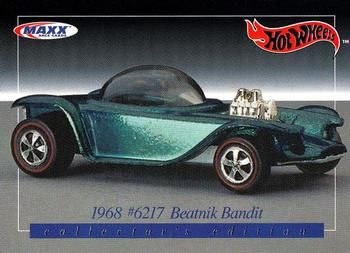 The previous Outlaw body shape had been created from plaster and wadded-up newspaper, i.e., "Spitwads," (a Roth term) to flesh it out. Then a finish coat was smoothed on, the surface perfected with grinder, files, and sandpaper, then primed, and finally a three-piece 'glass mold pulled from this "plug" to make duplicate bodies from.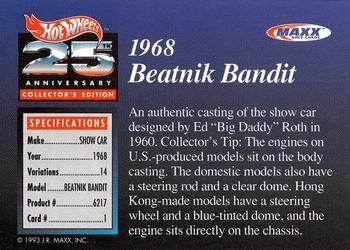 At least one extra body was made from this mold (and sold), but Ed's been quoted as saying that there was only ever one nosepiece ever made. It's said that artist Robert Williams (another ex-Roth employee) has the body mold sections for the Outlaw in his personal collection--what an artifact to own.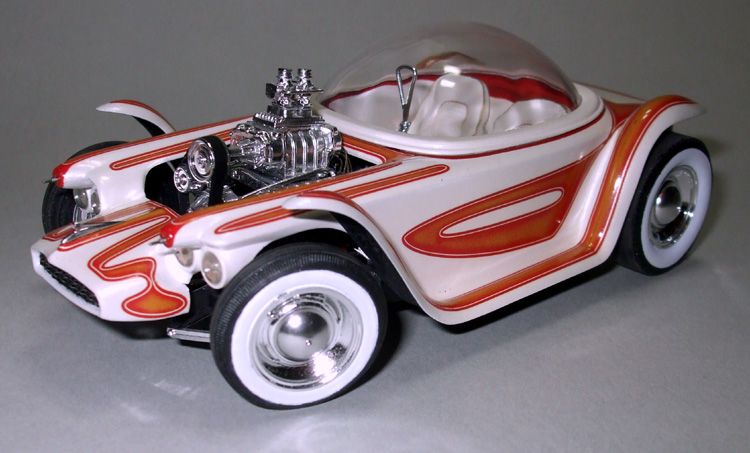 Apparently Roth found from his first endeavor that creating molds to duplicate radical, unorthodox hot rod bodies was not only time consuming (like sanding fiberglass smooth is?), but not very cost effective, either.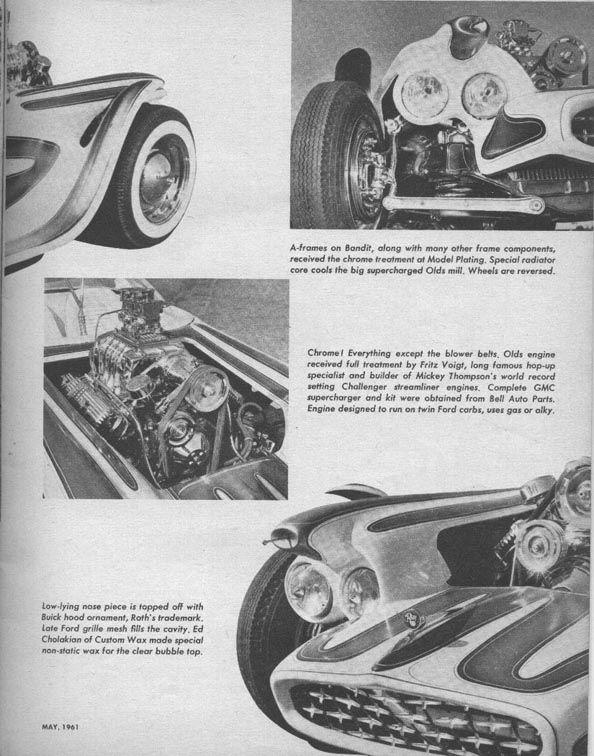 Unlike today, rodders at that time weren't into building alternative variations of traditional Ford hot rod shapes, like the SpeedStar and Zipper roadster bodies (to name but a couple) offered by the contemporary street rod aftermarket (thus the popularity of 'glass T-bucket replicas when they appeared on the market).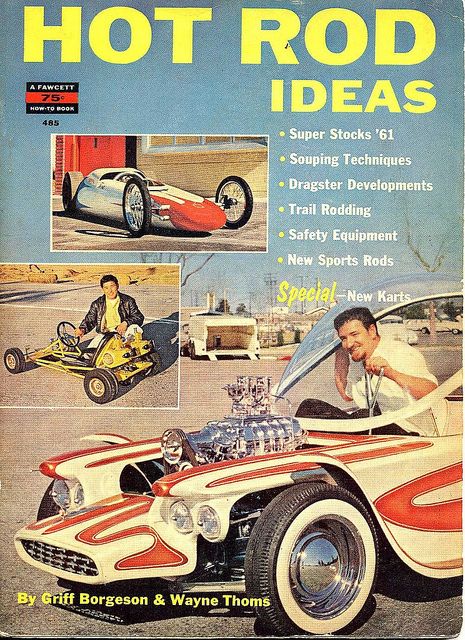 It wouldn't be until some years later, when Roth got into trikes (both V-8 and VW), that he found mold making for series production to be lucrative.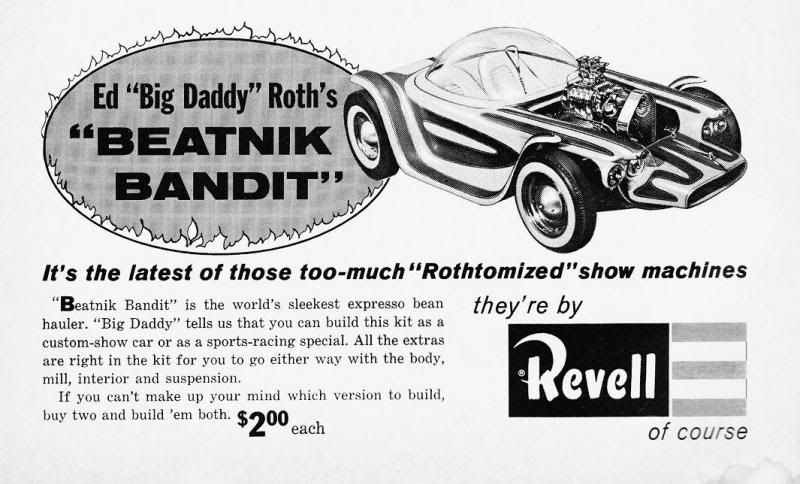 So, for most of Ed's show rods, there would be no female molds, only tedious amounts of grunt work in grinding huge volumes of hardened plaster into pleasing shapes (it's been said he had a rather large discard pile of rejected body details), then covering the results with layers of resin-soaked 'glass mat and/or cloth.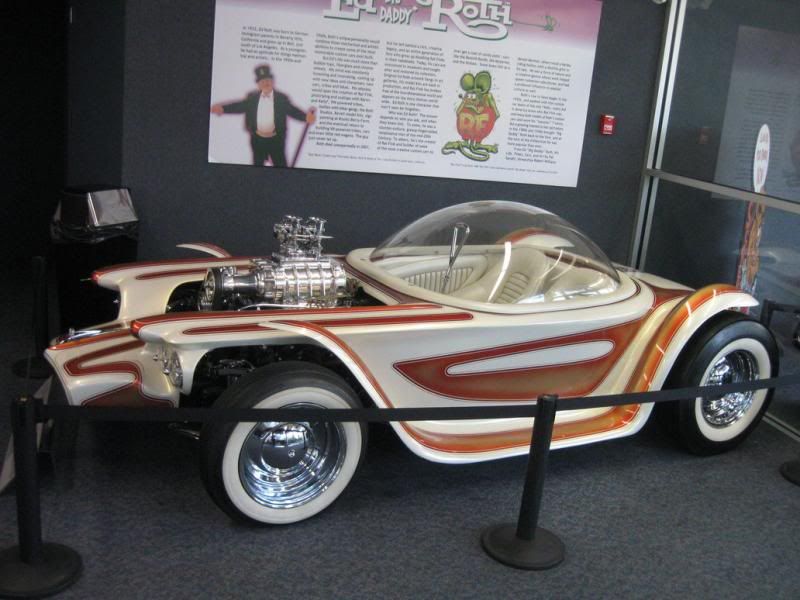 When the 'glass had sufficiently cured, the body would be rolled over and the plug laboriously knocked out. Much of this work was handled by Ed's longtime employee, Dirty Doug Kinney.
One must remember that even though Ed was a hot rodder, the main reason for building all of those fantastic automotive creations, whose images flowed freely from his futurist mind, was to draw attention to his, now thriving, T-shirt business. For selling T-shirts (at first airbrushed one-at-a-time, as mentioned, then silk-screened for an ever-expanding market) was the business at hand, and the cars were mostly for publicity, to pull eager buyers into his booth (and, of course, order T-shirts and other goodies from the magazine ads as well).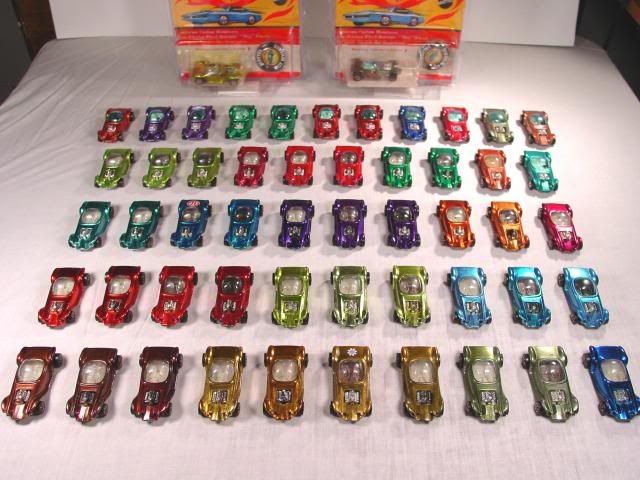 During the creative process, Ed would always lay the foundations for his cars first, which in the case of the Beatnik Bandit was a '50 Olds chassis scavenged from Firestone Auto Wrecking, then shortened to an 85-inch wheelbase (note that all future vehicles would have purpose-built frames), then sculpt the body on top of it.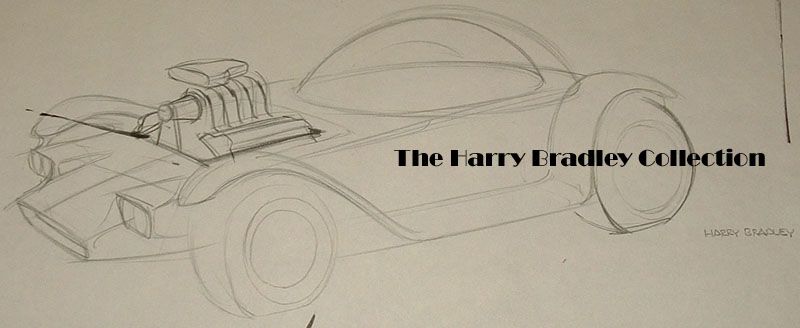 This meant a heck of a lot of cleanup later, but as most of the chassis components were to go into the brightwork tanks at Model Plating anyway, who cared?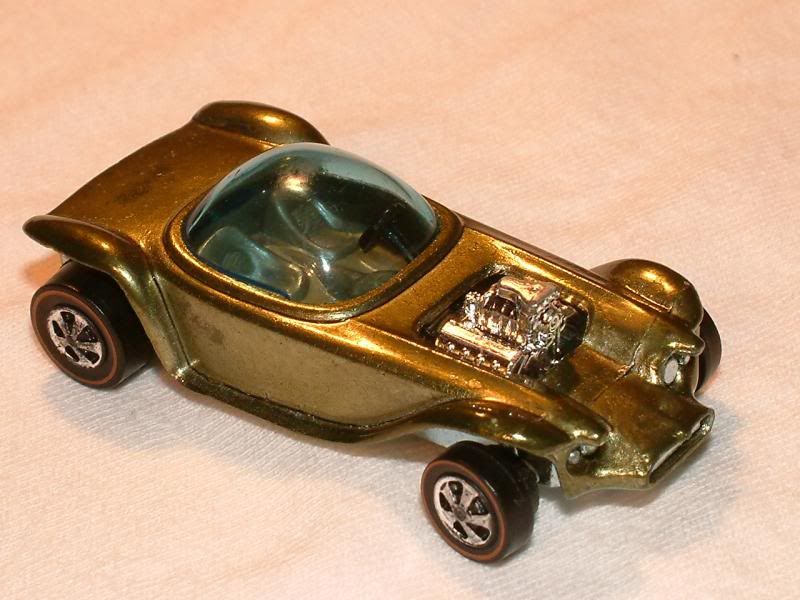 It must also be pointed out that when building a female 'glass body like the Bandit's (unlike when a body is laid-up in a mold), maintaining a uniform thickness of the finished product goes out the window.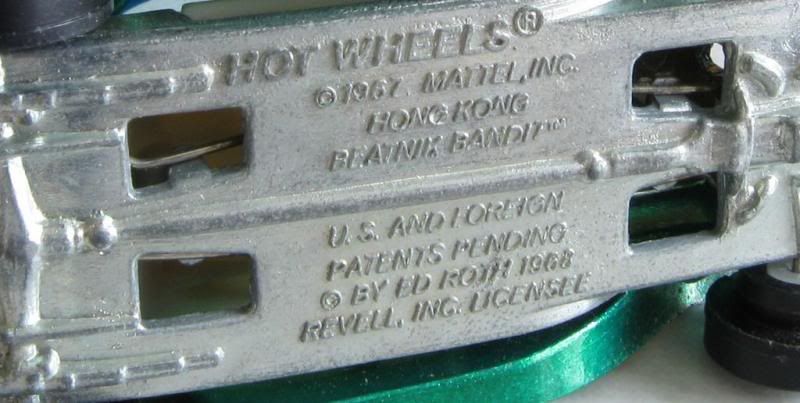 In grinding and sanding the 'glass into a smooth, paintable surface, thickness may vary from paper-thin to nearly a half-inch.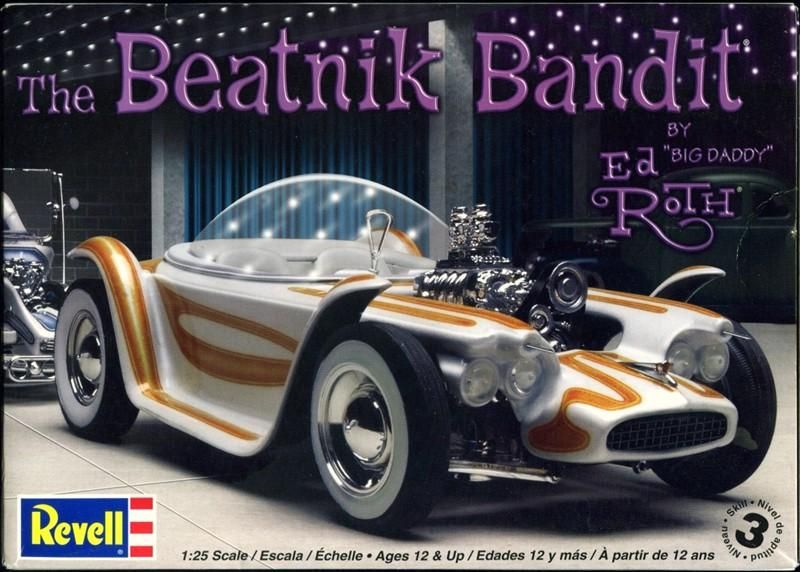 At any rate, when Ed and Dirty Doug were finished and it was time for paint, Larry Watson was called on to do the honors (as he would be for future Roth creations as well).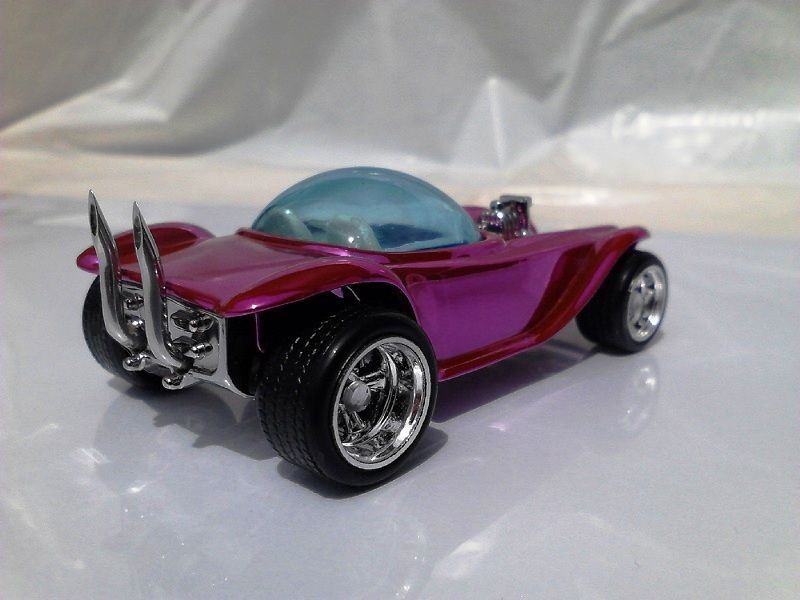 The Bandit was painted with a white pearl base, then panel-painted (a visual link to the Outlaw) by Larry, who had invented the style on his '58 T-Bird (see Custom Rodder, Mar. '01 for a feature) in blended golden hues.
Then Roth applied his own pinstriping magic to give it that personal touch, even though Larry was an equally accomplished striper as well.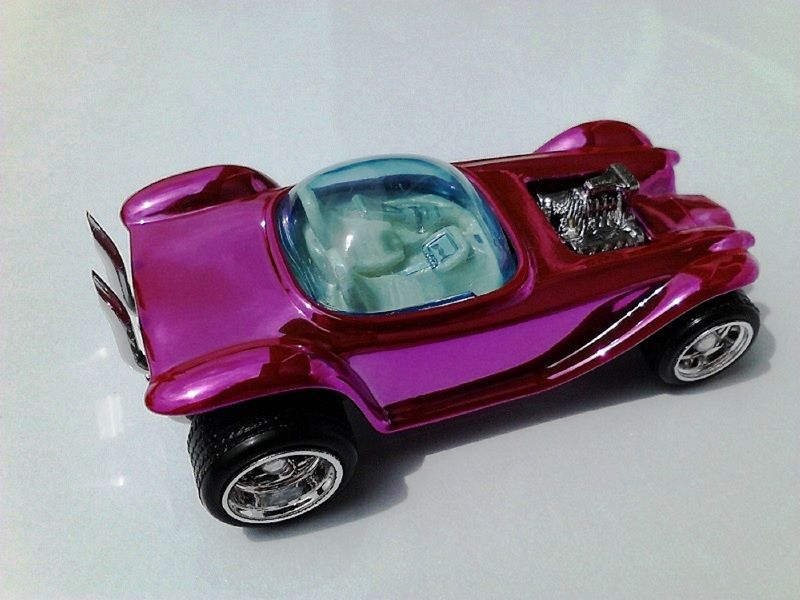 Afterwards it was off to Eddie Martinez for one of his incredible pearl Naugahyde stitch jobs on the (I feel Starbird-inspired) unistick-controlled cockpit.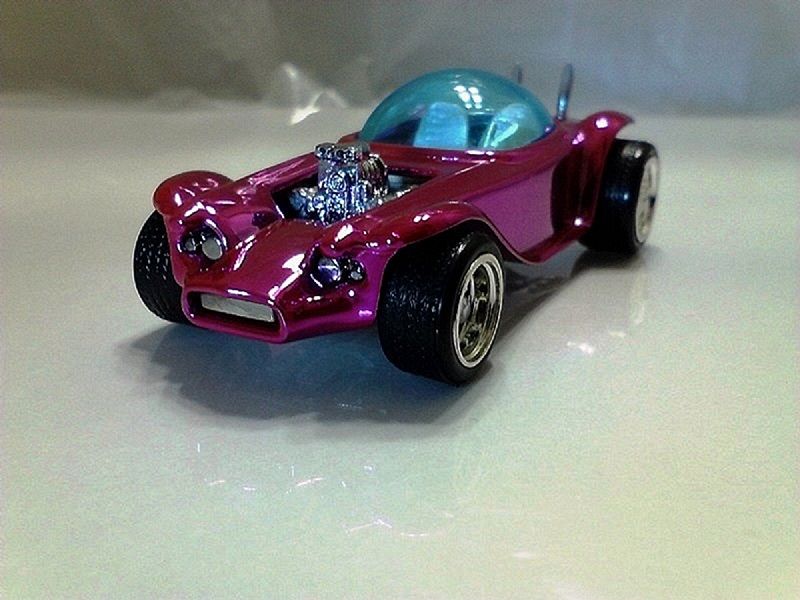 The Bandit followed the KISS (keep it simple, stupid) formula throughout, where but a single push on a sunken aerial was sufficient to open the hydraulic-activated bubble. (Note: For a complete thesis on how to build a bubbletop, see the Jul. '01 issue of Custom Rodder magazine).
The Beatnik Bandit went on to fame, and some fortune, by being replicated in styrene by Revell as a 1/25-scale plastic model (as had the Outlaw before it) and as a Hot Wheels car by Mattel as well.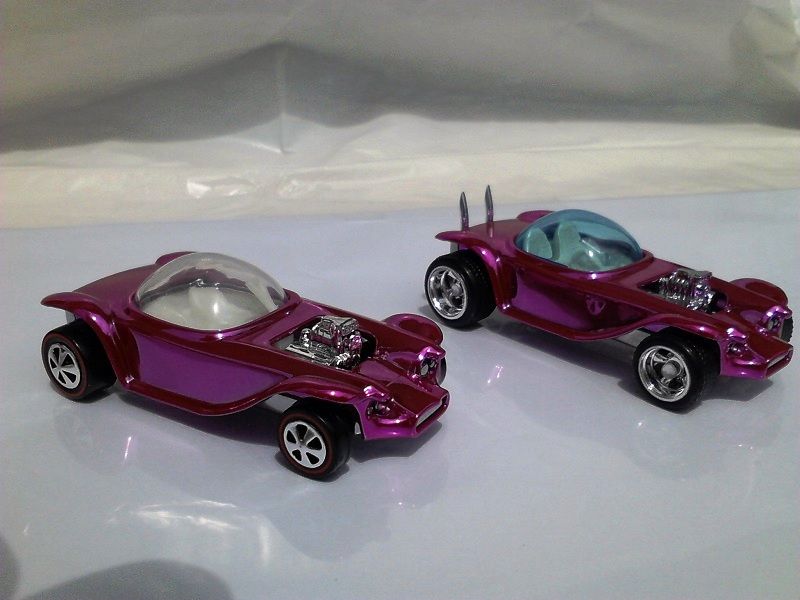 It now resides on permanent display at the National Auto Museum in Reno, Nevada, where these photos were taken. And we wish to express our gratitude to these good folks for allowing Eric's photo session.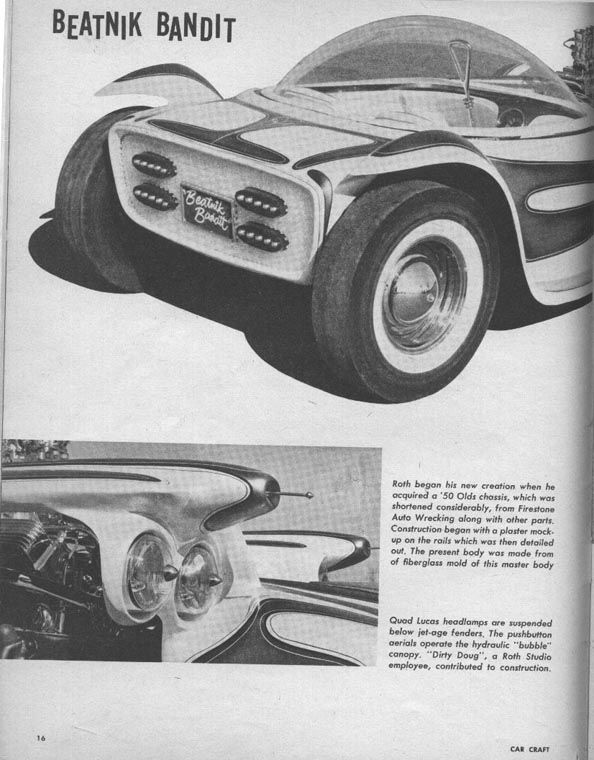 Source
www.streetrodderweb.com/milestones/0108sr_beatnik_bandit/