Post by ferrari512s on Jun 4, 2014 5:51:52 GMT -5

Racing Legends: Michael Schumacher
Michael Schumacher; born 3 January 1969) is a retired German racing driver. Schumacher is a seven-time Formula One (F1) World Champion and is widely regarded as one of the greatest F1 drivers of all time.[1][2][3][4] He was named Laureus World Sportsman of the Year twice.[5]
He holds many of Formula One's driver records, including most championships, race victories, fastest laps, pole positions and most races won in a single season – 13 in 2004 (the last of these records was equalled by fellow German Sebastian Vettel nine years later). In 2002, he became the only driver in Formula One history to finish in the top three in every race of a season and then also broke the record for most consecutive podium finishes. According to the official Formula One website, he is "statistically the greatest driver the sport has ever seen".[6]
After beginning with karting, Schumacher won the German drivers' championships in Formula König and Formula Three before joining Mercedes in the World Sportscar Championship. After one Mercedes-funded race for the Jordan Formula One team, Schumacher signed as a driver for the Benetton Formula One team in 1991.
After winning consecutive championships with Benetton in 1994/5, Schumacher moved to Ferrari in 1996 and won another five consecutive drivers' titles with them from 2000 to 2004. Schumacher retired from Formula One driving in 2006 staying with Ferrari as an advisor.[7] Schumacher agreed to return for Ferrari part-way through 2009, as cover for the badly injured Felipe Massa, but was prevented by a neck injury. Schumacher returned to Formula One on a permanent basis from 2010 with the Mercedes team before retiring for a second time at the conclusion of the 2012 season.[8]
His career was not without controversy, including being twice involved in collisions in the final race of a season that determined the outcome of the world championship, with Damon Hill in 1994 in Adelaide, and with Jacques Villeneuve in 1997 in Jerez.[9] Off the track Schumacher is an ambassador for UNESCO and a spokesman for driver safety.
He has been involved in numerous humanitarian efforts throughout his life and donated tens of millions of dollars to charity.[10] Schumacher and his younger brother, Ralf, are the only brothers to win races in Formula One, and they were the first brothers to finish 1st and 2nd in the same race, a feat they repeated in four subsequent races.
Formula One career
Debut with Jordan
Schumacher made his Formula One debut with the Jordan-Ford team at the 1991 Belgian Grand Prix, driving car number 32 as a replacement for the imprisoned Bertrand Gachot. Schumacher, still a contracted Mercedes driver, was signed by Eddie Jordan after Mercedes paid Jordan $150,000 for his debut.[27] The week before the race, Schumacher impressed Jordan designer Gary Anderson and team manager Trevor Foster during a test drive at Silverstone. His manager Willi Weber assured Jordan that Schumacher knew the challenging Spa track well, although in fact he had only seen it as a spectator.
During the race weekend, team-mate Andrea de Cesaris was meant to show Schumacher the circuit but was held up with contract negotiations. Schumacher then learned the track on his own, by cycling around the track on a fold-up bike he had brought with him.[28] He impressed the paddock by qualifying seventh in this race. This matched the team's season-best grid position, and out-qualified 11-year veteran de Cesaris. Motorsport journalist Joe Saward reported that after qualifying "clumps of German journalists were talking about 'the best talent since Stefan Bellof'".[29] Schumacher retired on the first lap of the race with clutch problems.[30]
Benetton (1991–1995)
Schumacher driving for Benetton at the 1992 Monaco Grand Prix
After his debut, and despite Jordan's signed agreement in principle with Schumacher's Mercedes management for the remainder of the season, Schumacher was signed by Benetton-Ford for the following race. Jordan applied for an injunction in the UK courts to prevent Schumacher driving for Benetton, but lost the case as they had not yet signed a contract.[31] Schumacher finished the 1991 season with four points out of six races. His best finish was fifth in his second race, the Italian Grand Prix, in which he finished ahead of his team-mate and three-time World Champion Nelson Piquet.
At the start of the 1992 season the Sauber team, planning their Formula One debut with Mercedes backing for the following year, invoked a clause in Schumacher's contract that stated that if Mercedes entered Formula One, Schumacher would drive for them. It was eventually agreed that Schumacher would stay with Benetton, Peter Sauber said that "[Schumacher] didn't want to drive for us. Why would I have forced him?".[32]
The year was dominated by the Williams of Nigel Mansell and Riccardo Patrese, featuring powerful Renault engines, semi-automatic gearboxes and active suspension to control the car's ride height.[33] In the "conventional" Benetton B192 Schumacher took his place on the podium for the first time, finishing third in the Mexican Grand Prix.
He went on to take his first victory at the Belgian Grand Prix, in a wet race at the Spa-Francorchamps circuit, which by 2003 he would call "far and away my favourite track".[34] He finished third in the Drivers' Championship in 1992 with 53 points, three points behind runner-up Patrese.
The Williams of Damon Hill and Alain Prost also dominated the 1993 season. Benetton introduced their own active suspension and traction control early in the season, last of the frontrunning teams to do so.[35] Schumacher won one race, the Portuguese Grand Prix where he beat Prost, and had nine podium finishes, but retired in seven of the other 15 races. He finished the season in fourth, with 52 points.
Ferrari (1996–2006)
In 1996, Schumacher joined Ferrari, a team that had last won the Drivers' Championship in 1979 and the Constructors' Championship in 1983, for a salary of $60 million over 2 years. He left Benetton a year before his contract with them expired; he later cited the team's damaging actions in 1994 as his reason for opting out of his deal.[46] A year later Benetton employees Rory Byrne (designer) and Ross Brawn (Technical Director) joined Ferrari.[47]
Ferrari had previously come close to the championship in 1982 and 1990. The team had suffered a disastrous downturn in the early 1990s, partially as its famous V12 engine was no longer competitive against the smaller, lighter and more fuel efficient V10s of its competitors. Various drivers, notably Alain Prost, had given the vehicles labels such as "truck", "pig", and "accident waiting to happen".[48] The poor performance of the Ferrari pit crews was considered a running joke too.[23] At the end of 1995, though the team had improved into a solid competitor, it was still considered inferior to front-running teams such as Benetton and Williams.[49] Schumacher declared the Ferrari 412T good enough to win the Championship.
Schumacher, Ross Brawn, Rory Byrne, and Jean Todt (hired in 1993), have been credited as turning this once struggling team into the most successful team in Formula One history.[50][51] Three-time World Champion Jackie Stewart believes the transformation of the Ferrari team was Schumacher's greatest feat.[52] Eddie Irvine also joined the team, moving from Jorda
Read more of the Michael Schumacher racing legend at the link below.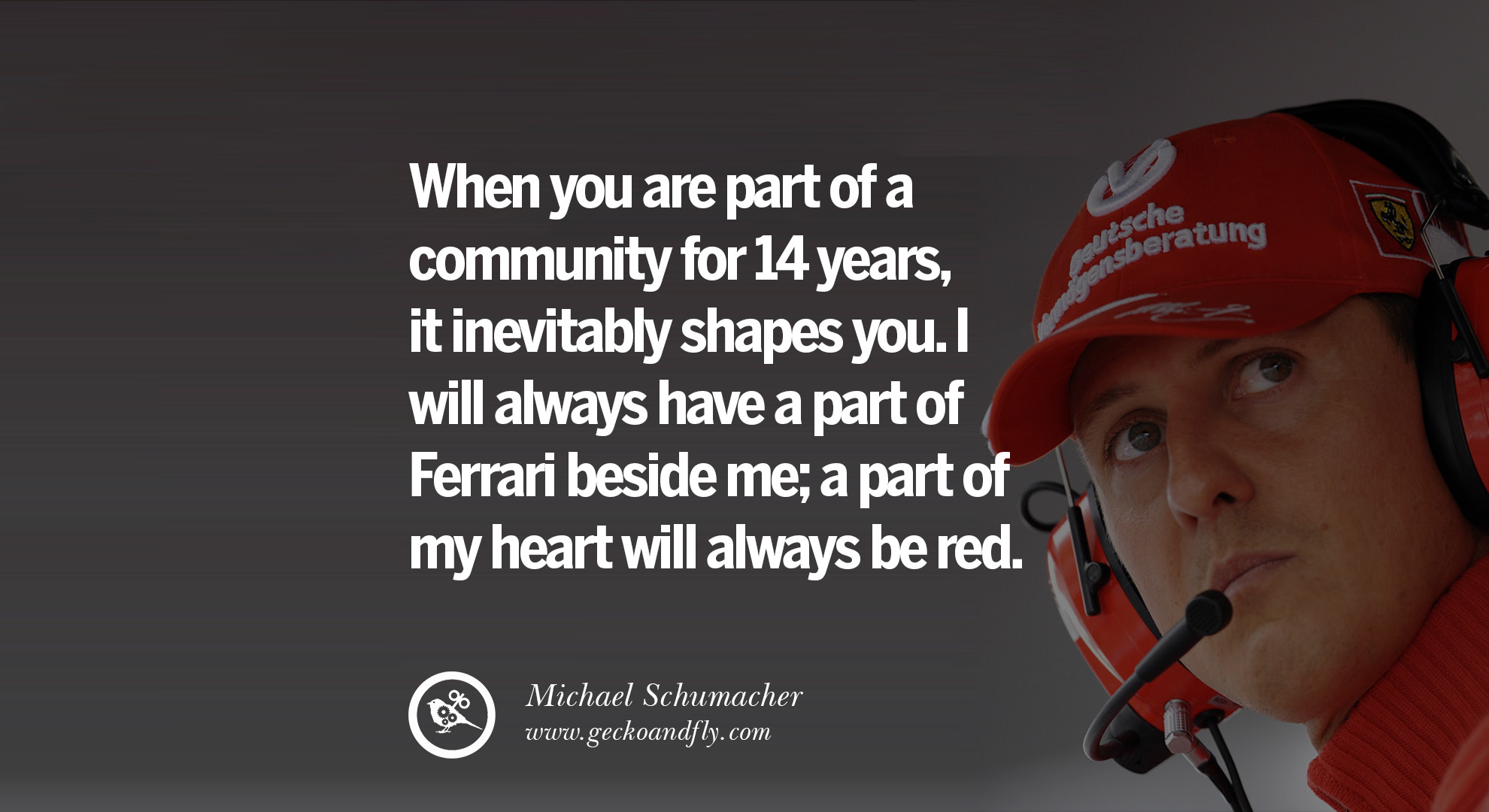 Source
en.wikipedia.org/wiki/Michael_Schumacher