Post by ferrari512s on Jun 7, 2014 17:59:00 GMT -5

BMW Just 4/2 Concept Car
Some of BMW's most unusual and least well-known concept vehicles have been created by Technik GmbH.
Technik was launched by BMW 25 years ago as a research think tank.
While only one Technik vehicle has ever made it all the way to production, many of the technologies developed there, including iDrive and active cruise control, are now common on BMW, Mini and Rolls-Royce vehicles.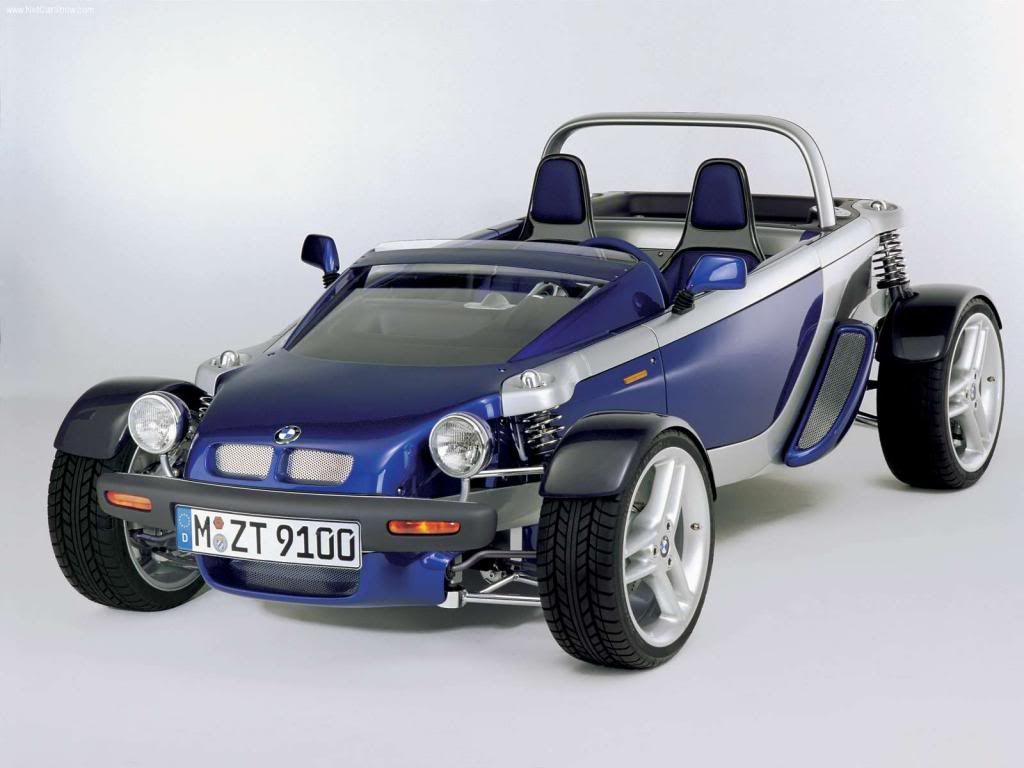 They also created this dune buggy style design and called this concept car the "BMW Just 4/2"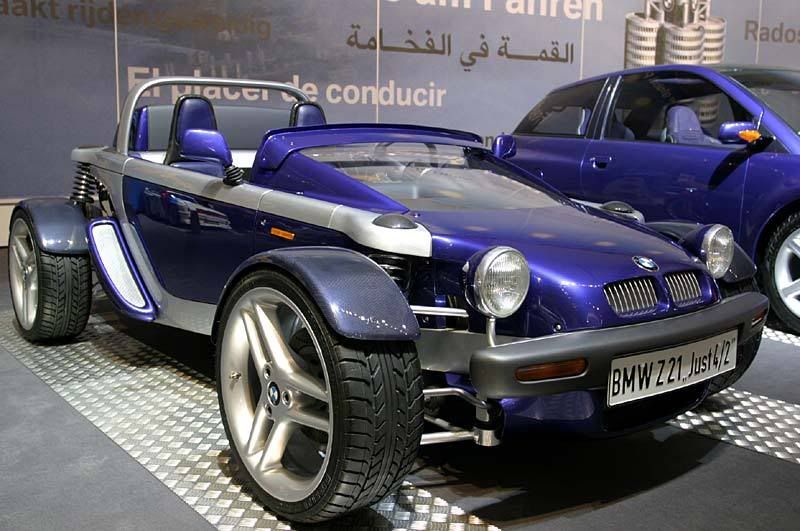 And what a cool looking dune buggy it is! Or shall we call it a Caterham type design with a flair?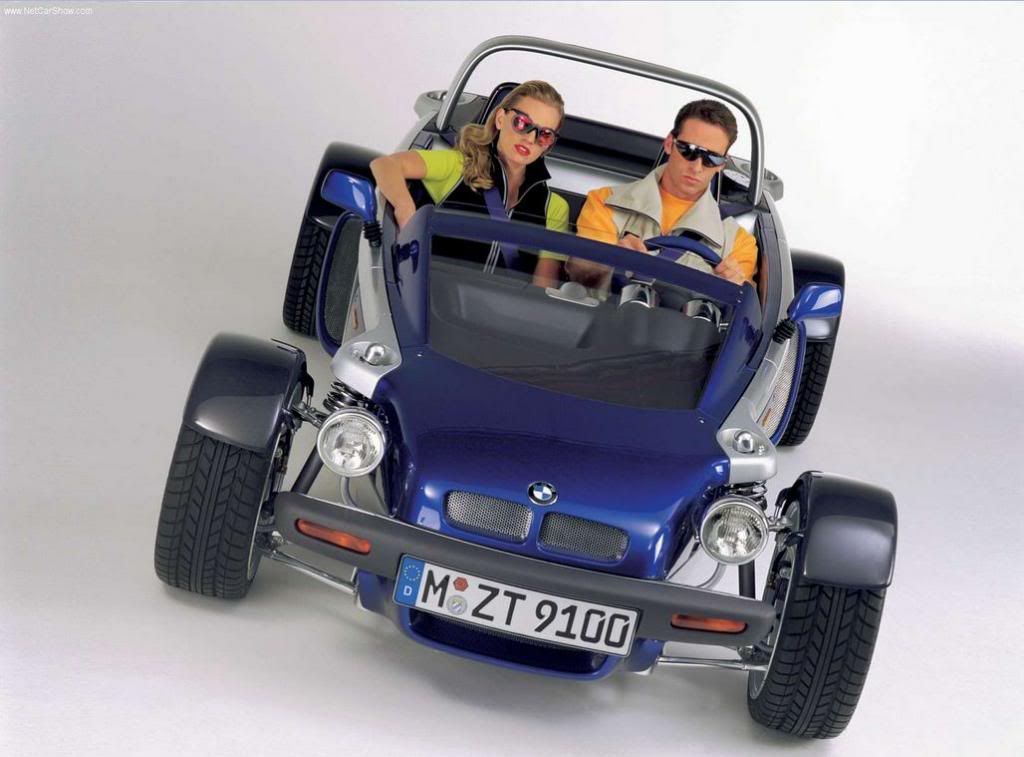 It is so memorizing the more you view it. What are your thoughts on this design?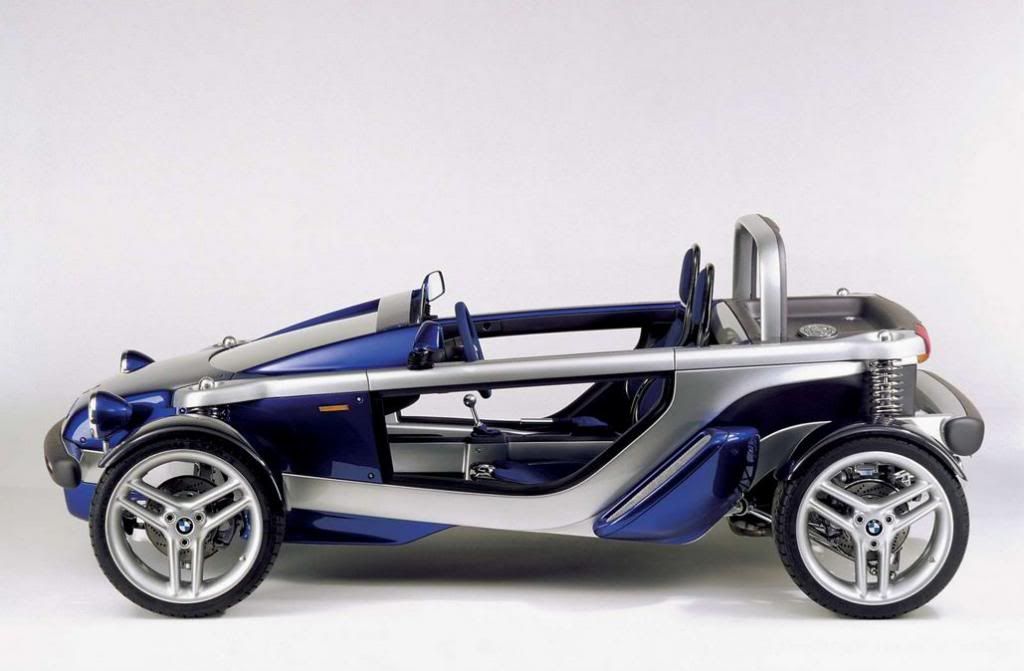 Everything about this concept car looks so perfect. Wonder why it was never released...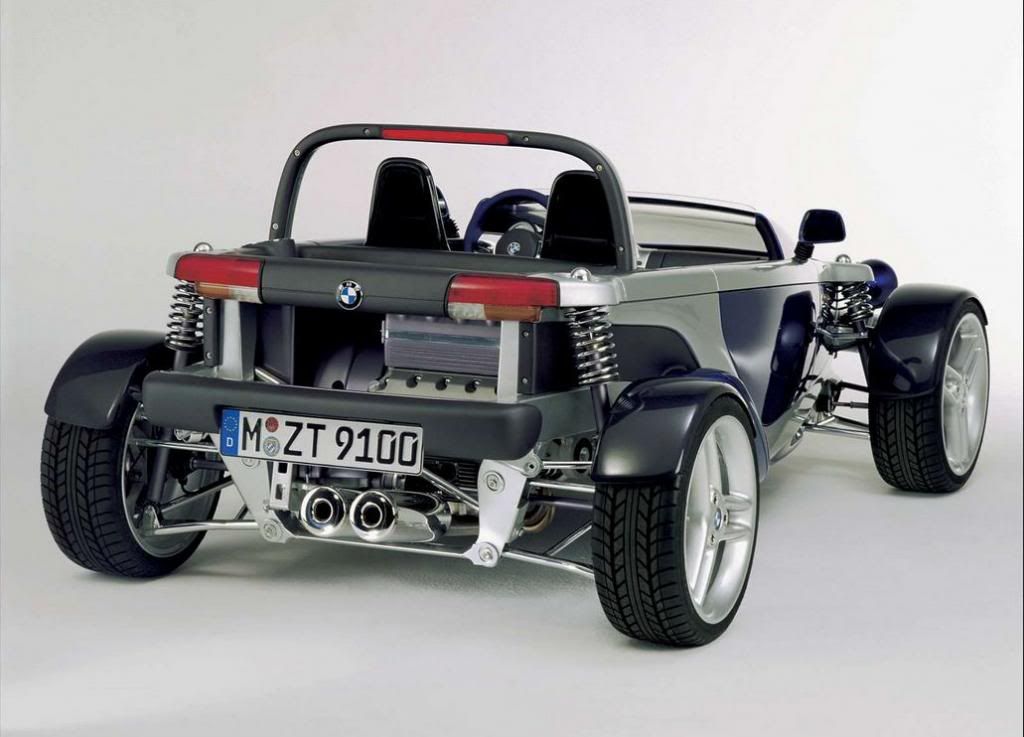 Does BMW just make boring cars for businessmen? The Just 4/2, shown off in 1995, sought to change all that.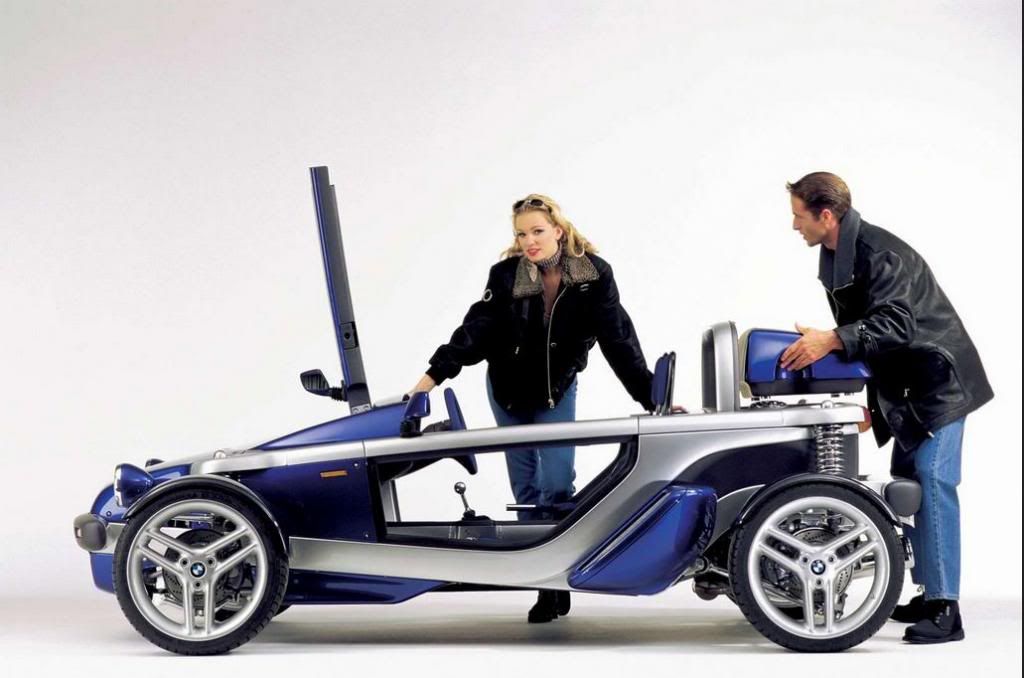 A "wind machine on four wheels" (according to BMW's promotional materials), the 4/2 was doodled by BMW designer Robert Powell for an in-house competition. Optionally clad in door panels, it offered glimpses of what sportscar makers Ariel might one day achieve with the Atom. It was driven by BMW's K1100 bike - giving it enough power to ruffle your hair.
A concept of a concept (Artists Rendition)

The one Technik concept that did get to production was the low-volume Z1, which brought BMW back into the roadster segment after a long absence. The Z1 Coupe never got past the concept stage, but the shooting brake design did evolve into the Z3 coupe of the mid-1990s.
The E1 concept was the first electric-drive BMW, and although it will have taken over two decades, it shares a lineage with an upcoming BMW production EV. Along the way, the 2001 Z29 coupe was built up from a Formula One-style carbon-fiber monocoque powered by a then-current M3 inline-six.
The latest product from Technik is the 1 Series-based fuel cell hybrid concept, which uses a compact hydrogen fuel cell to maintain charge on a lithium ion battery for extended-range driving. Check out the whole gallery of Technik concepts below.
Sources
autos.in.msn.com/gallery/bizarre-concept-cars-of-the-1990s-1129
www.e90post.com/forums/showthread.php?t=744
www.netcarshow.com/bmw/1995-just_4-2_concept/
www.powelldesign.de/bmwz21conceptcar.html#
---
BMW Gets Wacky
BMW's JUST 4/2 is a Not-so-sensible Car, and They're Damn Proud of it
By Benoit Denizet-Lewis
BMW, normally thought of as the producer of sensible, upscale vehicles for sensible, upscale people, has just thrown all that conservative sensibility right out the window with the unveiling of its newest concept car, the JUST 4/2.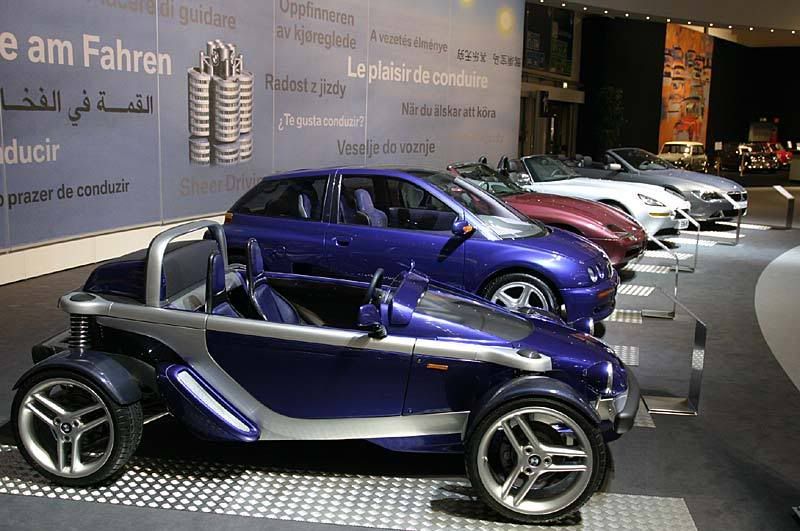 "Man does not live on bread alone and life is sensible enough already," BMW states as the creative philosophy behind its newest creation. "Whoever measures the BMW mobile by the standards of pure reason has completely misunderstood the meaning of life."
The JUST 4/2 (pronounced Just For Two), is an intriguing mix of a car and a motorcycle, and BMW states that driving it "is always very much a matter of the senses." There is no roof or windshield, so you'll be sure to get that "wind-in-the-face" feeling.
Never one to forget safety, BMW engineers — who admit to understanding little of fun — equipped the JUST 4/2 with such safety features as dual airbags and side-impact protection.
How fast can she go, you ask? While the top speed of the "wind machine on four wheels" is not specified by the engineers in numbers, it is described as "fully satisfactory." On the stand the JUST 4/2 engine (a 74kW/100 hp BMW K 1100) accelerates from zero to 100 km/h in approximately six seconds.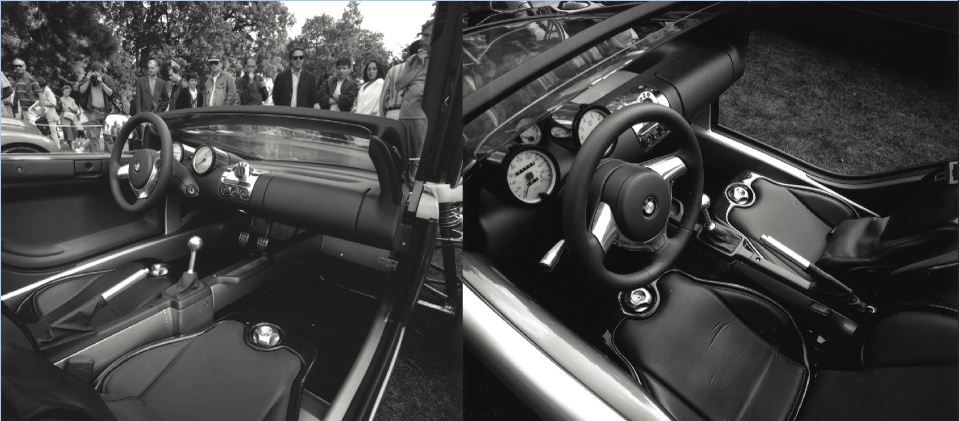 With only 600 kilograms to handle, BMW states that "it throws itself so readily into any situation that we don't have to spend many words on performance."
Instead, BMW spends most of its time describing its newest creation in philosophical, almost metaphysical terms. BMW would like you to know that this is much more than just a car. The JUST 4/2 is a departure into a world where fun, safety and utter senselessness somehow mesh into automotive brilliance.
"Because in the end, life is more than mere survival in a straightforward down-to-earth way, more than just a stage of evolution that we left behind us about 50,000 years ago," BMW proclaims. "(JUST 4/2) could be as important as the enjoyment of watching the sun go down over the sea, the nearness of a loved one or the feeling of happiness."
BMW describes its newest innovation, a study by BMW Technik GmbH, as "a study which conceals a yearning. It's a vehicle that has a powerful effect on us whenever we feel like enjoying driving for its own sake; pure, straightforward driving without the extra adornments for our comfort which are otherwise so important."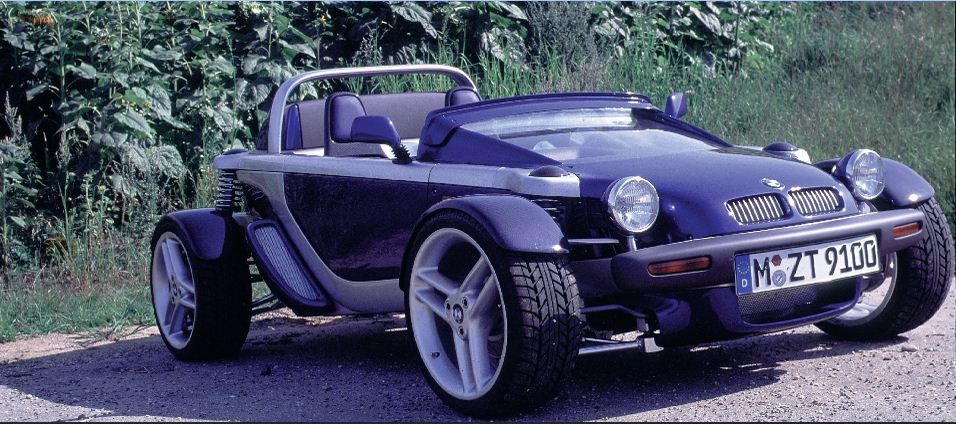 One of those adornments is the roof, and one can only imagine if the car will ever be popular in Seattle. BMW has already contemplated the problem, however, and has designed a suitable outfit.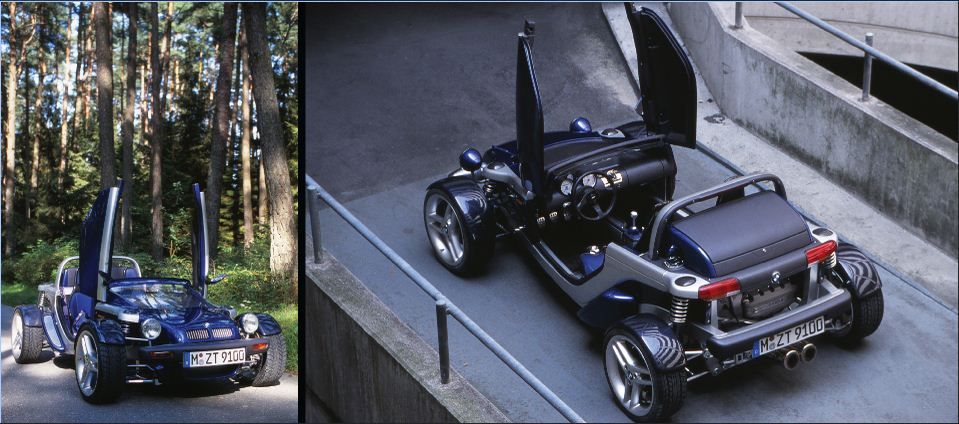 Weatherproof and chic, casual and triumphant of color, the JUST 4/2 gear has technical refinements not found anywhere else: sleeve with integrated compass, breast pocket for the cellular phone, sewn-in waterproof gloves, integrated tools and unlosable buttons. There's even a helmet to enhance that motorcycle-like feeling.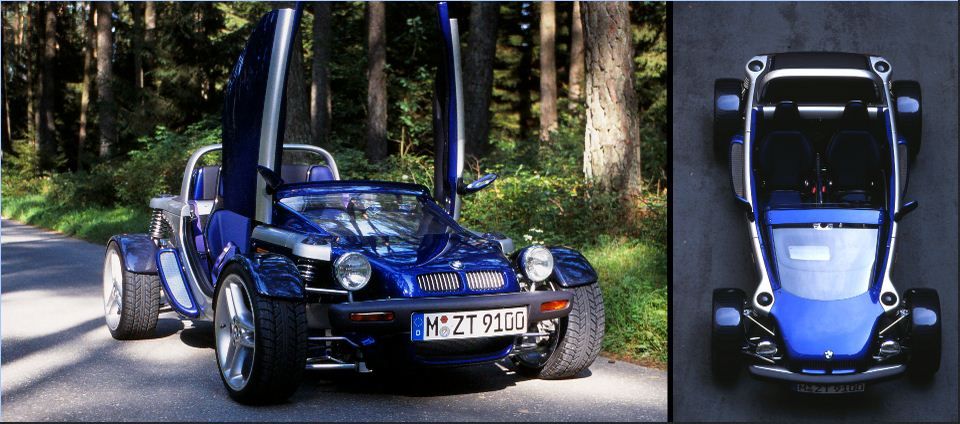 Before you run to your neighborhood dealer expecting to see the JUST 4/2 in all its insensible glory, you might want to know that it's far from ready to roll. It has yet to go into production.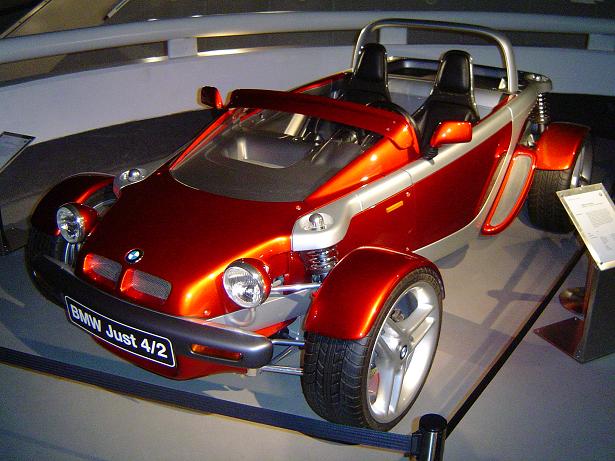 When and if it does, it is likely to create quite a stir in the automobile world. Current BMW owners, proud of their respectable, premium automobiles, might find BMW's track into a world with no roofs or windows as a startling and earth-shaking development.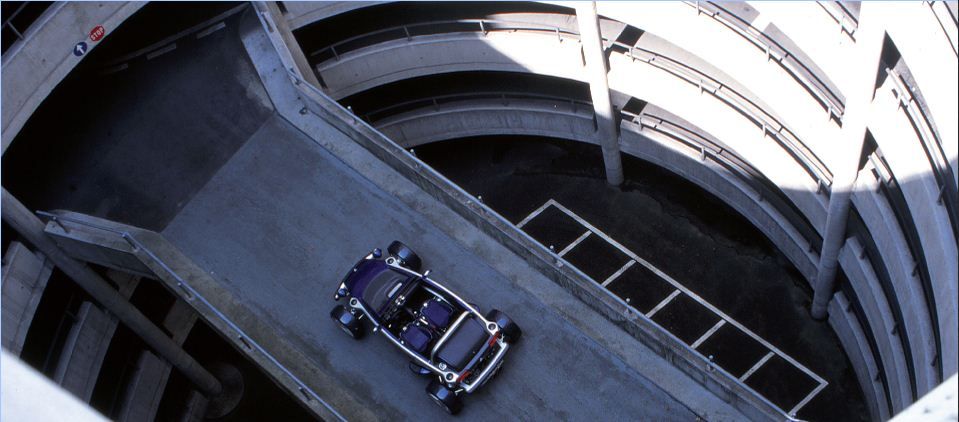 After all, if BMW can go and do something so completely without reason, what exactly is the world coming to?
The You Tube video of this forgotten BMW Just 4/2 Concept car!
www.youtube.com/watch?v=Jzx4ir-uYNI