Post by ferrari512s on Jun 18, 2014 23:31:18 GMT -5

1990 Mitsubishi Galant VR-4 RS – Etched in History – 149
VR4 RS was once something of an icon of the New Zealand import world. If you've been around our part of the automotive scene long enough to remember it, the plate alone commands respect.
It was about 10 years ago that VR4 RS made a name for itself in drag racing circles. Not legitimate ones, however. "I built it to be a quick street car/racer, and used to line people up on the street as that is what it was built for," Brendon tells us now. "I street raced it for about two years before bringing it to the drag strip for the first time. I thought, Hey, let's race it properly, as we could never figure out just what times we were doing."
Like more or less every other car on the scene, VR4 RS started out as a standard-spec car, and was once a daily driver. "I got it pretty much as a factory VR-4. My first mods were to lower it and put some wheels on it. I had got sick of all my rotaries, so I swapped it for the VR-4."
Taking the factory engine and adding the usual modifications like a bigger turbo, extra fuel, an exhaust, an intercooler, an intake and changes to the timing, Brendon created a package that was quick enough to win the '99 4&Rotary Nationals drags with a low-12-second pass. Yep, there was a time when a 12 was considered rapid.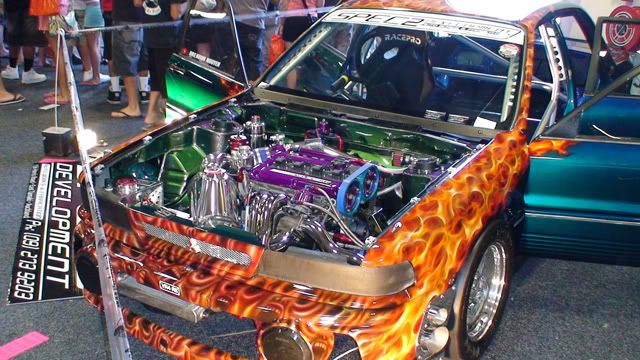 It didn't end there for Brendon. "We went back down to a few more meets, and with the car going faster we saw the possibilities for improvement. We then blew the motor, and seeing the potential we decided to build a better one."
A year later and with the VR-4 now up to 600hp, Brendon returned for another shot at glory. Things didn't go quite as planned. "I broke third gear that day and then I nearly saw the barrier. I spun the car on my staging burnout and finished up facing the barrier, all of about 10cm away from it."
Most people would look at their garage and decide that one 600hp VR-4 was enough. Brendon wasn't content. "I decided to park it up and play with my other toy, a Honda CR-X turbo." It didn't take him long to reach the top of the game in that car, too. "It was the quickest CR-X in the country. I went all out and spent more money, eventually getting it to go as quickly as a 12.7-second quarter mile." From there, Brendon built some seriously sweet street cruisers before returning to his roots. "I went back to the VR-4. I didn't plan on going to the extent I did, though. It was like a fever that caught and just kept going."
Brendon now lays claim to the best VR-4 in New Zealand, possibly the world. "We want to be the world's quickest VR-4, and try to break into the NZPC 8-Second Club and then hopefully go quicker, he says" And no expense has been spared to help Brendon achieve this aim, with a never-ending list of top-draw components.
But the car is more than just a collection of trick parts. The build quality is also phenomenal, which can be attributed to the likes of Spec 2 Developments and Speedtech Motorsport.
When it comes to Mitsubishi drag engines, there's one name most see first: Andre Simon. "We thought that 600hp was heaps back when Andre wasn't on the scene. Since then we've learnt that 1000hp from a 4G63 isn't that hard to achieve now he's around."
While Brendon hasn't seen a lot of seat time, he's played with the throttle often enough to know that the 1050hp, 2.3-litre methanol-fuelled HKS T51R combination beneath his right foot is a weapon. "It's a totally different breed; a totally different animal," he says. "The way it sounds, the way it goes and the way it steps out sideways. It makes you think twice. After a couple of test runs it got me thinking that at this level you do need the parachute. The first time I jumped into it, it went from one lane to the other and gave me a bit of a fright. I thought I saw God!"
As the VR-4 is essentially a scratch-built car, a few small breakages and teething issues were expected. The main problem has been with the transfer cases a common failure for four-wheel-drive Mitsubishis. But with the problem sorted thanks to a strengthened custom case, it's expected that low eight-second passes won't be just a dream, they'll be a certainty.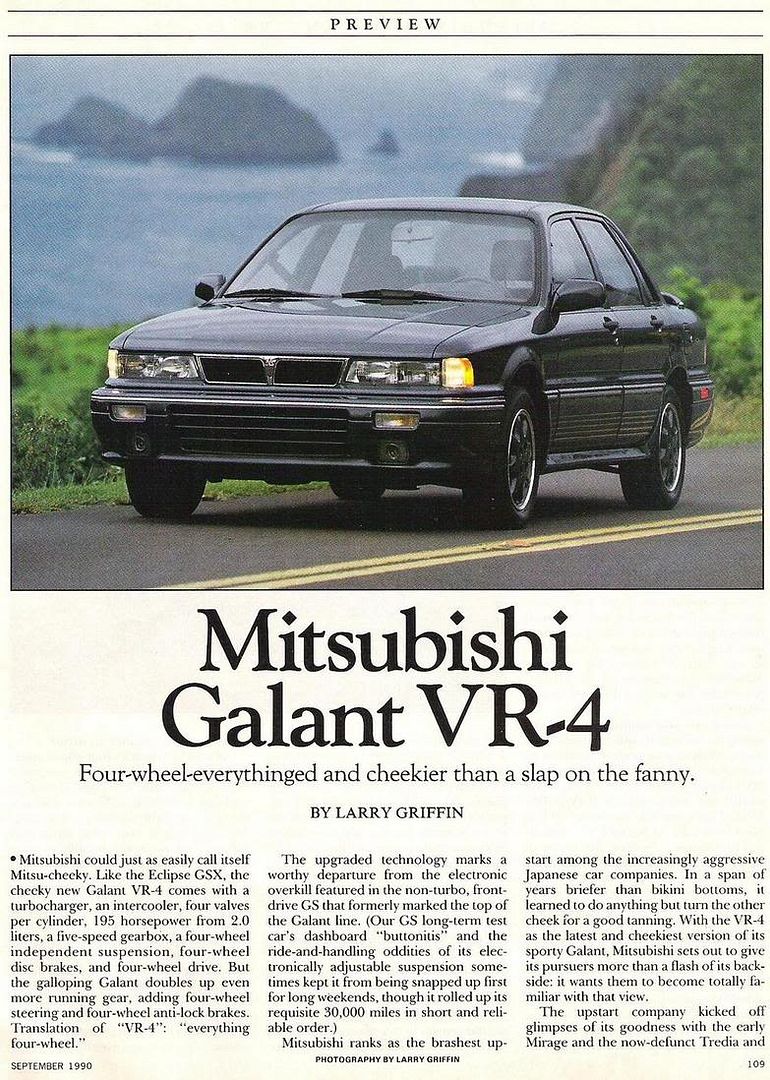 With the end of the season approaching, he may have to wait a while, though. But Brendon and his team are already looking forward to the end of the year. "We obviously want to go quicker and quicker for the coming 2009/2010 season, so we're on the lookout for money to make this a reality if anyone happens to be interested."
Given how long the VR-4 has been in the build, a few extra months won't bother Brendon, who's sacrificed more man hours and more cash than he could ever have first imagined. "I tell you what," he says, "a lot of weekends and a lot of days off have been given up for this thing. The girlfriends left me for this, too. Not to mention the amount of money that has gone into it it's crazy. I could have a Ferrari by now," Brendon laughs. And he admits he couldn't have done it all on his own, either. "A lot of people have helped out in this car in a number of areas. Without them, it wouldn't have been possible to complete this car to what it is. But as it is now, this car basically talks about me and my style." And for that, he's an understandably happy man.
The VR4 RS is sporting a very similar body scheme to the one it pioneered in the import scene the changing of Mitsubishi Lancer Evolution front bumpers, this time an Evo IV. When first fitted to the car in around 2000 it was one of the first modifications of its type. Brendon has retained this look, building upon it with a respray of his distinctive harlequin paint, with a coat of candy blue laid over the top by Steve Levine from Imagin-Airing. Once the base was sorted, Steve did what he does best, airbrushing the front, this time with a lot of flames. For a couple of touch-ups, Brendon took the front bumper and headlight covers to Golden Freestyle Airbrushing, which matched the car's theme. While hard to spot beneath the paint, there is actually a carbon bonnet with Evo III vents, a carbon fibre boot and a custom carbon drag wing.
The head is pretty useless without a good supply of air feeding into it. One of the picks of the bunch for getting that job done is the HKS T51R SPL turbocharger. Set to 30psi, the turbo is responsible for feeding air via the HKS mushroom filter, through the PWR icebox, into the 120mm throttle body and on to the beautifully crafted custom intake plenum.
The cylinder head is where a lot of the power is made, so it's little surprise that this has been extensively modified. After the obligatory port and polish, large STM-spec Kelford camshafts were fitted, as were oversized valves, Crower valve springs and retainers, and a set of HKS cam gears. Needless to say, this particular head flows a little better than factory.
The setup to remove the build up of methanol gases from the engine is a work of art, comprising a set of custom headers, a mammoth Sard 66mm external wastegate and both a 5-inch stainless exhaust pipe and 2.5-inch external wastegate pipe.
Brendon opted to use one of the best engine management systems around: MoTeC's M8. It allows him to use features such as launch control, ignition cut for flat shifting, and data logging via the fitted MoTeC Lambda. Tuned at Speedtech Motorsport, Andre Simon has extracted as much as 1050hp at the engine at a low 30psi of boost. With a few more tweaks, these numbers are capable of blowing way out of control as boost levels rise towards 40psi.
When it came to finding his feet, Brendon headed Stateside for one of the best in the business: Gary Bogart. Machined in 15×8 and 15×8.5 inches on the front and rear respectively, the lightweight drag wheels have been wrapped in Hoosier drag slicks (26x8x15 front, 26x9x15 rear). Look closely and you can see the CNC-machined centre caps sporting the Mitsubishi logo.
Like any drag setup, VR4RS is a thirsty beast once the throttle is opened wide. Fitted with a 12-litre fuel cell up front to house the methanol, the fuel is sucked out by a Weldon fuel pump. Two fuel filters (one in-tank and one out) make sure what emerges is clean, before it feeds through the Weldon fuel pressure regulator, into the two MoTeC fuel rails and into the eight 1600cc injectors. (Yes, eight!) Put it this way, that 12-litre cell isn't designed to do a whole day's racing.
The interior has seen as much attention as the other aspects of this build. Immediately in front of Brendon sits a Sparco steering wheel with launch control button and quick-release hub, with an Ikeya Formula sequential shifter to his left. From the Racepro Tarmac seat and RJS five-point harness, Brendon can control everything from the roof-mounted SpeedWire custom switch panel, and watch RPMs on the Stack dash/shift light combination. This sends signals to the relay box mounted on the carbon fibre management panel at the passenger's side of the car. To ensure Brendon knows exactly how every cylinder is responding, four Sard exhaust temperature gauges have been fitted one for each cylinder. To reduce weight the doors have been gutted and carbon fibre skins fitted, while the entire rear floor section has been removed and replaced with a woven sheet. There's an eight-point rollcage, too.
Brendon has the same uphill battle that all Mitsubishi four-wheel-drive drag racers face: an east/west engine arrangement that's typically hard on driveline components. Having already destroyed multiple transfer cases, a custom transfer case has been made. The remainder of his gearbox arrangement includes a custom Precision Engineering flywheel, a Tilton triple-plate clutch and PPG dog gears inside the VR-4 housing.
With a package capable of nearly 300kph, stopping is even more important than getting there. To ensure the thing actually stops, a set of Wilwood lightweight four-pot callipers and discs have been fitted on the nose, while two-pot items and Brembo cross-drilled discs feature on the rear. Because the car will exceed the class regulation for a parachute of 150mph (241kph), Brendon has strapped a Stroud chute to the ass.
Starting with an Evo III block, everything was stripped back and machined, and the block grouted for high-stress applications. A set of STM-spec JE Pistons, Crower I-beam connecting rods and an STM-spec custom crankshaft were fitted, bringing the capacity out to 2.3 litres. The final nail in this automotive coffin is a set of ARP studs.
Special attention has been paid to the differential. Up front a custom spool has been used, while down the rear a custom subframe has been fabricated to house the nine-inch Nissan Z33 350Z differential with custom spool inside.
Suspension is key to getting a drag car off the line, and Brendon has fitted custom-built drag-specific Koni shocks in the rear with King springs. Up front there's another set of custom-specced Konis. In the process of not only lightening the vehicle but making sure it handles well, essentially every suspension arm was pulled out and custom built: upper/lower rear arms, toe in/toe out control and all of the front arms.
---
1990 MITSUBISHI GALANT VR-4 RS – Specifications
Engine: Mitsubishi 4G63 2.3-litre DOHC 16V inline 4, grouted/machined Evo III block, STM-spec custom JE Pistons, Crower I-beam rods, STM-spec custom crankshaft, ARP studs, ported/polished cylinder head, STM-spec Kelford camshafts, oversized valves, HKS cam gears, Crower valve springs, Crower retainers, custom intake plenum, 120mm throttle body, HKS air filter, HKS T51R SPL turbocharger, PWR icebox intercooler, Sard 66mm wastegate, custom headers, custom 5-inch exhaust, custom 2.5-inch external wastegate port, Tial blow-off valve, 8x 1600cc injectors, Weldon fuel pump, Weldon fuel pressure regulator, 2x fuel filters, 2x MoTeC fuel rails, custom fuel tank, MSD DIS-4 ignition, DSM coils, MoTeC ignition expander, NGK spark plugs, custom radiator, electric water pump, MoTeC M8 engine management system, SpeedWire custom motherboard, custom 4-litre oil catch tank, custom water bottle
Driveline: VR-4 gearbox housing, PPG dog engagement gears, Precision Engineering custom flywheel, Tilton triple-plate clutch, custom transfer case, custom spool differentials, 9-inch Nissan Z33 diff
Suspension: Custom Koni coil-over suspension, King springs, custom rear subframe, custom upper/lower rear suspension arms, toe in/toe out adjustment, custom front suspension arms
Brakes: Wilwood 4-pot callipers, Wilwood discs — front, Brembo discs, 2-pot callipers — rear
Wheels/Tyres: Front — Bogart 15×8-inch wheels, 26x8x15-inch Hoosier Drag slicks, Rear — Bogart 15×8.5-inch wheels, 26x9x15-inch Hoosier Drag slicks
Exterior: Evo IV front bumper, modified VR-4 rear bumper, Evo III end caps, carbon fibre drag wing, boot, bonnet, Evo III bonnet vents, PPG Harlequin paint, candy blue top coat, Steve Levine airbrushing, Golden Airbrushing front bumper/headlight covers, custom graphics, Lexan windows, Stroud parachute, custom CNC-machined Mitsubishi centre caps
Interior: Racepro Tarmac seat, RJS 5-point harness, Sparco steering wheel, quick-release hub, Ikeya Formula shifter, Stack dash, 4x Sard exhaust temperature gauges, Launch control, line locker, shift light, MoTeC Lambda, Wilwood pedal box, carbon fibre rear floor section, door skins, ECU panel, custom 8-point roll cage, SpeedWire custom switch panel
Performance: Dyno Power — 839hp @ wheels (30psi boost)
Brendon Nguyen – Owner Profile
Source
www.performancecar.co.nz/articles/1990-mitsubishi-galant-vr-4-rs-etched-in-history-149