Post by ferrari512s on Jan 29, 2014 19:32:06 GMT -5
Ultimate Hot Wheels Cars|Channel C00236562

Pagani Zonda
The Pagani Zonda is an exclusively elite class automobile that many would categorize as a "supercar"! Take a look at the image below and perhaps you can understand and appreciate this special "supercar" status!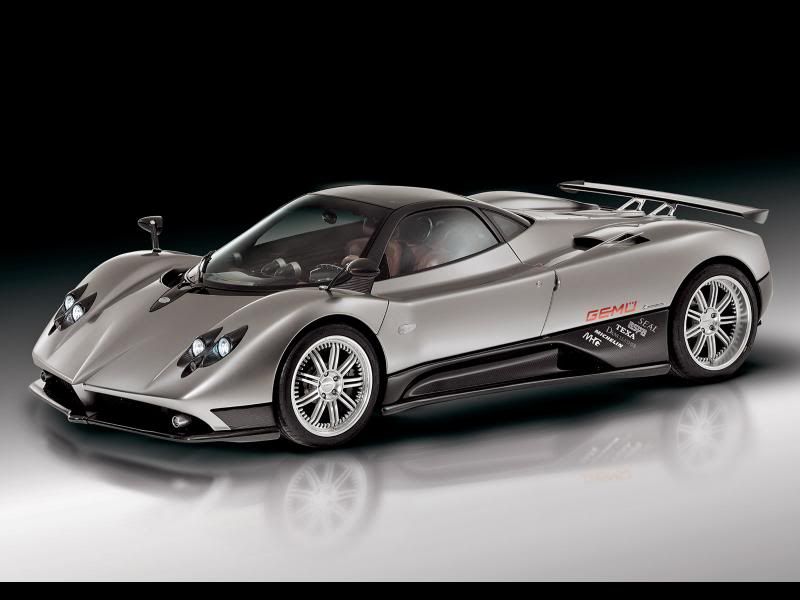 Image courtesy of
www.autoviva.com/news/video_of_the_new_pagani_zonda_760rs_a_road_legal_z/3614
By June 2009, 135 Zonda supercars were manufactured. This includes a few prototypes used for testing purposes. They actually call these prototypes "mules" in the auto industry.
Courtesy of
www.pagani.com/it/zonda/default.aspx
Two versions have been produced, 2-door coupe and roadster versions. Would you believe these special super car Pagani Zondas are created of plastic! Well essentially a derivative of plastic is used and this is made to form a carbon fiber.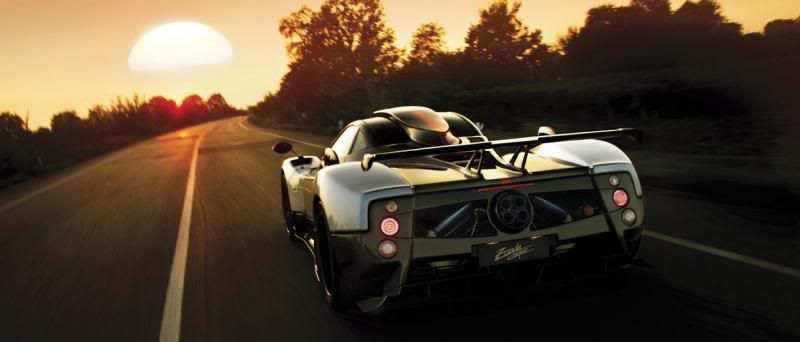 Courtesy of
www.pagani.com/it/zonda/default.aspx
Some historical information on the Zonda name and engineering is quite interesting to note.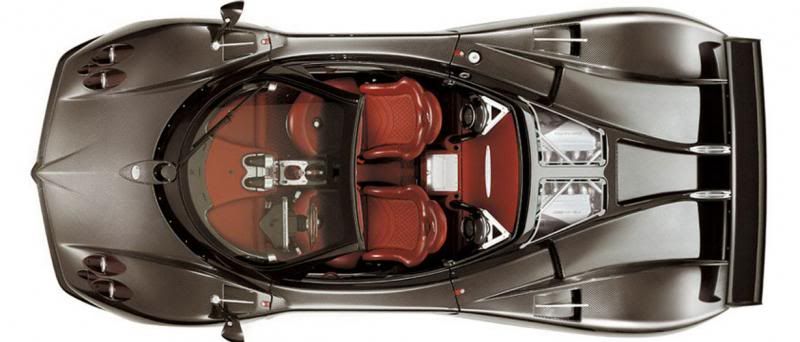 Courtesy of
www.pagani.com/it/zonda/default.aspx
The Zonda engineering was completed by Formula One champion Juan Manuel Fangio.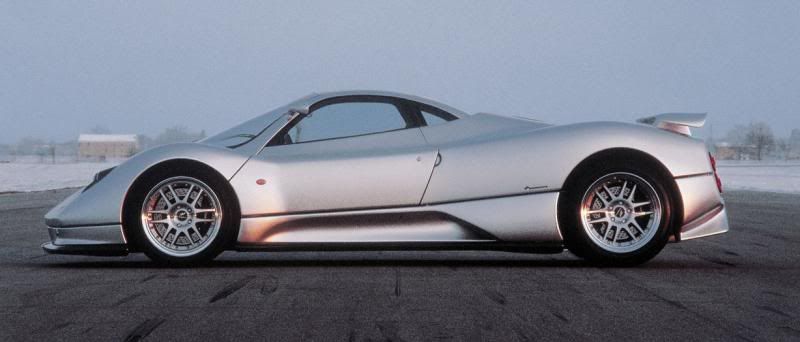 Courtesy of
www.pagani.com/it/zonda/default.aspx
This special car was originally to be entitled the "Fangio F1" after him.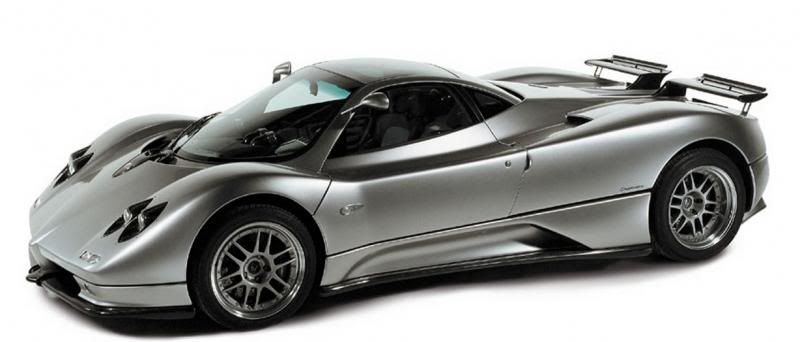 Courtesy of
www.pagani.com/it/zonda/default.aspx
However following his death in 1995, it was renamed for an air current above Argentina, Zonda.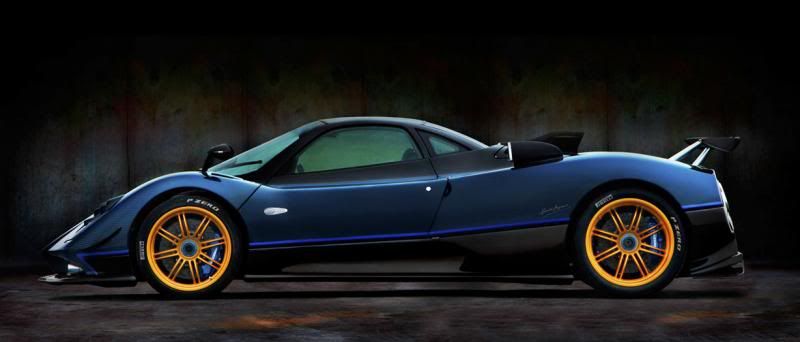 Courtesy of
www.pagani.com/it/zonda/default.aspx
This is fabricated by the Italian manufacturer Pagani. This absolutely astonishing vehicle debuted in 1999 and finished its production run in 2012...then again, perhaps not!!!
Image courtesy of
www.autoviva.com/news/video_of_the_new_pagani_zonda_760rs_a_road_legal_z/3614
There were just three special edition cars produced:
The Zonda 760RS:
The 760RS has the double winglets at the corner of the front but also has LED running lights as can be seen in the images below.
Image courtesy of
www.autoviva.com/news/video_of_the_new_pagani_zonda_760rs_a_road_legal_z/3614
Here is some information that already puts with Wiki information page out of date....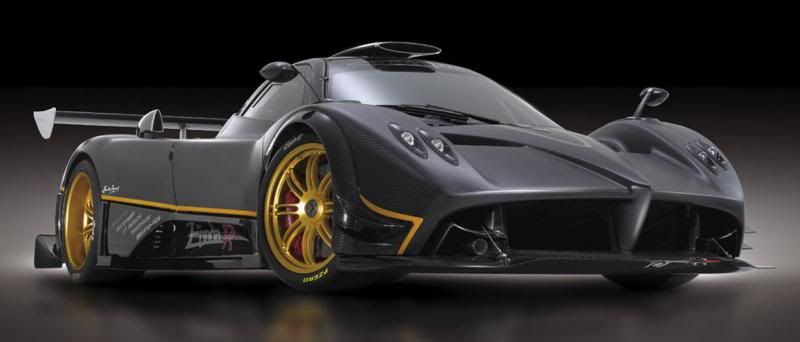 Courtesy of
www.pagani.com/it/zonda/default.aspx
Pagani is not quite ready to put the Zonda to bed quite yet. Despite the fact the Huayra is now on sale, Pagani has built the ultimate Zonda. Based on the Zonda R, the Zonda 760RS is road legal, unlike the R, and has 760hp, which is 10 more than the R.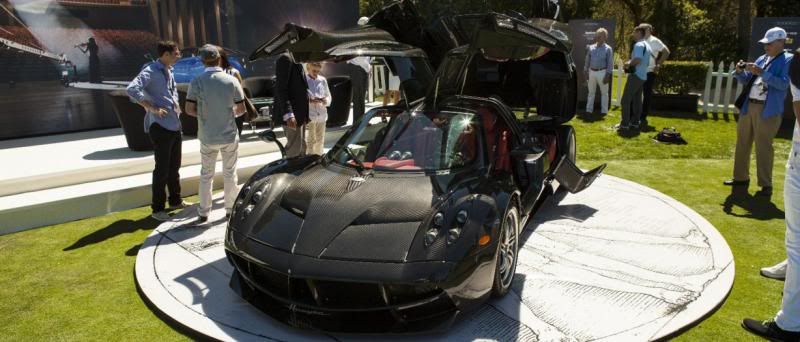 Courtesy of
www.pagani.com/it/zonda/default.aspx
The Zonda R was not road legal because it was too loud. So the 760RS has a more restrictive exhaust, but the engine gains the extra 10hp to offset any power losses. The body appears indentical to the Zonda R. It has LED running lights from the Tricolore, an extra side winglet from the Cinque, wider fenders front and rear,
The price for the 760RS is steep to say the least. A Huayra costs about €850,000, while a 760RS will set you back €1.6 million. Only one has been built so far, but at least two more have been ordered.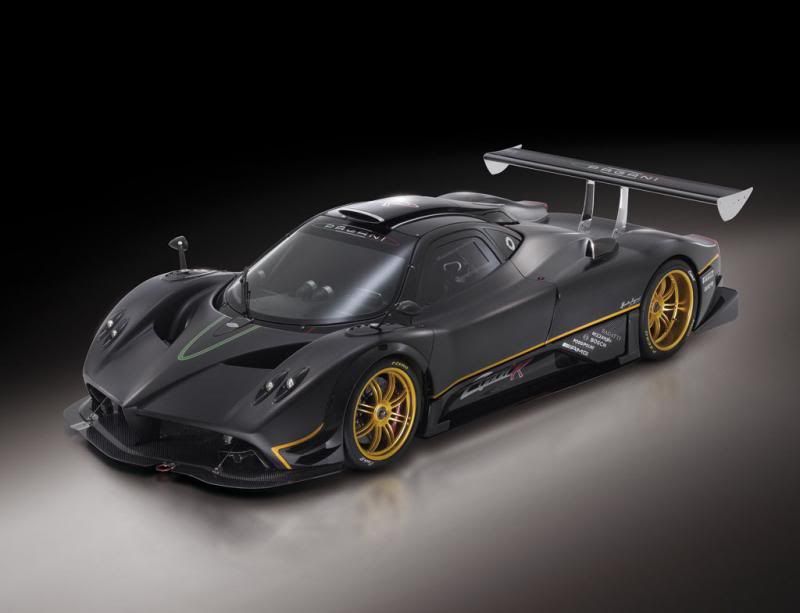 Image courtesy of
www.autoviva.com/news/video_of_the_new_pagani_zonda_760rs_a_road_legal_z/3614
The Zonda 760LH:
Same as the Zonda 760 RS, it features a different colour, purple, both for the exterior and the interior, and a manual gearbox instead of the sequential one.[13] It has been commissioned upon request of Formula 1 driver Lewis Hamilton, hence the initials LH.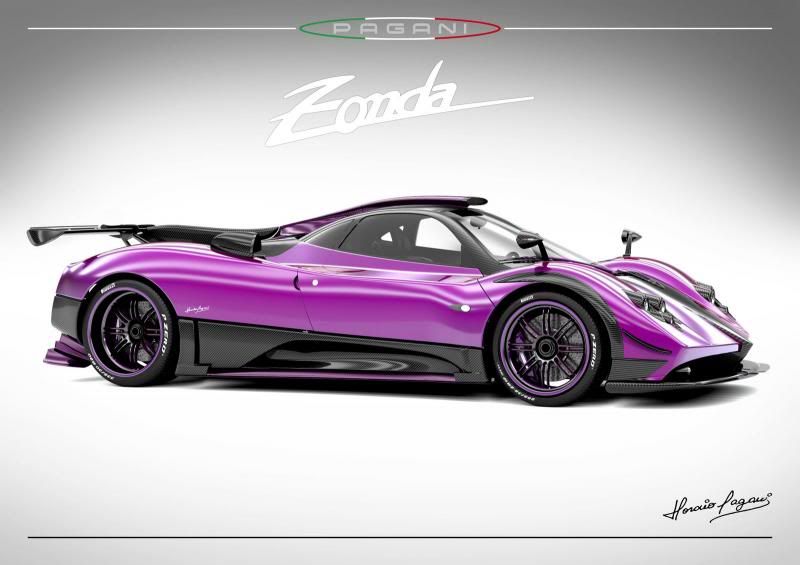 Image Courtesy of
www.modifiedcars.com/cars/46527/pagani-zonda-750-2010-pictures/332756/high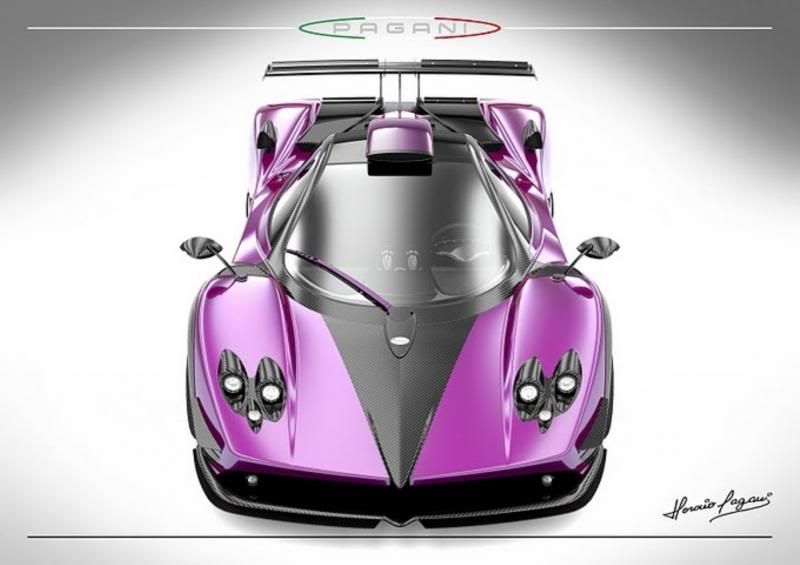 Image Courtesy of
www.modifiedcars.com/cars/46527/pagani-zonda-750-2010-pictures/332756/high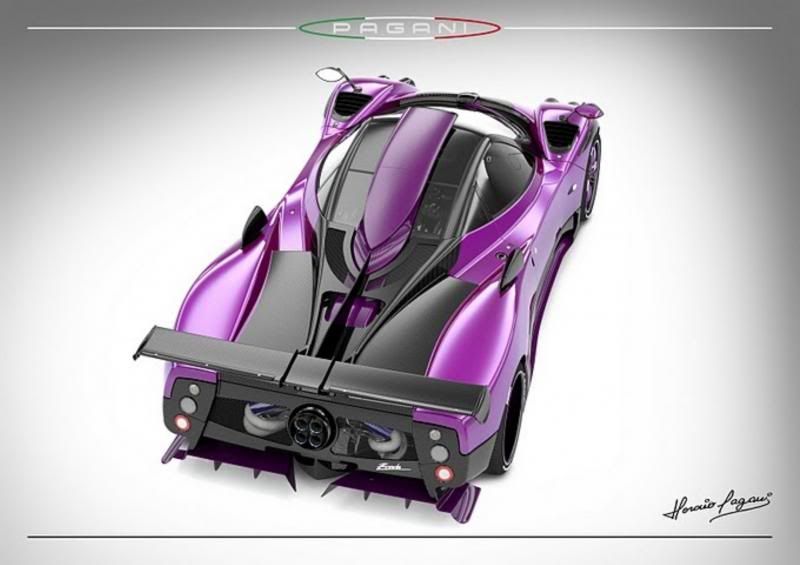 Image Courtesy of
www.modifiedcars.com/cars/46527/pagani-zonda-750-2010-pictures/332756/high
It's no secret that Formula 1 drivers are some of the most highly paid sportsmen in the world. With some contracts topping $10 million without taking into account individual sponsorships, F1 drivers could literally swim in money. One of the most interesting things about this is that many F1 drivers just drive regular, everyday cars, rather than sports cars as everything feels slow when compared to an F1 car.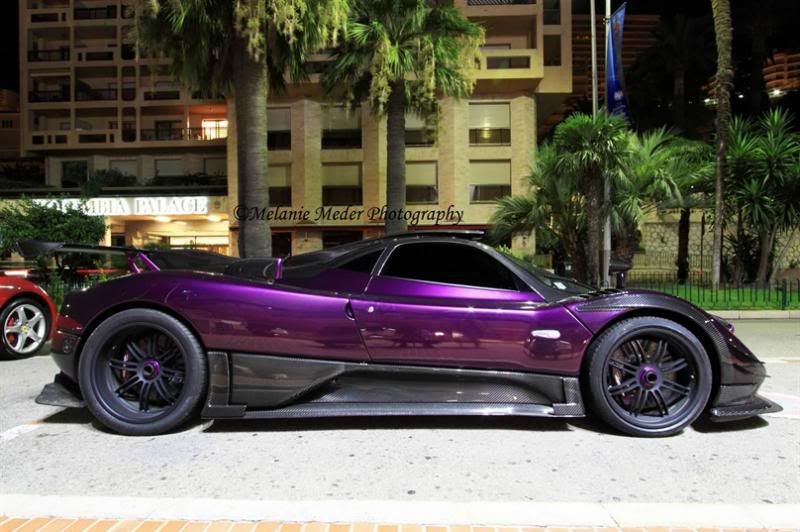 However, if reports are to be believed, 2008 world champion Lewis Hamilton may have just purchased a road-car as close to an F1 car as you can get, the Pagani Zonda . And, no not just any old Zonda, but a one-off car built specifically for him reportedly called the 760 LH, and it doesn't take a genius to work out what the 'LH' stands for.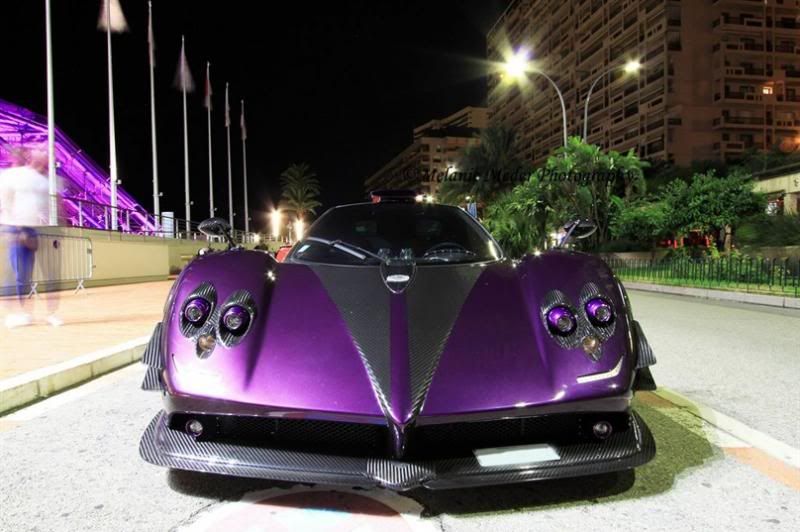 Hamilton's car is said to be based upon the 760 RS which was recently commissioned and built for a very special Chilean owner.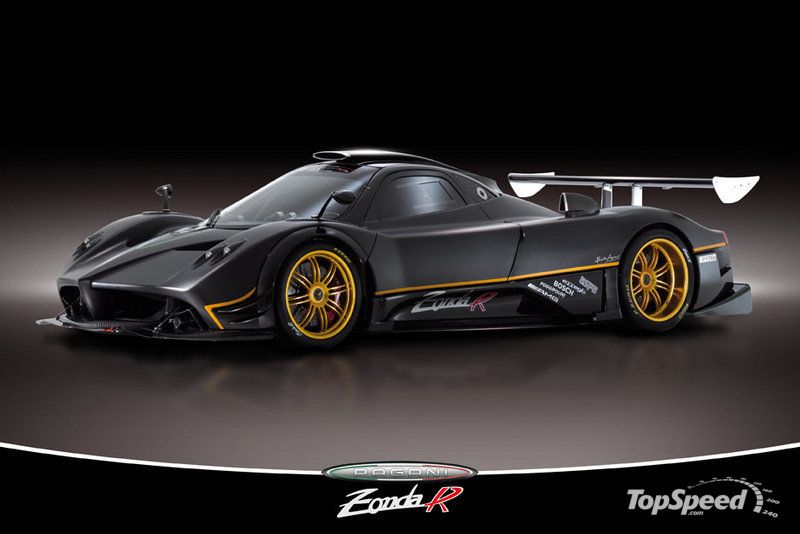 The 760 RS is the most powerful production car Pagani has built to date, even surpassing the Huayra by about 60BHP, pumping out an incredible 760 horsepower. The car ordered by Hamilton differs in one major way to the RS, as it will be built with a traditional manual transmission, leading the McLaren driver to state, "my company car has a paddle-change gearbox, so when I drive for fun, I want a manual."
It's unclear just how long Hamilton will have to wait for his brand new hypercar, but considering the Zonda is built completely by hand, he'll be lucky to have it delivered in the next six months.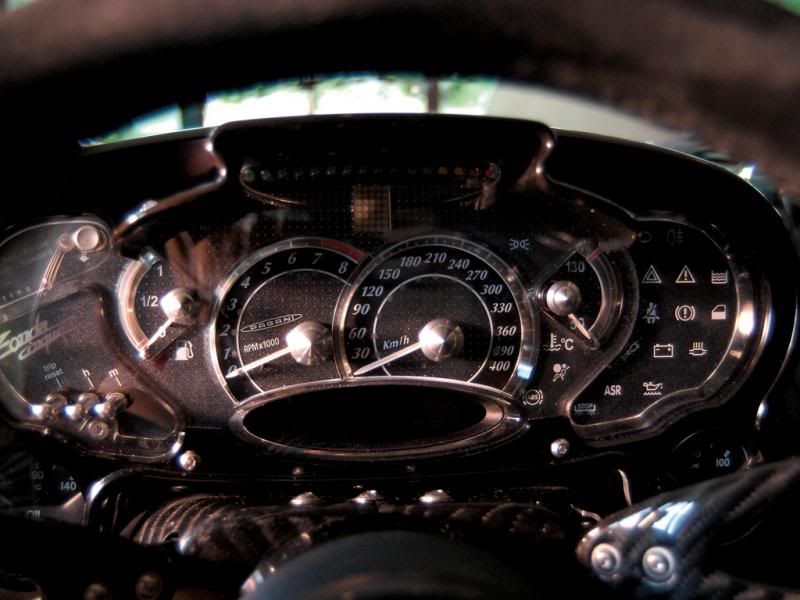 It's also worth noting that Horacio Pagani has previously stated that one-off Zonda's will continued to be made if demand is there, despite the Huayra now being the company's flagship supercar.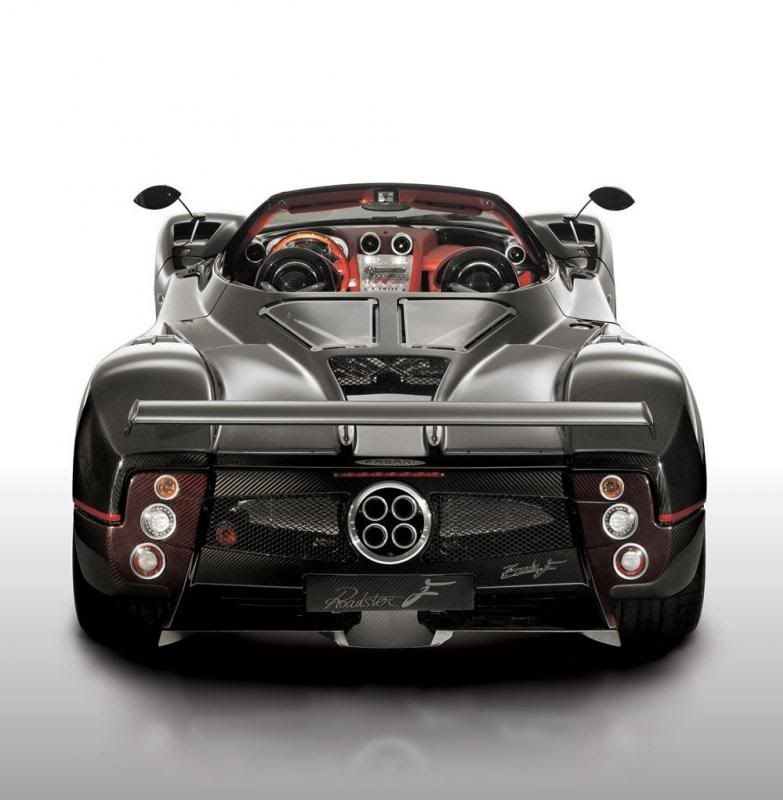 Please note that the car featured is the Pagani Zonda F Clubsport Final Edition .
Information courtesy of
www.topspeed.com/cars/pagani/2013-pagani-zonda-760-lh-ar128378.html
The Zonda 764 Passione: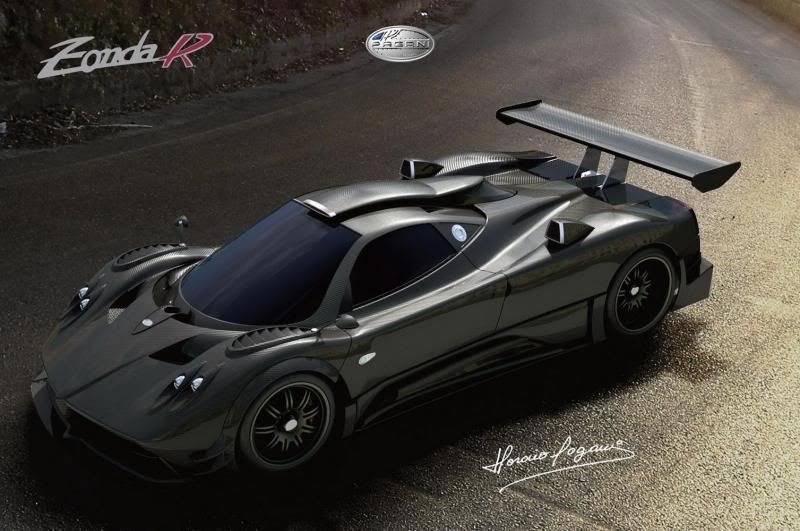 When Pagani unveiled the first Zonda to the world in 1999, it was meant to be a limited production model and end in 2011. Back then, the Zonda 760 was touted as the last Zonda model to be built and capped off with ten track-only Zonda R (pictured). However, it seems there is another final Zonda being built, called the Pagani Zonda 764 Passione.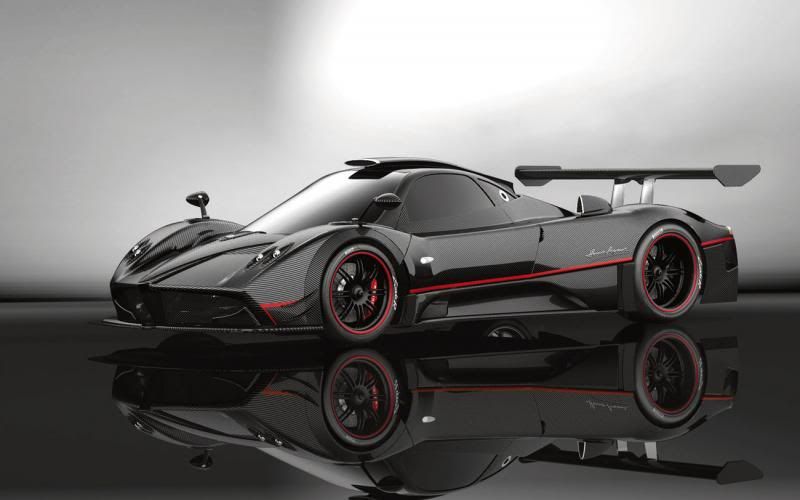 The final hurrah for the Zonda is said to come with distinguishing pink highlights, such as pink painted brake callipers, pink trimming lines on the body, and some pink elements in the engine compartment. The Zonda 764 Passione is expected to be underpinned by the Zonda F platform.
The San Cesario sul Panaro (near Modena, Italy) based company is tight lipped on details at the moment, but words in the grape vines are the model will come with a tuned version of the latest Zonda 760 models – the 760 RS, 760 LH and 760 RH, and is equipped with a manual transmission.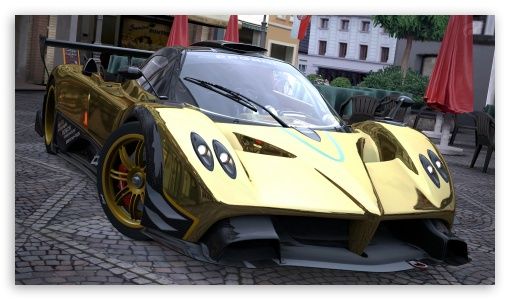 Image and infomration courtesy of
www.forcegt.com/news/pagani-readying-last-zonda-the-zonda-764-passione/1347676445000/
The above mentioned models are all fitted with an AMG 7.3-litre naturally aspirated V12 engine producing 566kW (760hp). Expect at least some power boost with the 764 Passione.
Zonda Tricolore
The final mass-produced Zonda was originally conceived as a one-off; there were actually three Tricolores built. It was built as a tribute to the country's aerobatic team. It carries a lot of the body from the Zonda Cinque. The car is unpainted except for a clear blue lacquer and red, white and green stripes that run up from the nose along the top of the car's surface. Unique to this car is a small wing placed behind the cockpit which reflects Frecce Tricolori's Aermacchi MB-339 PAN stunt plane tail wing. The three Tricolore's will be priced at £1.2 Million. It's also 6 mph (9.7 km/h) faster than a standard Zonda at 220 mph (350 km/h).
Courtesy of
en.wikipedia.org/wiki/File:2010-Pagani-Zonda-Tricolore-4.jpg
Pegani Zonda Cinque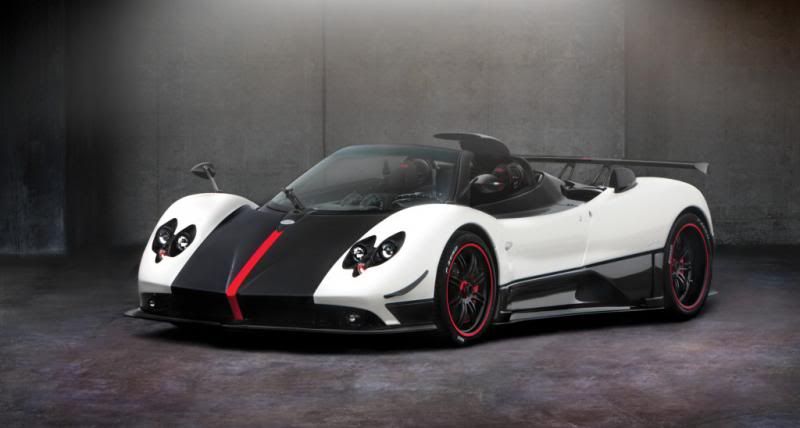 Inspired to the same Pagani know-how involved in the Zonda Cinque project, with a production limited to only 5 cars, the Zonda Cinque Roadster is developed by the unparalleled Pagani team passionately committed to creating a Roadster version of each road-legal model.
To obviate the austere appearance the supercar seems to take on when the roof is removed and stowed under the front bonnet for open-top cruising, the carbon-titanium frame has been specifically redesigned to add a touch of rebellious elegance that contributes to create a unique mix of driving emotions.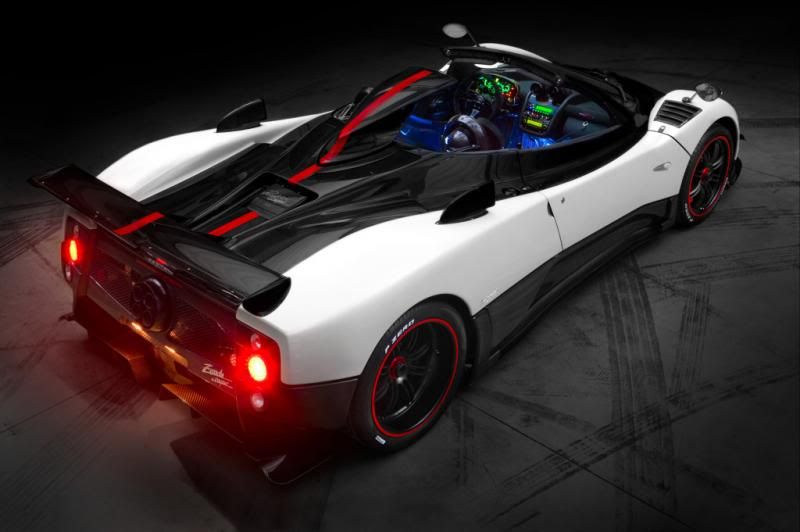 With the wind ruffling their hair, drivers enter into perfect symbiosis with the Mercedes-Benz AMG 12V engine with its astounding 678 HP and 780 Nm torque, as they ride on the wings of a delightful melody arising from the enormous air inlet and the inconel and titanium exhaust system, exclusively designed at the Pagani atelier.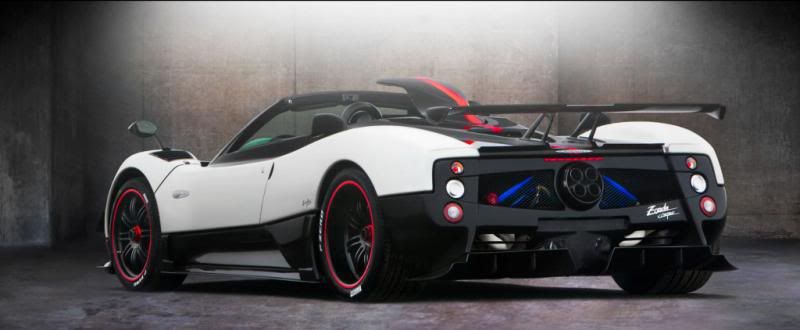 Pagani's commitment to guarantee optimum driver comfort is fully reflected in the Zonda Cinque Roadster. Thanks to the robotized multi-program sequential transmission and adjustable suspensions, the supercar can easily adapt to any kind of driving condition and style, whether you choose to set out on a relaxing trip across the Tuscan hillside to discover the most important Renaissance cities, or speed along like mad across theNürburgring circuit.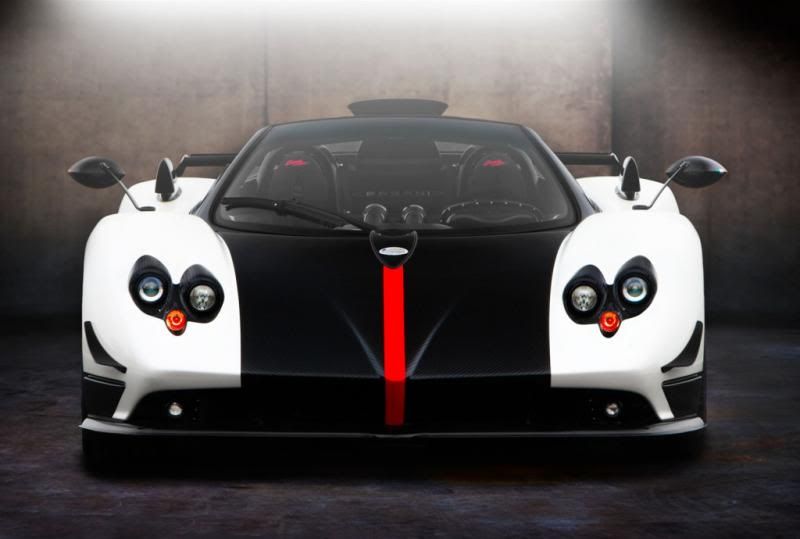 Just like all the other models, the Zonda Cinque Roadster perfectly fulfils the Pagani team philosophy, which can be summarized in the perfect combination between art and technology, achieved through a meticulous research for effective project strategies and innovative design solutions.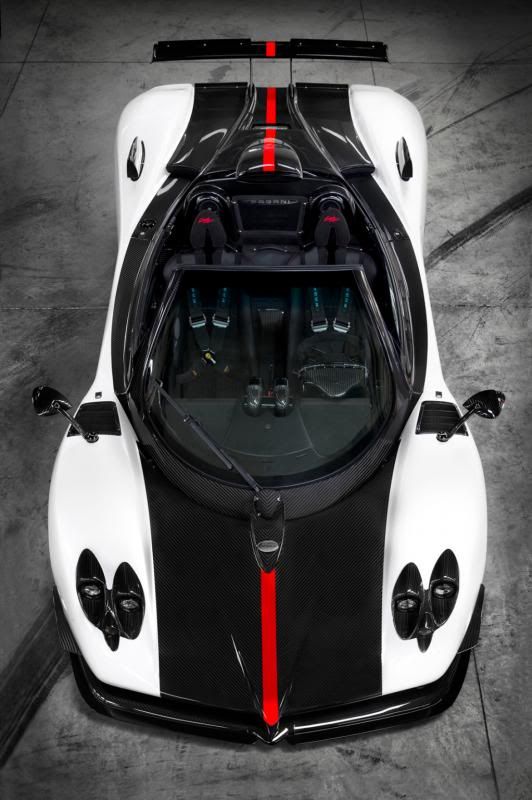 Produced in a limited run of 5 units
Specifications
Engine Mercedes Benz AMG engine, Power: 678 hp, Torque: 780 Nm
Monocoque Carbon-titanium monocoque
ECU ECU, Traction control, ABS by Bosch Engineering
Exhaust system Inconel/titanium exhaust system coated with ceramic
Suspensions Suspensions in magnesium and titanium
Gearbox Cima sequential gearbox (6 speed), robotized by Automac enginnering
Wheels APP monolitic wheels forged in aluminium and magnesium. Size: front 9x19 – rear 12,5x20
Tyres Pirelli PZero tyres. Size: front 255/35/19 - rear 335/30/20
Seats Pagani leather/carbon fibre racing seats
Brakes Brembo brakes in carbo-ceramic self ventilated with hydraulic servo brake, Size: front 380x34 mm, monolitic 6 piston caliper; rear 380x34 mm, monolitic 4 piston caliper
Weight Dry weight 1.210 kgi
Weight distribution In driving condition: 47% front, 53% rear
Acceleration 0-100 Km in 3.4 sec., 0-200 in 9.6 sec.
Braking 100-0 km in 2.1 sec., 200-0 km 4.3 sec.
Maximum side acceleration 1,45 G (with road tyres)
Downforce at 300 kph 750 kg
Images and information for the Pagani Zonda Cinque courtesy of
www.pagani.com/zonda/zonda_roadster_cinque/default.aspx
Other worthy images of the Pagni Zonda are as follows: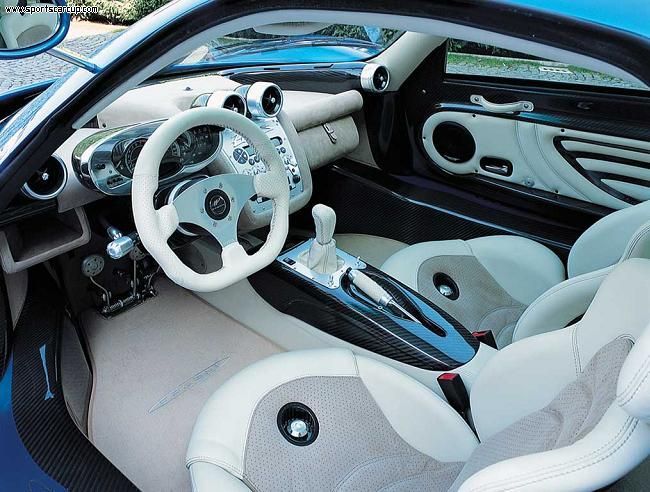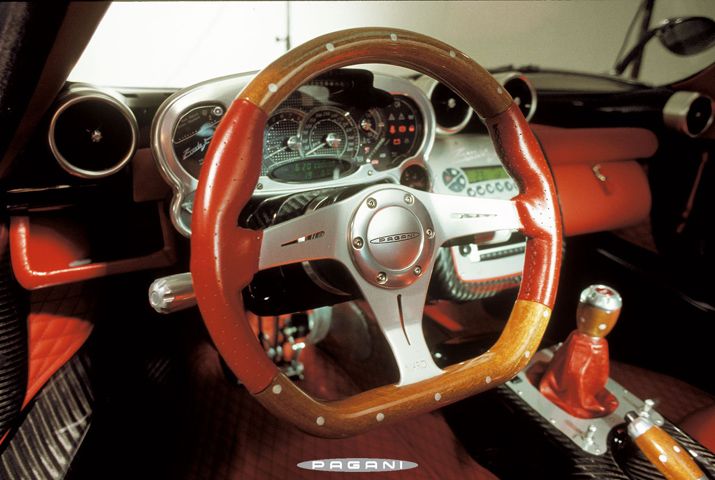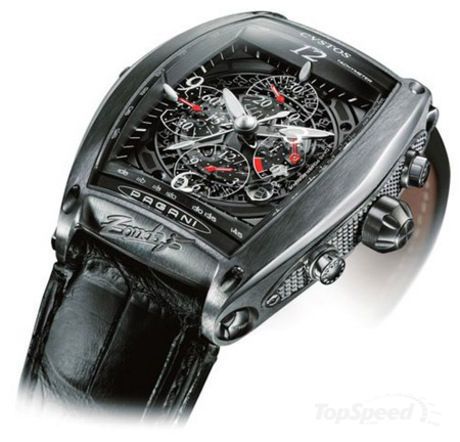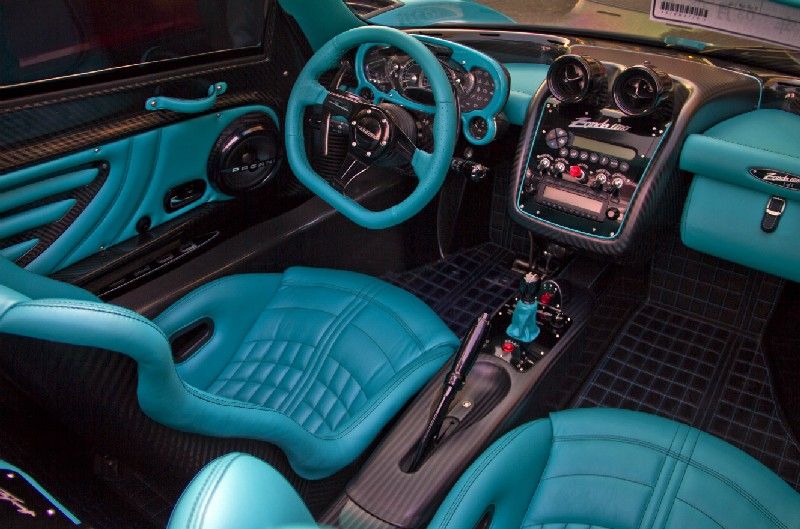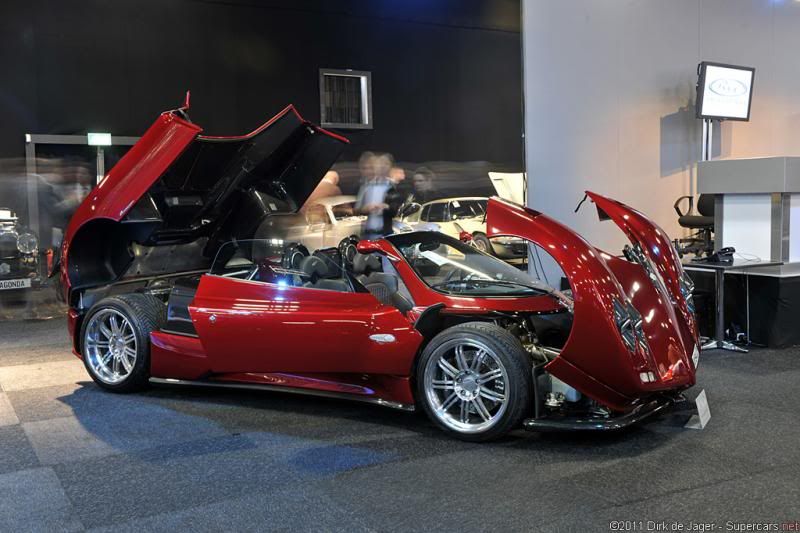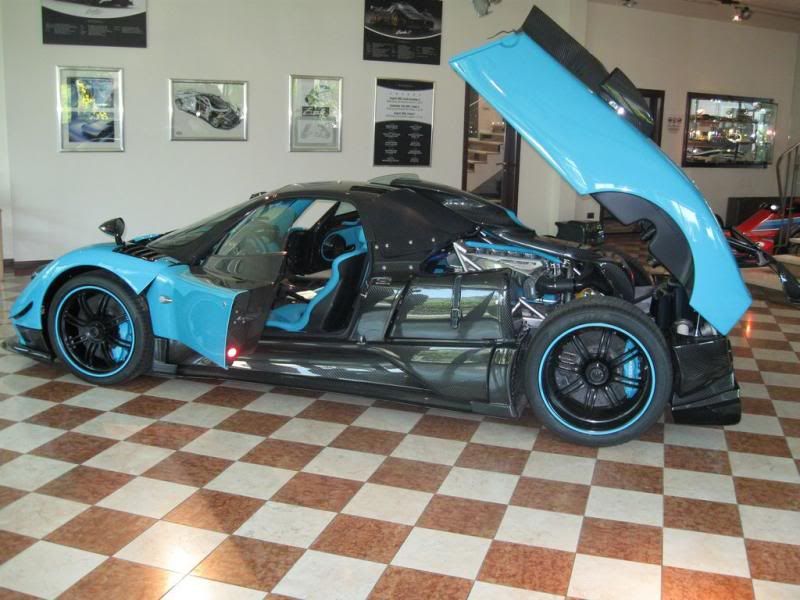 Pagani Zonda Model Collector Cars
Several hobby model companies and die-cast manufacturers have jumped on board to create smaller models of the Panagi Zonda that we can afford. Take a look at these below...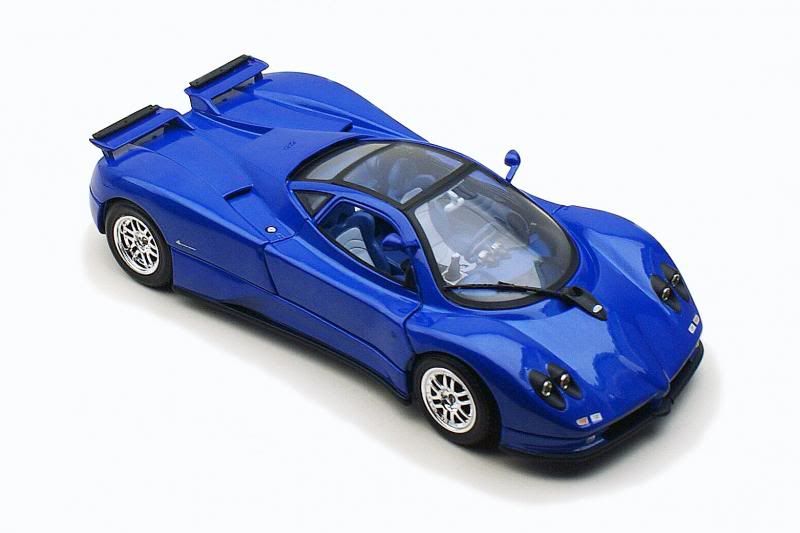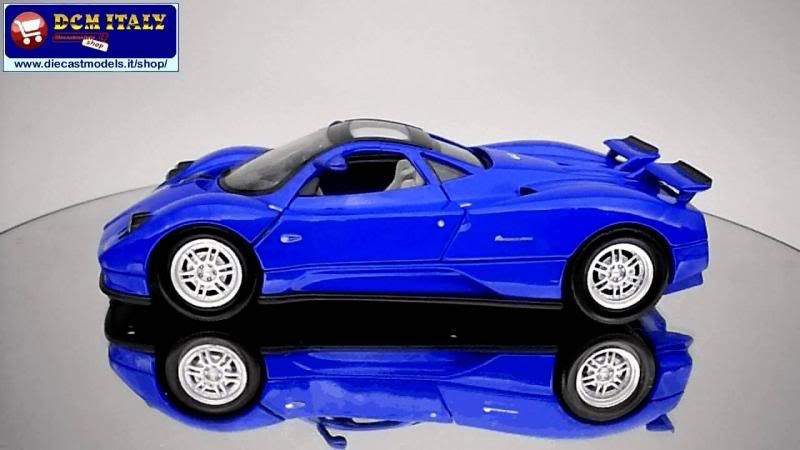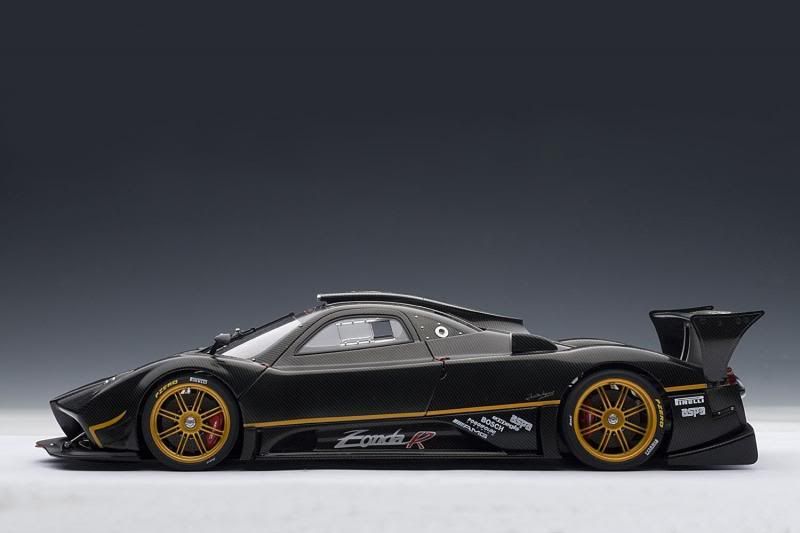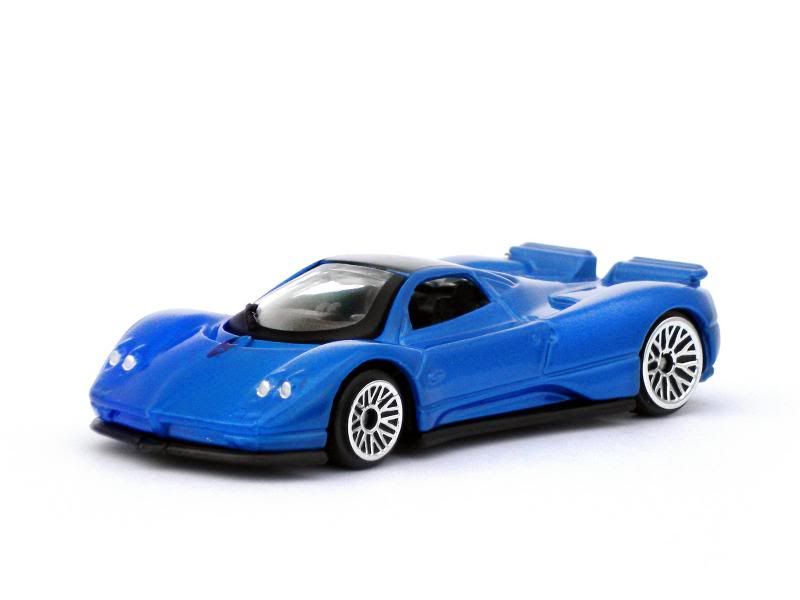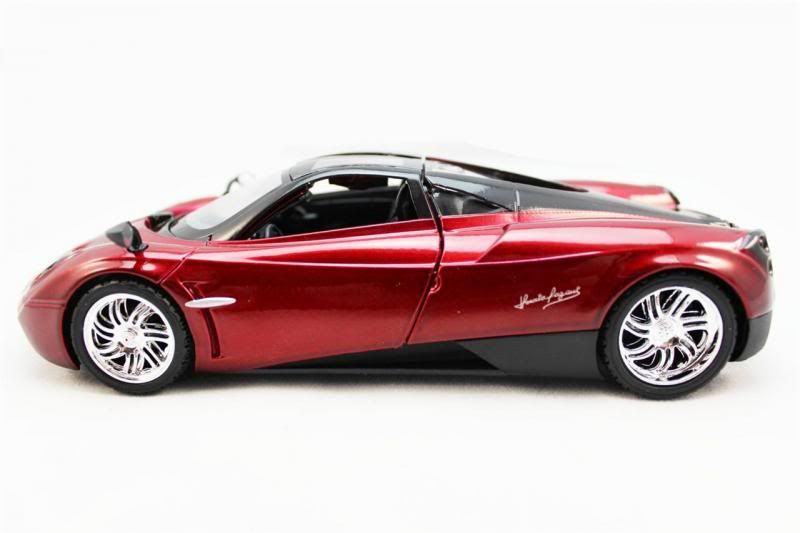 Here is a 1:43 scale made to show case this beautiful car.
www.diecastsociety.com/peako-143-pagani-zonda-cinque-white-lh-drive-rh-drive-version/
Then we have the customs of Ernest Li
helamleygroupacuransx.blogspot.ca/2012/12/the-customs-of-ernest-li-pagani-zonda.html
REVIEW: AUTOart Pagani Zonda R
www.diecastsociety.com/review-autoart-pagani-zonda-r/
Has Mattel produced a Pagani Zonda 1:64 scale Hot Wheels car? The answer is no but I'm certain this is in the works.
What Mattel has done instead is issued the Pagani Huayra which replaces the Zonda...but the Zonda hasn't given up! Orders are still coming in and Pagani will continue to produce it as long as there is the demand!
Here is a look at the Hot Wheels Pagani Huayra
The Red Release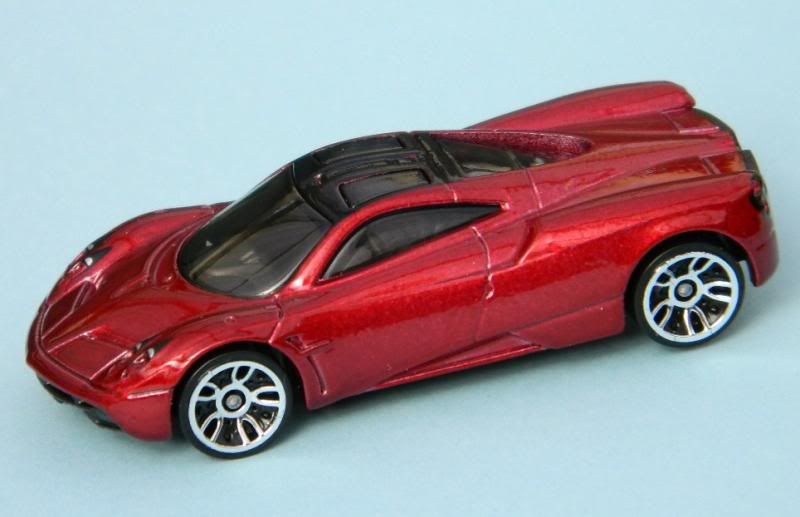 The Blistercard...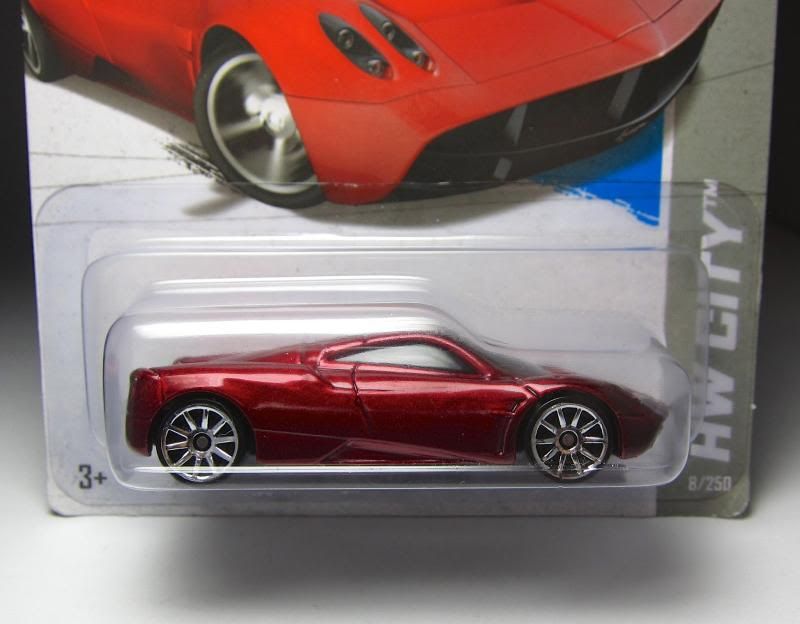 The Blistercard and the one of the Pagani Huayra set free from the plastic enclosure...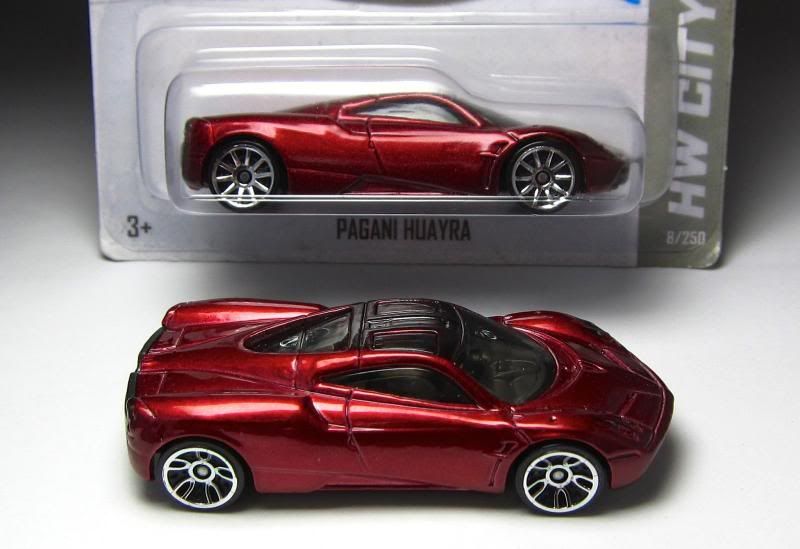 All images of the Hot Wheels Pagani Huayra in red are courtesy of...
lamleydlm.blogspot.ca/2013/07/hot-wheels-variation-alert-92-bmw-m3.html
The Grey Release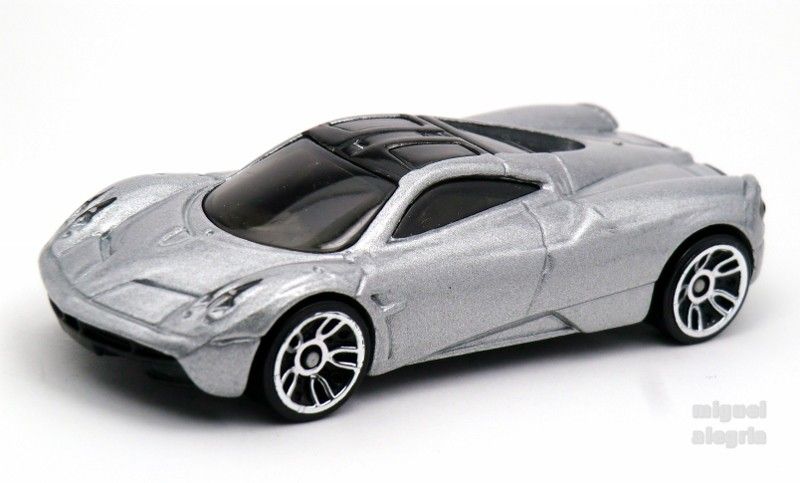 Courtesy of ebay
The Pagani Huatra Blistercard...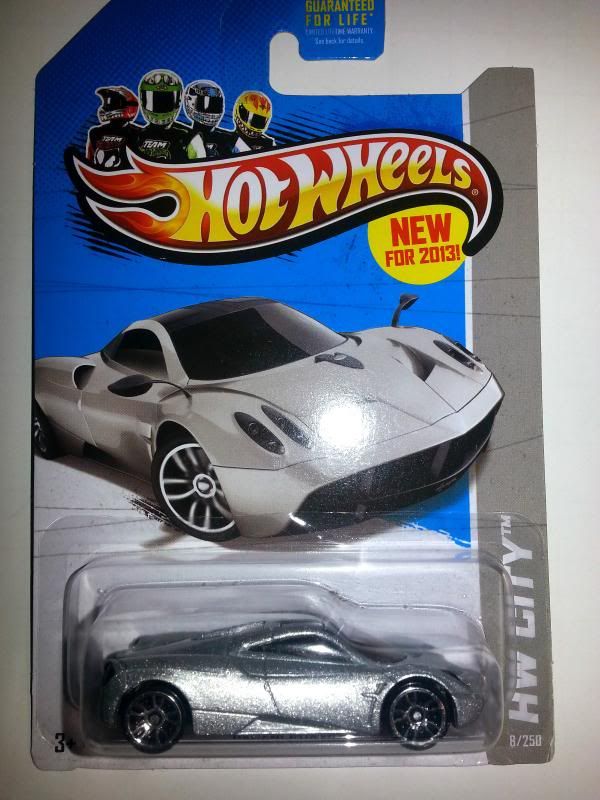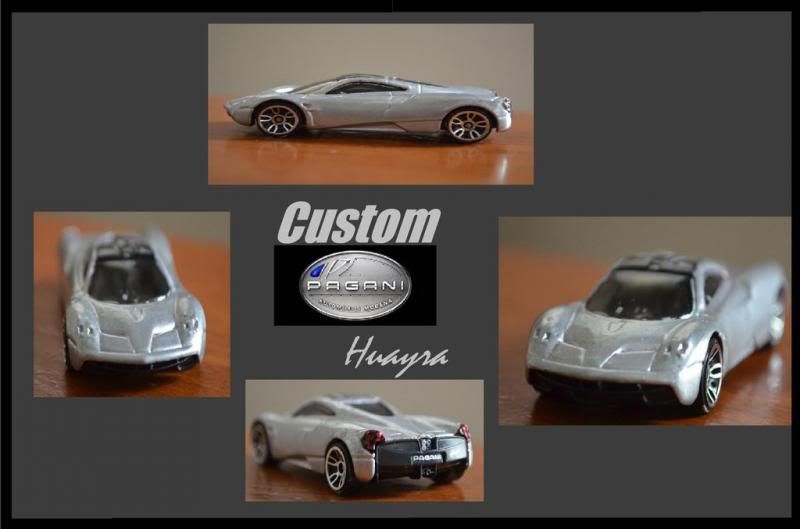 Courtesy of
csx5344.deviantart.com/art/Hot-Wheels-Custom-Pagani-Hauyra-376320577
There is a great article on this Hot Wheels relese below...
ultimatehotwheels.boards.net/thread/78/hot-wheels-pagani-huayra
Other die-cast and model car makers have done the Zonda in various scales. Take a look at these images below...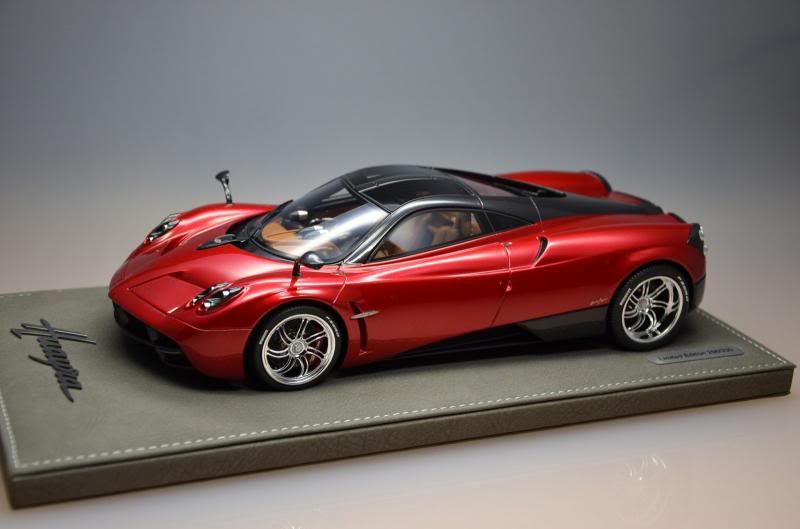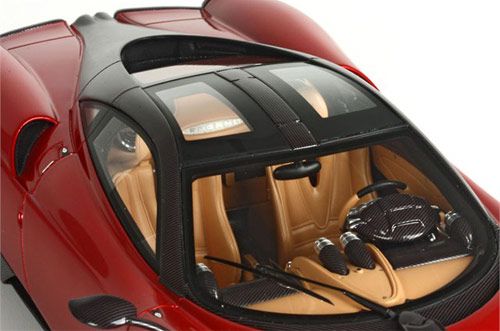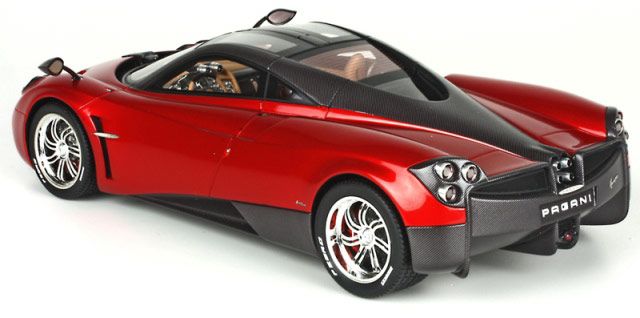 Image is courtesy of
kelvinator21.blogspot.ca/2013/05/2013-hot-wheels-hw-city-8-pagani-huayra.html
This article will be revised when pertinent new information is released.
Currently waiting for Hot Wheels design team and marketing to green light this model!
Ultimate Hot Wheels Cars|Channel C00236562