Post by ferrari512s on May 8, 2014 21:47:35 GMT -5

AMX/2
The 1969 AMX/2 concept car -- the prototype for the exciting 1970 AMX/3 production car -- was the first evidence that tiny, staid AMC was toying with a high-performance mid-engine sports car.
Dick Teague was always proud that he'd designed the 1970 AMX/3 -- so proud that he snared for himself one-third of those built. Sadly, that amounted to just two cars.
A lifelong car enthusiast, Teague loved most anything on four wheels, though as a car collector he favored vintage machines, which appealed to him as both simple and nostalgic next to the modern iron he worked on during 25 years as design vice-president for American Motors.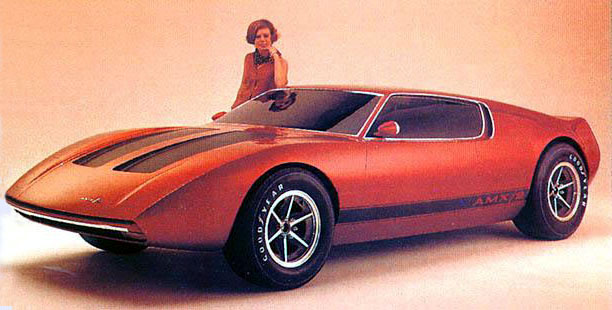 Even so, those two AMX/3s sat cheek-to-jowl with his big White steamer and massive Pope-Hartford touring right up until his untimely death in 1991.
Designer's vanity? Not at all. The AMX/3 (sometimes written "AMX/III") remains one of the prettiest cars on the globe: low, smooth, curvy in all the right places, adroitly proportioned. Teague had every right to be proud of it.
But good looks are only part of the story. The 1970 AMX/3 was also a high-performance mid-engine sports car that came very close to production, which would have been no small achievement even if volume would have been scarcely more than the six examples ultimately built.
Still, while Chevy teased the public with midships Corvettes that would never be, little AMC was briefly on the verge of building a Euro-style supercar the public could actually buy.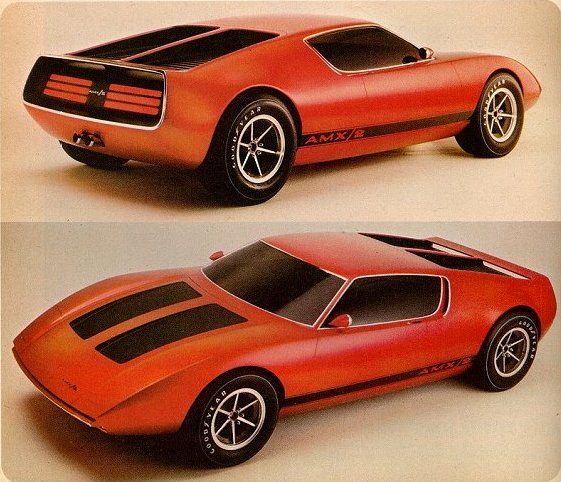 The real story of the 1970 AMX/3 begins in with the 1969 AMX/2 concept car. Like Detroit's Big Three -- General Motors, Ford, and Chrysler -- American Motors was then aggressively courting the youth market, and the Teague studios had issued a variety of "think young" concept cars in pursuit of same, as well as groovy new showroom offerings like the Mustang-inspired Javelin, the unique two-seat AMX, and the outlandish SC/Rambler.
The 1969 AMX/2 was something else, however. Patterned after European exotics like the Lamborghini Miura, Lotus Europa, and Porsche 914, it was not just AMC's most daring concept car ever but one of Detroit's first acknowledgments that mid-engine design was The Coming Thing in production sports cars.
That the AMX/2 got built at all stemmed from the enthusiasm of AMC group vice-president Gerald C. Meyers and chairman Roy Chapin, Jr. The shape came from a Dick Teague sketch that had taken Meyers's fancy: a two-passenger fastback with what the designer termed an "airfoil" shape, which managed to be interesting --swoopy without being cartoonish.
The eventual non-running fiberglass mockup sported a "fast" windshield, shapely down-curving nose with functional hood vents and hidden headlamps, and a raised rear-deck "spine," which provided pivot points for twin tillable spoilers. Its outboard ends were flared neatly into the rear fenders.
The dorsal "spine" floated above a flat, ribbed engine cover-cum-deck. Central twin exhausts implied a V-8, which was planned for but not installed in this purely speculative exercise.
Teague supervised these and other details, but the actual design was executed by staffers Bob Nixon and Fred Hudson.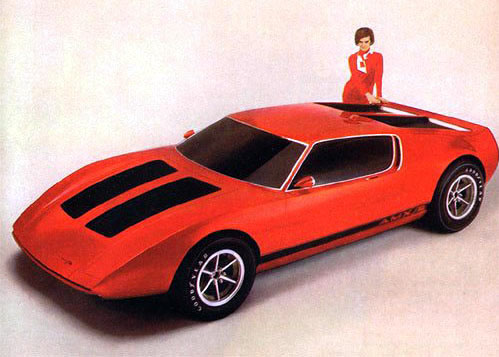 Though clearly just a pipe dream, the 1969 AMX/2 concept car was greeted with no little interest on its public unveiling at the Chicago Auto Show in February 1969. With people promising to buy if only AMC would oblige, Meyers and Chapin decided to take the next logical step by commissioning a fully engineered version that could be built for sale in at least limited numbers.
But just to make sure they weren't missing something design-wise, they also decided to solicit a proposal from Italy's Giorgetto Giugiaro, then increasingly regarded as the world's most talented car designer.

Other AMC AMX Concept cars - Project IV
The AMX/2 pushmobile was owned by Norm Kurtz of Twin Pines Auto Sales in Ephrata, Pennsylvania, where is was displayed on a pole as an advertising gimmick. Norm had a fake engine with 7 spark plugs attached to the bottom of the car. Eventually the car was brought down and restored by Pat Ryan (Prisma Collection), and then sold to Steven Juliano.

Let's go back just a bit...

AMC AMX - The First one...
The AMC AMX car also had a concept car made that looked radically different than the final showroom product.
The 1965 AMC AMX concept car was dubbed the "pushmobile." It lacked an engine and needed to be pushed around.
The original AMC AMX concept car was unveiled in 1965 and predicted the AMC Javelin-based two-seat AMX introduced for 1968.
American Motors AMX, 1966
The AMC AMX concept cars were early looks at what would become one of AMC's signature model lines: the sporty 1968 AMC Javelin pony car coupe and its two-seat companion, the 1968 AMC AMX muscle car.
Newly installed AMC chief Robert B. Evans had breezed in believing that the key to AMC's future was "to do things differently -- find new ways to do new things and try new ideas." Accordingly, he put Teague to work on what ultimately became a quartet of show cars with plenty of new ideas that promised to jazz up AMC's image in a big way.
To ensure plenty of exposure, Evans sent the cars on a nationwide tour as "Project IV," billed as a traveling "auto show of the future."
While none of the Project IV cars saw production per se, one provided a preview of a near-term AMC model. That, of course, was the unique two/four-seat AMX, the direct forerunner of the Javelin-based two-seat fastback that appeared during 1968.
Though differing somewhat in details, both the "pushmobile" and the Vignale AMXs had the same tight shape -- what Teague called a "wet T-shirt look" -- plus the whimsically named "Ramble Seat." The latter referred to a pair of jump seats that folded up from the rear cabin floor to provide al fresco accommodation for two occasional riders, whose comfort was enhanced by a back window that swiveled up to double as an auxiliary windshield.
The Vignale AMX also had a pair of small rear seats inside, for use when the Ramble Seat wasn't. Both show models rode a 98-inch wheelbase like the eventual showroom AMX, and the "runner" carried the same new 290-cubic-inch AMC V-8 that would be standard on production AMXs.
1970 AMX/3 Development
Evolved partly in response to high interest in the 1969 AMX/2 concept car, the 1970 AMX/3 development program was directed at delivering a limited production sports car in 1970-1971. If all went according to plan, the 1970 AMX/3 development program would result in an image-building $10,000 replacement for the Javelin-based AMX.
Italian designer Giorgetto Giugiaro's team duly produced a full-size mock-up in lightweight foamcore that was shipped to Detroit for "comparison competition." Never publicly shown, it bore the low, angular lines then typical of Giugiaro, but looked lumpy next to the league group's model, which resoundingly carried the day.
Yet despite its all-AMC design and engineering, the resulting AMX/3 was quite European in many ways. For example, noted race-car engineer and builder Giotto Bizzarrini supervised chassis development in Italy, and BMW assisted with testing.
The four-speed transaxle in the first AMX/3 came from ZF in Germany, though OTO Melara of La Spezia, Italy, was later tapped for a new gearbox and final drive that could better withstand the hefty torque of the installed AMC 390 V-8.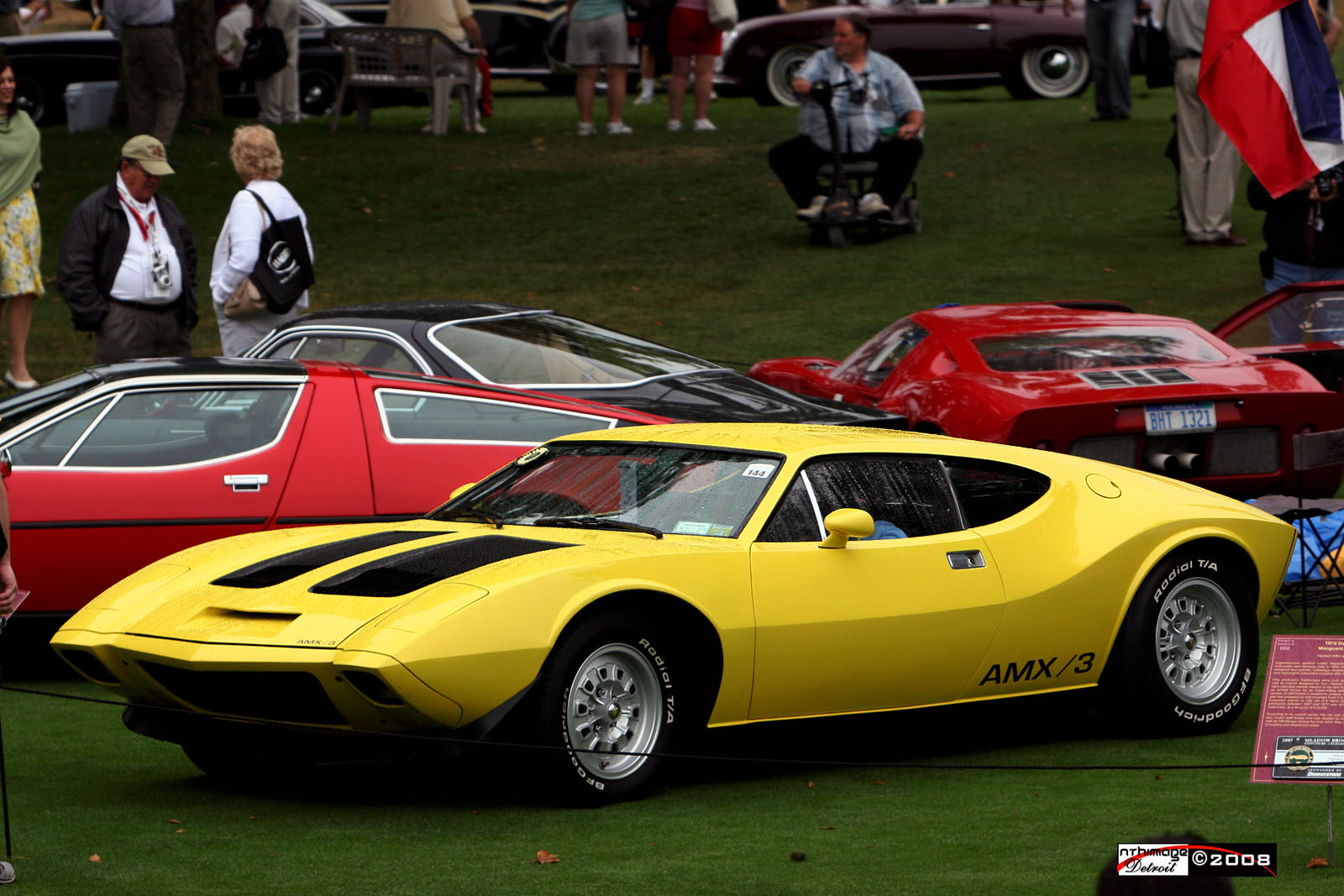 Per mid-engine practice of the day, that V-8 mounted longitudinally behind a snug two-seat cockpit, with the transmission trailing behind.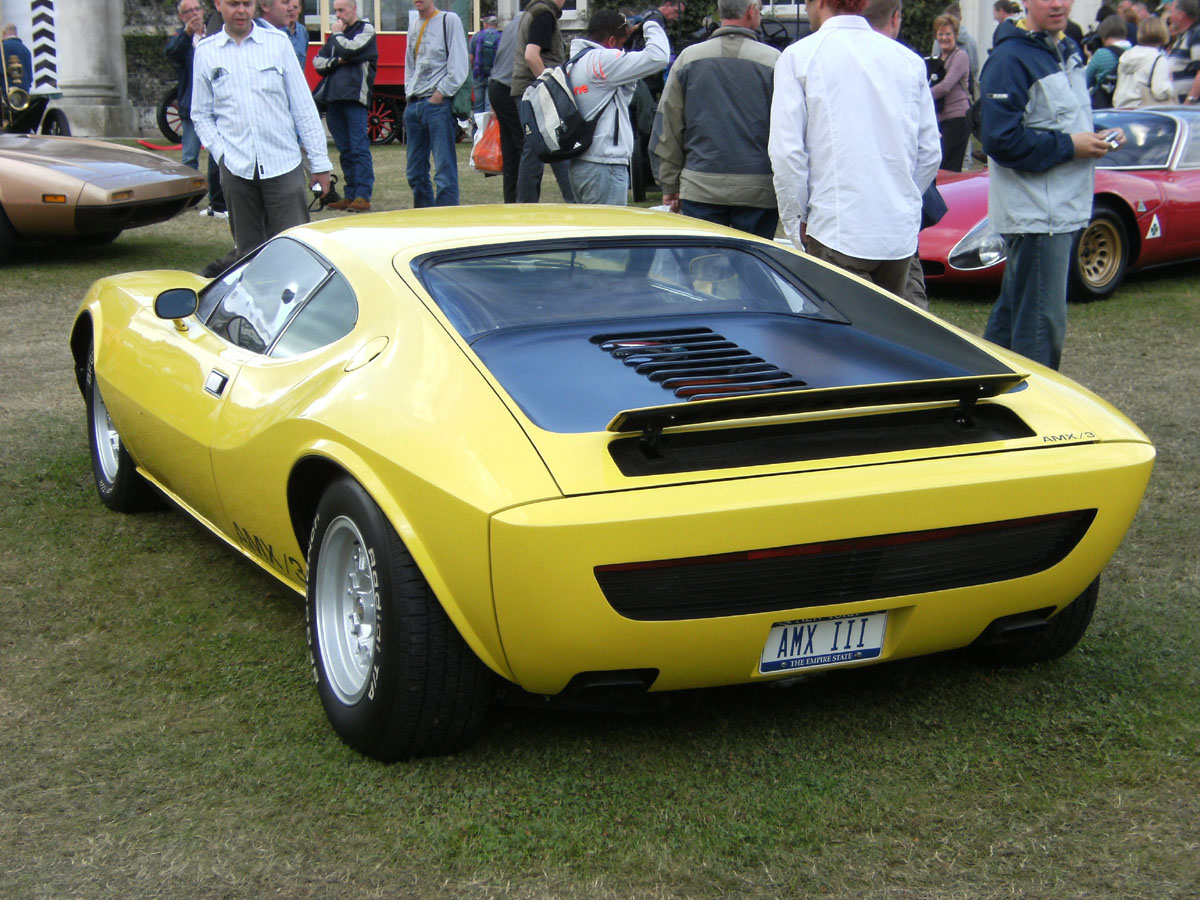 Suspension was by classic all-around double wishbones and coil-over-shock units, with dual springs at the back and an anti-roll bar front and rear. Brakes were big four-wheel vented discs from Germany's Ate.
Also like many midships contemporaries, the 1970 AMX/3 used different-sized front/rear rolling stock: 205-15 Michelin X radials on 15x6 1/2 Campagnolo alloy wheels fore, 225-15 tires on massive 9-inch-wide rims aft.
Dimensions were quite compact: 105.3-inch wheelbase, 175.6-inch overall length, 74.9-inch width. Tracks were fairly generous at 60.6/61.2 inches front/rear. Overall height was just 43.5 inches, yet ground clearance was a respectable 5.9 inches.
This well-developed mock-up shows the final form of the 1970 AMX/3. It was photographed in AMC's design showroom.
Despite weighing some 3,100 pounds, the AMX/3 had an estimated top speed of 160 mph, thanks to its 340-horsepower engine and fairly short 3.45:1 final drive. Unfortunately, high-speed stability was none too good.
Teague later recalled that Bizzarrini drove an AMX/3 on the demanding Nurburging in Germany and "became nearly airborne at 145, so that kind of slowed him down. . . . It did get very front-end light."
So was the 1970 AMX/3 development program successful?
The 1970 AMX/3 debut was in Rome, Italy, on March 23, 1970. The car would have replaced the Javelin-based AMX, according to Teague, but "in a much more contemporary vein and not [sharing] anything with the Javelin.
And the price would have been $10,000 instead of $4000, [so] it would have been more of a prestige car, kind of an image-building car.
"We were into racing at that time with Trans Am and all that, and it was really kind of a tool, but a serious one, to create an image for the company that was something other than four-door Ramblers and 'Ma and Pa Kettle' cars."
Journalists who went to Rome to get their first drives were impressed. So, too, was Mark Donahue, who was then winning Trans-Am races in factory Javelins.
The AMX/3 almost made it to AMC dealers. The specific plan was to build 24 AMX/3s in 1970, then increase output gradually in line with demand.
Mark Donahue, who had been winning Trans-Am races in factory Javelins, was pleased with the fast and shapely AMX/3.
But AMC's continuing sales problems, projected engineering costs for meeting new federal safety standards, and difficulty in securing a body supplier all conspired to put AMX/3 on the shelf after just six examples were built, all effectively pre-production prototypes.
The 1970 AMX/3 legacy lives on in the surviving prototypes. Number-one wound up in the Gilmore Museum in Kalamazoo, Michigan; numbers two and four in the Indianapolis area.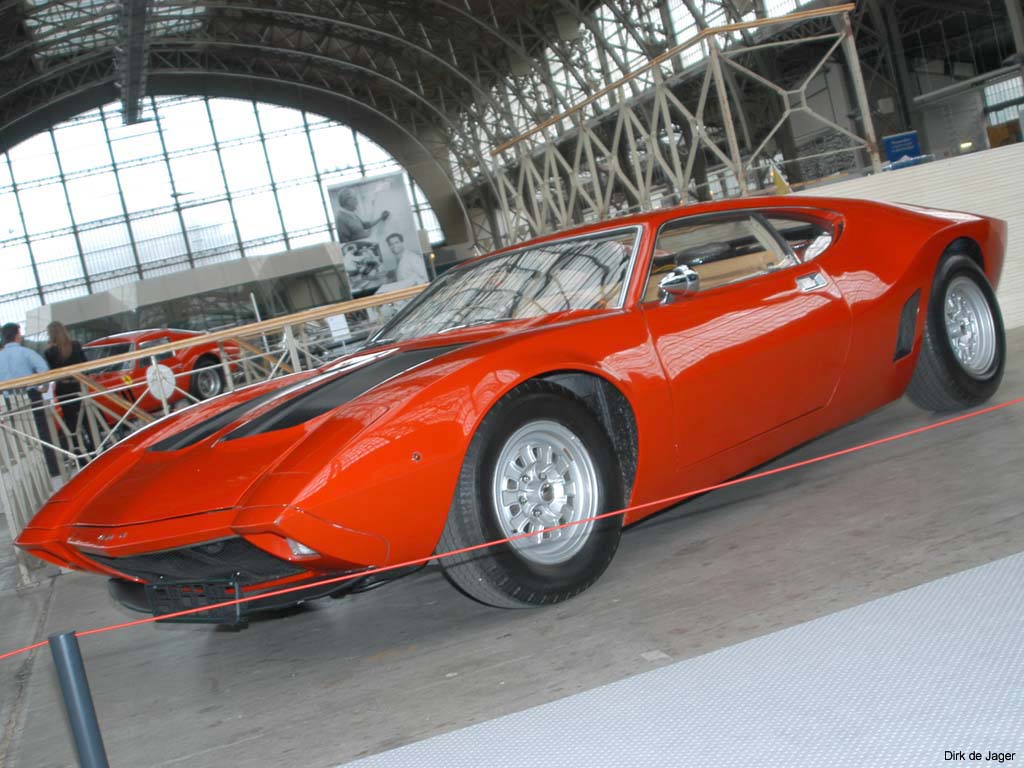 Designer Dick Teague owned numbers three and five. Most of his collector cars were sold after his death. The final AMX/3 was completed sometime later (likely during 1971) at the behest of a business friend of Bizzarrini's.
Dick Teague's initial design ideas survived to final form with virtually no alteration, though wheels and other details differed among the six cars ultimately built. For example, number-six was the only AMX/3 with concealed wipers and three extra inches of rear overhang.
Number-six's Italian businessman-owner saw to the cutting-up of two unused bodies, which later prompted Teague to speculate that a couple more examples might surface someday.
That, alas, seems unlikely, but at least we have the six AMX/3s to inspire thoughts of this grand midships turismo that might have been. For us, they will also ever inspire memories of the good friend we lost in Dick Teague, one of the great unsung talents of the design business.
It says much about this man that he could always laugh at mistakes like the late-1970s Pacer as graciously as he accepted praise for brilliant successes.
The AMX/3 was proposed as a limited-edition $10,000 replacement for the rather conventional AMC Javelin pony car. But just six AMX/3s were built.
The AMX/3 was definitely Dick Teague's kind of modern automobile, and his enthusiasm showed in every line. As unquestionably his finest work, it's the one we should remember him by as both car designer and enthusiastic "car nut." He would want it that way. He deserves no less.
There has been quite a bit of interest generated from this AMX/3 prototype since its debut in 1970. Some car enthusiasts want to own this so much that a Kit builder might be available. Kit Car Builder had this to say in the August issue of the magazine on page 10.
Here is a reproduction of the AMC/3. Many thanks to "amcrules00" for the nice job he did on this image, demonstrating how an AMX/3 replica will look in red, white and blue.
Here is a "parking lot" worthy red AMC/3. Once owned BY George Doughty who gave rides to people one year at a AMO show in Minnesota.
If the AMX/3 was still in production today what would the shape and design look like? Let's go a little further with this idea. What is J Teague who owns and AMX/3 decided to build and make the AMX/4? What would the appearance of this sports car?
Here are JTeague's comments on this project and design.
"I'm working on getting started with the AMX 4, I would love your comments about the design, Don't worry, It's just a starter design. It's just like Fine Wines, takes time to refine it. Most important in getting a good working chassis with a powerful V8 or V10 Vipor engine".
Further comments on this design concept AMX/4.
Now that aftermarket blocks and heads are available new I think it would be cool to power the AMX/4 with the same engine as the originals. I think I could build an all aluminum AMC V8 that would be competitive with a Viper powerplant. For a business model, I would use something similar to what the Superformance Replica Cobra does, offer a customer an array of choices and custom build an engine for each customer. They have a showroom across the street from my shop.....and on a calm night you can hear a 390-396(stroker 351)-406-427-428 or 460 running on the dyno. To build a correct appearing 427 side oiler is expensive, but a 390 or 428 can be built that outwardly appears correct but at a more moderate price. An AMX/4 with a period correct Iron block AMX motor as a starting point, all the way to an all aluminum fuel injected Indy motor...and everything in between.
Overall sleek design that I would like to see go into production.
Son of AMC Designer Creates AMX/4 Prototype Sports Coupe
(Concept model car only)
American Motors Company or AMC for short, may be long gone as the firm was absorbed by Chrysler in the late 1980's, but the brand lives on in the hearts of people like Jeff Teague, a designer who happens to be the son of AMC's design vice president for 26 years, Dick Teague.
The latter was responsible for an array of Jeep and AMC designs such as the Gremlin, Pacer, Matador coupe, Jeep Cherokee, Rambler American, Javelin and Hornet.
Having penned many sketches for a modern-day AMC in the past, Jeff decided to proceed to the next phase by creating a 1/4 scale clay prototype for a coupe model that he calls AMX/4 and which is a logical successor to his father's AMX/3.
Teague will present his AMX/4 concept to the public for the first time at this weekend's So Cal AMC Classic Car Show and Beach Cruise at the Automobile Driving Museum in El Segundo, California.
We don't know what the odds are for a full-scale, drivable version of Teague's conceptual proposal, but nonetheless, we salute his efforts and hope that he manages to bring the car to life.
More sketches of this AMX/4 by Jeff Teague.
Hot Rod Magazine displayed the following image and story on their website regarding the concept AMX/4.
AMX/4
An ambitious undertaking for a startup automaker, this mid-engine exotic wants to give the owner a Lamborghini experience at a Corvette price. The company flagship, it shares the newly developed "clean" V-12 powerplant with the Ambassador sedan. With the nine-speed, paddle-shifted trans, an AMX/4 mule in disguised form was radar-gunned on Germany's Nurburgring test track at 220 mph. The AMX/4's styling takes cues from the '68 AMX two-seater coupe-look hard, they're there-with a large dose of Lamborghini Gallardo for flavor. Get your order in early.
AMX 4 Rough sketches and the Motor Trend Renderings Revisited
Here are some other concept designs of the AMX/4
And then we have this idea...
We also showcase this in red...
And then we have the AMX/4 Spyder...
Sources
www.thetruthaboutcars.com/2014/02/american-motors-amx3-you-can-own-designer-dick-teagues-favorite-concept-car/
www.supercars.net/cars/2982.html
auto.howstuffworks.com/1969-amx-2-concept-car-and-1970-amx-3.htm
amccars.net/cgi/yabb2/YaBB.pl?num=1226425669
www.carscoops.com/2009/09/son-of-amc-designer-creates-amx4.htmlwww.hotrod.com/featuredvehicles/hrdp_0804_amc_concept_cars/viewall.htmlwww.socalamc.com/forum/index.php?topic=325.0www.amx390.com/amx3.htmlwww.legendarycollectorcars.com/product-review-2/product-review/amx-photo-archive-book-review/www.carstyling.ru/en/car/1966_american_motors_amx/
oldconceptcars.com/1930-2004/amc-amx-i-concept-car-1965/

---
Hot Wheels Die-cast AMX
The Custom AMX die-cast toy car was made by Hot Wheels and released in 1969. This was produced in a variety of spectraflame colors.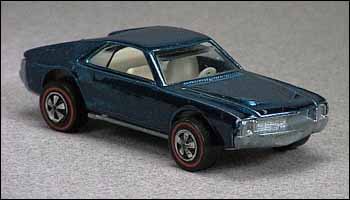 The Ed Shaver AMX Hot Wheels released is extremely rare.
Released as a Hot Wheels Redline Club membership car in 2010. There were four colors released of the AMX and total production and membership is 20,000.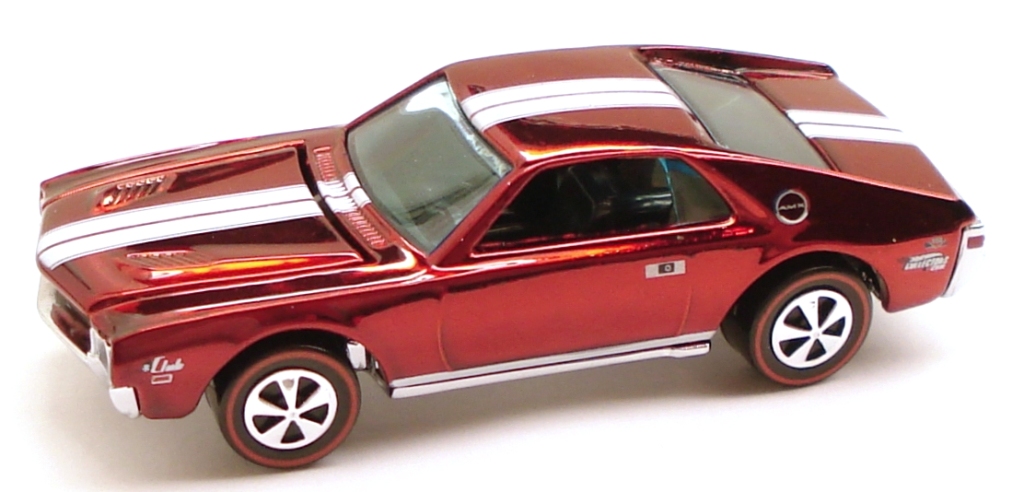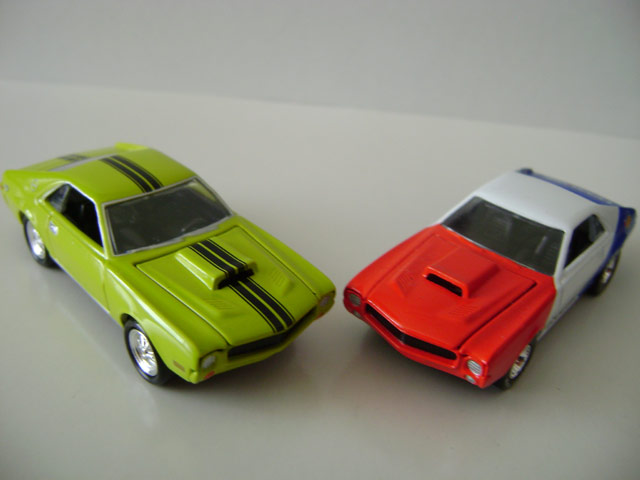 Hot Wheels AMX/2
AMX/2 was a casting designed by Paul Tam that debuted in the 1971 Hot Wheels series. It was based on a 1:1 scale non-functioning design by AMC.
It was then re-released in 1973 as Xploder.
The Warpath was issued with this name in 1975 and again when it was a part of the Wisconsin Toy Company line-up in 1980.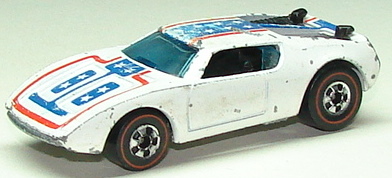 A similar casting was issued without the opening plastic engine covers. It was named Redliner for 1985 when it was release in the series.
In 1987 it was released with the name Road Torch.
Source
hotwheels.wikia.com/wiki/AMX/2