Post by ferrari512s on Jun 23, 2014 5:38:18 GMT -5

Chevrolet Camaro
The Chevrolet Camaro is an automobile manufactured by General Motors under the Chevrolet brand, classified as a pony car and some versions also as a muscle car.
It went on sale on September 29, 1966, for the 1967 model year and was designed as a competing model to the Ford Mustang.
The car shared its platform and major components with the Pontiac Firebird, also introduced for 1967.
Background
Before any official announcement, reports began running during April 1965 within the automotive press that Chevrolet was preparing a competitor to the Ford Mustang, code-named Panther.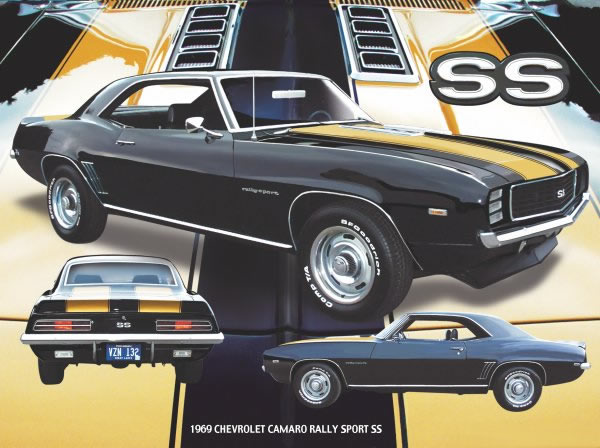 On June 21, 1966, around 200 automotive journalists received a telegram from General Motors stating, "...Please save noon of June 28 for important SEPAW meeting. Hope you can be on hand to help scratch a cat.
Details will follow...(signed) John L. Cutter – Chevrolet Public Relations – SEPAW Secretary." The following day, the same journalists received another General Motors telegram stating, "Society for the Eradication of Panthers from the Automotive World will hold first and last meeting on June 28...(signed) John L. Cutter – Chevrolet Public Relations SEPAW Secretary." These telegrams puzzled the automotive journalists.
On June 28, 1966, General Motors held a live press conference in Detroit's Statler-Hilton Hotel. It would be the first time in history that 14 cities were hooked up in real time for a press conference via telephone lines.
Chevrolet General Manager Pete Estes started the news conference stating that all attendees of the conference were charter members of the Society for the Elimination of Panthers from the Automotive World and that this would be the first and last meeting of SEPAW.
Estes then announced a new car line, project designation XP-836, with a name that Chevrolet chose in keeping with other car names beginning with the letter C such as the Corvair, Chevelle, Chevy II, and Corvette.
He claimed the name, "suggests the comradeship of good friends as a personal car should be to its owner" and that "to us, the name means just what we think the car will do... Go!"
The new Camaro name was then unveiled. Automotive press asked Chevrolet product managers, "What is a Camaro?" and were told it was "a small, vicious animal that eats Mustangs."
According to the book The Complete Book of Camaro: Every Model Since 1967, the name Camaro was conceived by Chevrolet Merchandising Manager Bob Lund and General Motors Vice President Ed Rollett, while they were reading a book Heath's French and English Dictionary by James Boïelle and by de V. Payen-Payne printed in 1936.
In the book "The Complete Book of Camaro" on page 26, it states that Mr. Lund and Mr. Rollett found the word "camaro" in the French-English dictionary to mean "friend, pal, or comrade".
The article further stated Mr. Estes statement of what the word camaro was meant to imply, that the car's name "suggests the comradeship of good friends, as a personal car should be to its owner".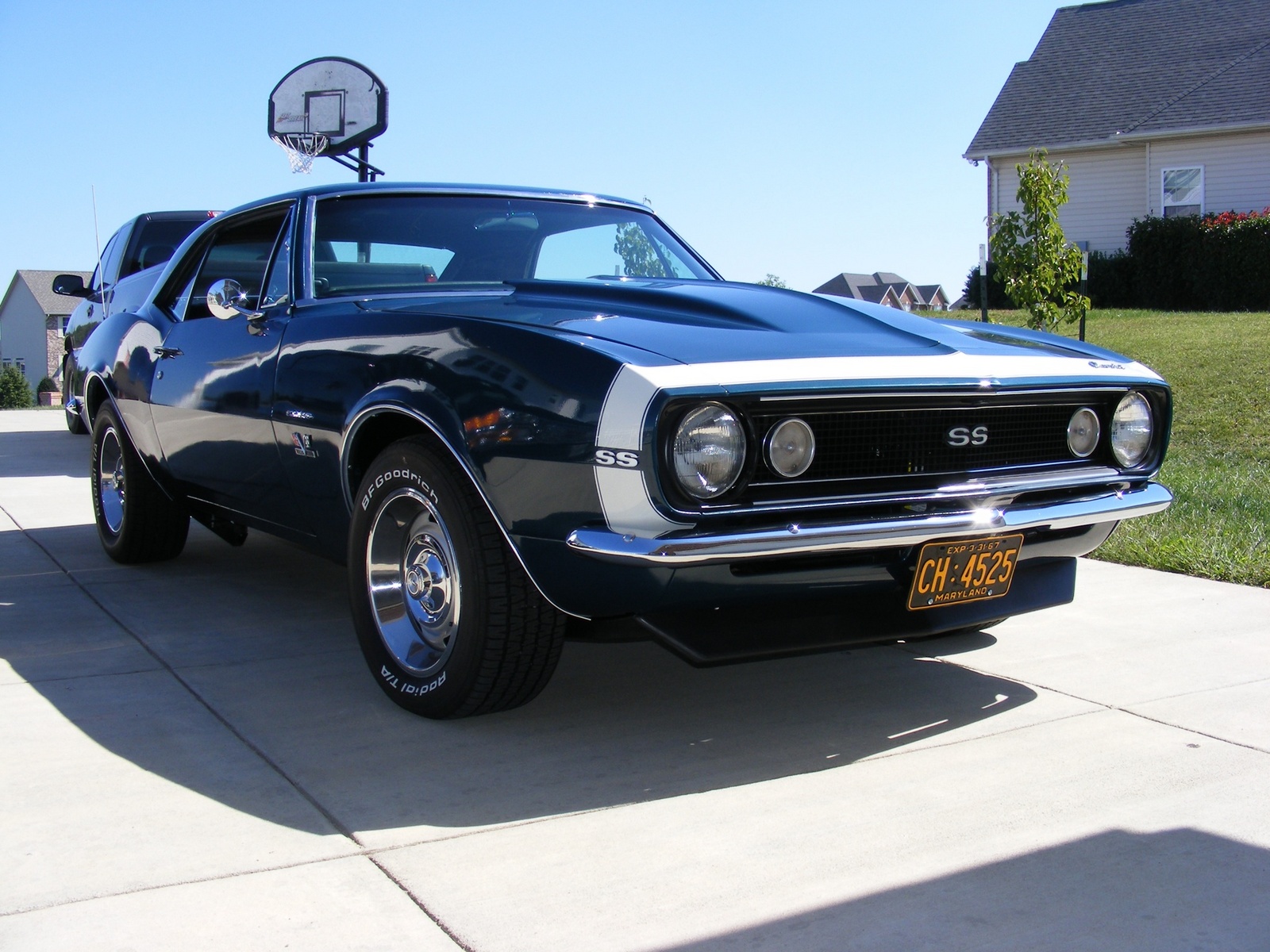 The Camaro was first shown at a press preview in Detroit, Michigan, on September 12, 1966, and then later in Los Angeles, California, on September 19, 1966.
Public introduction of the new model was on September 26, 1966. The Camaro officially went on sale in dealerships on September 29, 1966, for the 1967 model year.[10]
First generation: 1967–1969
First-generation Camaro debuted in September 1966, for the 1967 model year, up to 1969 on a new rear-wheel drive GM F-body platform and was available as a 2-door coupé or convertible with 2+2 seating, and a choice of 230 cu in (3.8 L), 250 cu in (4.1 L) inline-6 or 302 cu in (4.9 L), 307 cu in (5.0 L), 327 cu in (5.4 L), 350 cu in (5.7 L), 396 cu in (6.5 L) 427 cu in (7.0 L) V8 powerplants.
Concerned with the runaway success of the Ford Mustang, Chevrolet executives realized that their compact sporty car, the Corvair, would not be able to generate the sales volume of the Mustang due to its rear-engine design, as well as declining sales, partly due to the negative publicity from Ralph Nader's book, Unsafe at Any Speed.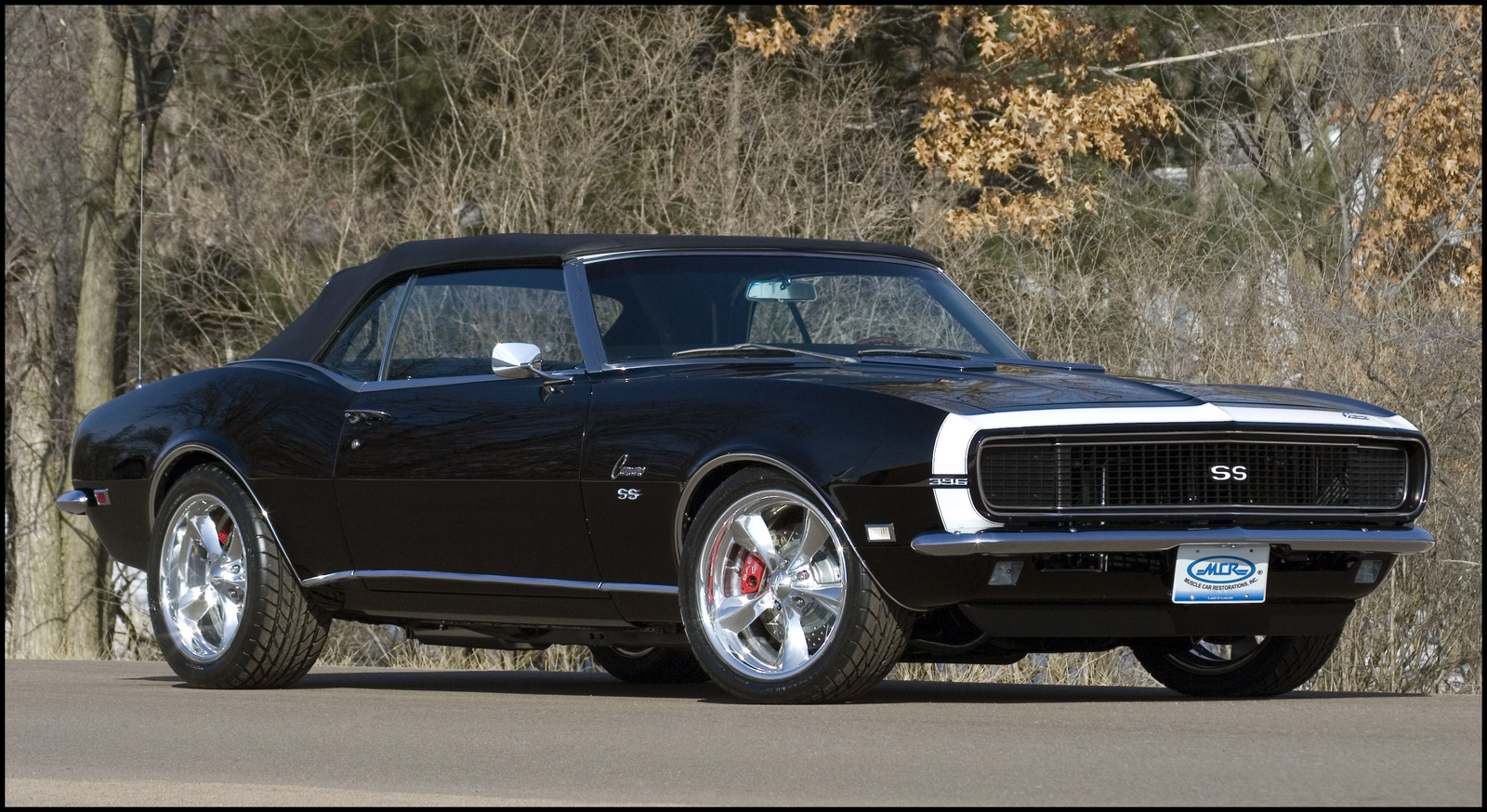 Therefore, the Camaro was touted as having the same conventional rear-drive, front-engine configuration as Mustang and Chevy II Nova.
In addition, the Camaro was designed to fit a variety of power plants in the engine bay.
The first-generation Camaro would last until the 1969 model year and would eventually inspire the design of the new retro fifth-generation Camaro.
image.popularhotrodding.com/f/features/1209phr_1969_chevrolet_camaro/38553896/1209phr-02-z%2B1969-chevrolet-camaro%2B.jpg


Gallery 1969 Camaro
[img src="
www.thesupercars.org/wp-content/uploads/2011/05/5-1969-Camaro-Side.jpg
" style="max-width:100%;"]
Source
en.wikipedia.org/wiki/Chevrolet_Camaro