Post by ferrari512s on Jan 1, 2014 20:24:25 GMT -5
When the Mattel's new product Hot Wheels hit the store shelves in May 7, 1968 there were other toy companies that also tried to cash in on Mattel's success.
Here is an prime example of a knock off die-cast car from Durham Industries. They produced a rather eloquent Rolls-Royce with similar type wheels to Hot Wheels! Not only did they copy the push on type wheels but the music wire suspension was similar and they also used the Delrin bearings. How coincidental indeed!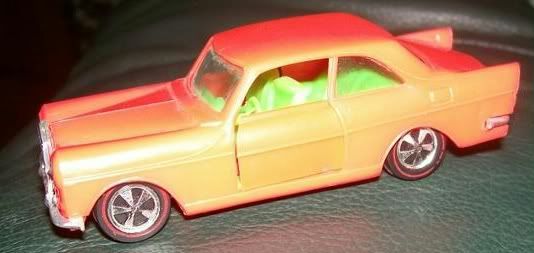 The undercarriage text on this base reads "Free wheeler D Durham Industries Inc. Made in Hong Kong Rolls-Royce No 8012"
It has similar characteristics to Mattel's Hot Wheels with respect to the wheels, axiles and Delrin bearings. However the car is made of plastic which accounts as to why it wasn't as popular as Hot Wheels or Johnny Lightnings. When we were kids a plastic car was not cool! It was simply cheap.
Regardless this is still an interest part of "Redline Era" history.
Perhaps Mattel noticed the similarities of this toy to their beloved Hot Wheels and did something about it. There isn't much information available on Durham Industries toys.
On the bay you will notice Durham Industries made quite a few low end toys, plastic toy cars, battery operated trains and other miscellaneous items. Perhaps not a major player in the die-cast area but they sure tried.
Other models were found on the bay...
This is a vintage 1963 Thunderbird (looks like a '63 model, check out the pictures to be sure), made by a company called Durham Industries. It was made during the late '60s to compete with Hot Wheels. Notice the Red Line tires that look much like the Redlines from Hot Wheels of that era.
The wheels even use press-on bearings, much like original Redline Hot Wheels. The body and base are made of plastic. The doors & hood open, but not very well. The base says "Durham Industries Inc." "Free Wheeler" "Made in Hong Kong" and "Thunderbird No. 8013".
The chassis screws onto the body.
The Rolls and the Porsche are both number 8012 while the T-Bird is 8013.
Images and text is courtesy of Fluffy Monroe